Sway
: The Irresistible Pull of Irrational Behavior
Ori Brafman and Rom Brafman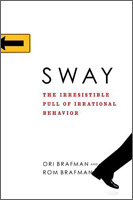 Format:
Paperback, 206pp.
ISBN:
9780385530606
Publisher:
Broadway
Pub. Date:
June 2, 2009
Average Customer Review:

For Bulk Orders Call: 626-441-2024

Description and Reviews
From
The Publisher:
A fascinating journey into the hidden psychological influences that derail our decision-making,
Sway
will change the way you think about the way you think.
Why is it so difficult to sell a plummeting stock or end a doomed relationship? Why do we listen to advice just because it came from someone "important"? Why are we more likely to fall in love when there's danger involved? In
Sway
, renowned organizational thinker Ori Brafman and his brother, psychologist Rom Brafman, answer all these questions and more.
Drawing on cutting-edge research from the fields of social psychology, behavioral economics, and organizational behavior,
Sway
reveals dynamic forces that influence every aspect of our personal and business lives, including loss aversion (our tendency to go to great lengths to avoid perceived losses), the diagnosis bias (our inability to reevaluate our initial diagnosis of a person or situation), and the "chameleon effect" (our tendency to take on characteristics that have been arbitrarily assigned to us).
Sway
introduces us to the Harvard Business School professor who got his students to pay $204 for a $20 bill, the head of airline safety whose disregard for his years of training led to the transformation of an entire industry, and the football coach who turned conventional strategy on its head to lead his team to victory. We also learn the curse of the NBA draft, discover why interviews are a terrible way to gauge future job performance, and go inside a session with the Supreme Court to see how the world's most powerful justices avoid the dangers of group dynamics.
Every once in a while, a book comes along that not only challenges our views of the world but changes the way we think. In
Sway
, Ori and Rom Brafman not only uncover rational explanations for a wide variety of irrational behaviors but also point readers toward ways to avoid succumbing to their pull.

Reviews
Praise for SWAY*
"A breathtaking book that will challenge your every thought, Sway hovers above the intersection of Blink and Freakonomics."
—Tom Rath, coauthor of the New York Times #1 bestseller How Full Is Your Bucket?
"Now we know why no one ever coined the phrase 'rational exuberance.' Behind the surprising ways we all make choices, the Brafmans find biology, humanity, and the wisdom of our collective experience. As a longtime student of how financial decisions are made, I found their insights utterly fascinating. Once I started reading, I couldn't stop—and I suspect the Brafmans could tell you exactly why!"
—Sallie Krawcheck, CEO, Citi Global Wealth Management
"Count me swayed--but in this instance by the pull of entirely rational forces. Ori and Rom Brafman have done a terrific job of illuminating deep-seated tendencies that skew our behavior in ways that can range from silly to deadly. We'd be fools not to learn what they have to teach us."
—Robert B. Cialdini, author of New York Times bestseller Influence
"Brilliant."
—Klaus Schwab, chairman of the World Economic Forum
"Sway helped me recognize an aspect of irrational behavior in my experimental work in physics. Sometimes I have jumped into some research that didn't feel quite right . . . but some irrational lure, such as the hope of quick success, pulled me in."
—Martin L. Perl, 1995 Nobel Laureate in Physics
*DISCLAIMER: If you decide to buy this book because of these endorsements, you just got swayed. One of the psychological forces you'll read about in Sway is our tendency to place a higher value on opinions from people in positions of prominence, power, or authority.
(But you should still buy the book.)
"If you think you know how you think, you'd better think again! Take this insightful, delightful trip to the sweet spot where economics, psychology, and sociology converge, and you'll discover how our all-too-human minds actually work."
—Alan M. Webber, founding editor of Fast Company magazine

About the Authors
Ori Brafman
is coauthor of The Starfish and the Spider and is a renowned organizational expert who regularly speaks before Fortune 500, governmental, and military audiences. A graduate of Stanford Business School, he lives in San Francisco.
Rom Brafman
holds a Ph.D. in psychology and has taught university courses in personality and personal growth. His current research interests focus on the dynamics of interpersonal relationships. He has a private practice in Palo Alto, California.

Find Items On Similar Subjects

Predictably Irrational
: The Hidden Forces That Shape Our Decisions

Influencer
: The Power to Change Anything