The Strategy Paradox
: Why committing to success leads to failure (and what to do about it)
Michael E. Raynor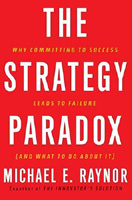 Format:
Hardcover, 320pp.
ISBN:
9780385516228
Publisher:
Currency
Pub. Date:
February 20, 2007
Average Customer Review:

For Bulk Orders Call: 626-441-2024

Description and Reviews
From
The Publisher:
A compelling vision. Bold leadership. Decisive action. Unfortunately, these prerequisites of success are almost always the ingredients of failure, too. In fact, most managers seeking to maximize their chances for glory are often unwittingly setting themselves up for ruin. The sad truth is that most companies have left their futures almost entirely to chance, and don't even realize it. The reason? Managers feel they must make choices with far-reaching consequences today, but must base those choices on assumptions about a future they cannot predict. It is this collision between commitment and uncertainty that creates
The Strategy Paradox
.
This paradox sets up a ubiquitous but little-understood tradeoff. Because managers feel they must base their strategies on assumptions about an unknown future, the more ambitious of them hope their guesses will be right – or that they can somehow adapt to the turbulence that will arise. In fact, only a small number of lucky daredevils prosper, while many more unfortunate, but no less capable managers find themselves at the helms of sinking ships. Realizing this, even if only intuitively, most managers shy away from the bold commitments that success seems to demand, choosing instead timid, unremarkable strategies, sacrificing any chance at greatness for a better chance at mere survival.
Michael E. Raynor, coauthor of the bestselling
The Innovator's Solution
, explains how leaders can break this tradeoff and achieve results historically reserved for the fortunate few even as they reduce the risks they must accept in the pursuit of success. In the cutthroat world of competitive strategy, this is as close as you can come to getting something for nothing.
Drawing on leading-edge scholarship and extensive original research, Raynor's revolutionary principle of Requisite Uncertainty yields a clutch of critical, counter-intuitive findings. Among them:
The Board should not evaluate the CEO based on the company's performance, but instead on the firm's strategic risk profile
The CEO should not drive results, but manage uncertainty
Business unit leaders should not focus on execution, but on making strategic choices
Line managers should not worry about strategic risk, but devote themselves to delivering on commitments
With detailed case studies of success and failure at Sony, Microsoft, Vivendi Universal, Johnson & Johnson, AT&T and other major companies in industries from financial services to energy, Raynor presents a concrete framework for strategic action that allows companies to seize today's opportunities while simultaneously preparing for tomorrow's promise.

Reviews
"One of the most important, realistic and useful books on strategy ever written. With consummate clarity and withering logic, Raynor confronts and resolves the paradox that while strategy requires commitment, much about the future is simply unknowable. It is an absolutely brilliant, lucidly written piece of scholarship."
—Clayton M. Christensen, Professor, Harvard Business School and author of the bestselling The Innovator's Dilemma and The Innovator's Solution
"Raynor has taken the next giant leap forward in strategy. He demonstrates that much of what we know about creating value is true, but woefully incomplete. By widening our focus from simply the pursuit of success to include ever-present uncertainty, Raynor does more than simply alert us to the long-ignored risk/return tradeoff -- he shows us how to break it."
—-Jim Balsillie, co-CEO, Research in Motion (RIM)
"The best lesson in corporate strategy I have ever read. Everyone admits we do not know what the future holds, but most of us go on acting as though we do know what the future holds. That can be dangerous in the extreme. Raynor has it right: clearly and convincingly, he shows us why facing up to uncertainty is essential for sustainable success, and then he provides the tools and methods to achieve it."
—Peter L. Bernstein, author of Against the Gods: The Remarkable Story of Risk
"The Strategy Paradox is a most extraordinary business book: impeccably researched and argued, brutally honest and devoid of 'silver bullet' solutions to today's complex strategy problems. It has profound implications for business strategy research , teaching and practice and should be read by anyone interested in why some strategies succeed while other equally-thoughtful strategies fail."
—Hugh Courtney, Distinguished Tyser Teaching Fellow, University of Maryland, and author of 20/20 Foresight: Crafting Strategy in an Uncertain World
"A rare and extremely valuable gem…. Raynor provides managers a sophisticated, accessible, and highly usable approach weaving time, choice, uncertainty, and risk into a rich treasury of insights"
—Andy Boynton, Dean, The Wallace E. Carroll School of Management, Boston College
"Very few executives or board members look forward to the annual corporate clairvoyant ritual known as strategic planning; in no small part because of the unspoken recognition that "our" crystal ball's vision of the future has no greater fidelity than the competition's glass sphere. Since luck has rarely proved to be a sustainable business model, there exists a desperate need for a system to implement that can manage the unmanageable: how do you commit resources now to service customers and markets that will emerge in a distant and inherently unpredictable future?
Just as Raynor succeeded in unlocking the mysteries behind innovation in The Innovator's Solution, The Strategy Paradox provides an intelligent, robust, practical compass that the non-telepathic can use to navigate through the inevitable course corrections that will be required along the journey to success. Drawing upon extensive data from business, probability, mathematical and behavioral sciences and graphically illustrating his thesis with real-world examples of both successes AND failures, Raynor beautifully explains how to create a portfolio of strategic options that will allow curative interventions as unforeseen circumstances and developments are inescapably encountered…. Raynor's approach to strategic planning is not only the best manual on the subject written to date, it is an essential survival tool."
—William Hunter MD, Founder, President & CEO, Angiotech Pharmaceuticals
"A very timely book that penetrates to the core of strategy, namely how to balance commitment and flexibility in a world of increasing uncertainty. Michael Raynor is a gifted writer and thinker about business, bringing fresh examples and lucid insights to deeply challenging issues facing today's executives. … This book deserves to be read widely by managers and leaders alike."
—Paul J. H. Schoemaker, Adjunct Professor, Wharton Business School and Chairman of Decision Strategies International Inc., Author, Profiting from Uncertainty and Peripheral Vision
"Insightful, timely and relevant to the choices and commitments our company is contemplating. The external environment in which we will find ourselves in a few short years is very uncertain, where changes in regulations, the economy, competitors' behavior, customer preferences, or new or disruptive technologies could each, or in combination, dramatically change the operating landscape. The ability to take bold action with urgency, while maintaining strategic flexibility, has never been more important."
—Dan Hesse, Chairman and CEO, Embarq Corporation
"Raynor's book is insightful in identifying the very real constraints to sustained business growth. Strategy Paradox offers an architectural plan to effect transformational growth in a risk averse climate. These concepts have been extremely helpful to me as I work to create options for promising future technologies while simultaneously managing inescapable strategic risk."
—Dave Holveck, Vice President, Corporate Development, President, Johnson & Johnson Development Corporation

About the Author
Michael E. Raynor
, of Deloitte Consulting LLP, is a Distinguished Fellow with Deloitte Research in Boston and works extensively with clients worldwide. He is the coauthor, with Clayton M. Christensen, of the best-selling The Innovator's Solution. Raynor has a doctorate from the Harvard Business School, and is an Adjunct Professor at the Richard Ivey School of Business in London, Canada. He lives in Mississauga, Canada.

Table of Contents
| | | |
| --- | --- | --- |
| | Acknowledgments | ix |
| | | |
| 1 | What Strategy Paradox? | 1 |
| 2 | The Best-Laid Plans | 18 |
| 3 | Who Dares Wine . . . Or Loses | 50 |
| 4 | The Limits of Adaptability | 67 |
| 5 | The Limits of Forecasting | 89 |
| 6 | It's About Time | 106 |
| 7 | Making Choices versus Creating Options | 139 |
| 8 | Strategic Flexability | 177 |
| 9 | What If ...? | 206 |
| 10 | Preparing For the Unpredictable | 231 |
| 11 | Reinvening Strategy | 264 |
| | | |
| | Appendix A: How Diversification Can Create Value | 273 |
| | Appendic B: Scenarios at Alliant Energy | 284 |
| | Appendix C: Real Option Valuation | 290 |
| | Index | 295 |

Find Items On Similar Subjects

Peripheral Vision
: Detecting the Weak Signals That Will Make or Break Your Company