Becoming Steve Jobs
: The Evolution of a Reckless Upstart into a Visionary Leader
Brent Schlender and Rick Tetzeli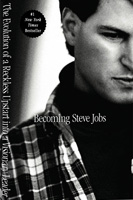 Format:
Paperback, 464pp.
ISBN:
9780385347426
Publisher:
Currency
Pub. Date:
June 7, 2016
Average Customer Review:


For Bulk Orders Call: 626-441-2024

Description and Reviews
From
The Publisher:
There have been many books—on a large and small scale—about Steve Jobs, one of the most famous CEOs in history. But this book is different from all the others.
Becoming Steve Jobs
takes on and breaks down the existing myth and stereotypes about Steve Jobs. The conventional, one-dimensional view of Jobs is that he was half-genius, half-jerk from youth, an irascible and selfish leader who slighted friends and family alike. Becoming Steve Jobs answers the central question about the life and career of the Apple cofounder and CEO: How did a young man so reckless and arrogant that he was exiled from the company he founded become the most effective visionary business leader of our time, ultimately transforming the daily life of billions of people?
Drawing on incredible and sometimes exclusive access, Schlender and Tetzeli tell a different story of a real human being who wrestled with his failings and learned to maximize his strengths over time. Their rich, compelling narrative is filled with stories never told before from the people who knew Jobs best, and who decided to open up to the authors, including his family, former inner circle executives, and top people at Apple, Pixar and Disney, most notably Tim Cook, Jony Ive, Eddy Cue, Ed Catmull, John Lasseter, Robert Iger and many others. In addition, Brent knew Jobs personally for 25 years and draws upon his many interviews with him, on and off the record, in writing the book. He and Rick humanize the man and explain, rather than simply describe, his behavior. Along the way, the book provides rich context about the technology revolution we all have lived through, and the ways in which Jobs changed our world.
Schlender and Tetzeli make clear that Jobs's astounding success at Apple was far more complicated than simply picking the right products: he became more patient, he learned to trust his inner circle, and discovered the importance of growing the company incrementally rather than only shooting for dazzling game-changing products.
rich and revealing account that will change the way we view Jobs,
Becoming Steve Jobs
shows us how one of the most colorful and compelling figures of our times was able to combine his unchanging, relentless passion with a more mature management style to create one of the most valuable and beloved companies on the planet.

Reviews
"Steve Jobs is the person who most inspires the new generation of Silicon Valley entrepreneurs. In this deeply-researched book, you'll find the most honest portrait of the real Steve Jobs."
—Marc Andreessen
"One of the best things Brent Schlender and Rick Tetzeli do in writing about Jobs is undoing the 'lone genius' myth, and complicating his persona."
—Anil Dash, CEO of ThinkUp
"The book about Steve Jobs that the world deserves. Smart, accurate, informative, insightful and at times, utterly heartbreaking....Becoming Steve Jobs is going to be an essential reference for decades to come."
—John Gruber, Daring Fireball
"Brent Schlender and Rick Tetzeli render a spectacular service with this book, giving fresh perspective on Steve Jobs' journey from inspiring but immature entrepreneur into an inspired and mature company-builder. Most important, they capture Jobs' resilience, his refusal to capitulate, his restless drive to stay in the game, his voracious appetite to learn—this, far more than genius, is what made him great. Becoming Steve Jobs gets the focus precisely right: not as a success story, but as a growth story. Riveting, insightful, uplifting—read it and learn!"
—Jim Collins, author of Good to Great, co-author of Built to Last and Great by Choice
"Becoming Steve Jobs is fantastic. After working with Steve for over 25 years, I feel this book captures with great insight the growth and complexity of a truly extraordinary person. I hope that it will be recognized as the definitive history."
—Ed Catmull, president, Disney Animation and Pixar
"What makes their book important is that they contend — persuasively, I believe — that . . . [Jobs] was not the same man in his prime that he had been at the beginning of his career. The callow, impetuous, arrogant youth who co-founded Apple was very different from the mature and thoughtful man who returned to his struggling creation and turned it into a company that made breathtaking products while becoming the dominant technology company of our time."
—Joe Nocera, The New York Times
"Highly recommended."
—Philip Elmer-DeWitt, Fortune.com
"Square would not exist without the work and persistence of Steve Jobs. I am forever grateful. Amazing read."
—Jack Dorsey
"...Will quicken the pulse of even obsessive Apple watchers....a layered portrait of the mercurial Jobs, whose style and personality...were constantly evolving, right up to his early death."
—Brad Stone, NYT Sunday Book Review
"A fascinating, insightful book that does a great job capturing what and who the man inside the public mask actually was. I'm pleased someone got to write it. It needed writing. Previous titles failed. Highly recommended."
—Jonny Evans, ComputerWorld
"Becoming Steve Jobs especially shines when it serves up opportunities to get a fresh look at Jobs' passion for always sticking to the intersection of technology and the humanities that animated his work."
—Andy Meek, BGR
"Schlender is one of the very few journalists whom Steve Jobs favored with his trust over decades of coverage….only in Becoming Steve Jobs do I recognize the complexity and warmth that I saw first-hand in Jobs, particularly in the last few years of his life."
—Steven Levy, Backchannel
"If you're interested in learning more about Steve Jobs' life, business strategies, successes and failures, the Becoming Steve Jobs book is certainly worth your time."
—Jeremy Horwitz, 9to5Mac
"Reveals lesser-known aspects of Jobs' life….That's really where Becoming Steve Jobs shines. It offers a unique take on the decisions (mistakes) Jobs made during his time at NeXT and Pixar."
—Harrison Weber, Venture Beat
"In some ways, this biography can be likened to a college level course in "Jobsology," one that through new information provides adequate insight to flip established doctrine on its head. Exactly what Schlender and Tetzeli intended….Schlender and Tetzeli proffer a measured and deliberate chronicling of Jobs' peaks and valleys painted in the words of those who knew him best. It is a record of an incredible life that has until now only been accessible through the prism of the media and what Jobs himself would allow. It forces us to think different."
—Mikey Campbell, Apple Insider
"Becoming Steve Jobs does not absolve the protagonist of his foibles, but shows that his accomplishments were indeed legion."
—The Economist

About the Authors
Brent Schlender
is one of the premiere chroniclers of the personal computer revolution, writing about every major figure and company in the tech industry. He covered Steve Jobs for the Wall Street Journal and Fortune for nearly 25 years.
Rick Tetzeli
, executive editor of Fast Company, has covered technology for two decades. He is the former deputy editor of Fortune, and editor of Entertainment Weekly.

Find Items On Similar Subjects

Steve Jobs