The First Tycoon
: The Epic Life of Cornelius Vanderbilt
T. J. Stiles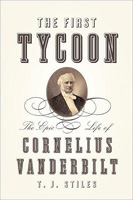 Format:
Paperback, 736pp.
ISBN:
9781400031740
Publisher:
Vintage
Pub. Date:
April 20, 2010
Average Customer Review:


For Bulk Orders Call: 626-441-2024

Description and Reviews
From
The Publisher:
A gripping, groundbreaking biography of the combative man whose genius and force of will created modern capitalism.
Founder of a dynasty, builder of the original Grand Central, creator of an impossibly vast fortune, Cornelius "Commodore" Vanderbilt is an American icon. Humbly born on Staten Island during George Washington's presidency, he rose from boatman to builder of the nation's largest fleet of steamships to lord of a railroad empire. Lincoln consulted him on steamship strategy during the Civil War; Jay Gould was first his uneasy ally and then sworn enemy; and Victoria Woodhull, the first woman to run for president of the United States, was his spiritual counselor. We see Vanderbilt help to launch the transportation revolution, propel the Gold Rush, reshape Manhattan, and invent the modern corporation—in fact, as T. J. Stiles elegantly argues, Vanderbilt did more than perhaps any other individual to create the economic world we live in today.
In
The First Tycoon
, Stiles offers the first complete, authoritative biography of this titan, and the first comprehensive account of the Commodore's personal life. It is a sweeping, fast-moving epic, and a complex portrait of the great man. Vanderbilt, Stiles shows, embraced the philosophy of the Jacksonian Democrats and withstood attacks by his conservative enemies for being too competitive. He was a visionary who pioneered business models. He was an unschooled fistfighter who came to command the respect of New York's social elite. And he was a father who struggled with a gambling-addicted son, a husband who was loving yet abusive, and, finally, an old man who was obsessed with contacting the dead.
The First Tycoon
is the exhilarating story of a man and a nation maturing together: the powerful account of a man whose life was as epic and complex as American history itself.

Reviews
In the panic of 1869, Cornelius Vanderbilt "appeared in the role of a hero," Stiles writes, praised for steadying the markets with his confidence and his cash. In reality, Vanderbilt's own machinations had helped push the markets to the brink. He gambled not only his fortune but, with it, the "health of the national economy," and "the only thing more remarkable than his recklessness was his success." Vanderbilt started out running a ferry off Staten Island and went on to control shipping lines and railroads; he built Grand Central with his own money. The canvas of his life is so large that giants like Jay Gould appear as bit characters. (There's also Tennessee Claflin, a "magnetic physician" and clairvoyant turned stockbroker; Stiles thinks that she and Vanderbilt had an affair but discounts some of the more vivid stories about their relationship.) Mark Twain described Vanderbilt as something like the Grinch, the "idol of . . . a crawling swarm of small souls"—a cartoon that Stiles does a good job of redrawing.
—The New Yorker
"At long last a biography worthy of the Commodore, meticulously researched, superbly written, and filled with original insights."
—Maury Klein, author of The Life and Legend of Jay Gould
"T.J. Stiles writes with the magisterial sweep of a great historian and the keen psychological insight of a great biographer. The First Tycoon is the fullest, most perceptive chronicle ever written of the life and times of Cornelius Vanderbilt, the epitome of unfettered, winner-take-all capitalism. With panache and admirable ease, Stiles maps the financial and political currents on which Vanderbilt buccaneered and shows that it was Vanderbilt, more than anyone else, who enabled business to evolve into Big Business."
—Patricia O'Toole, author of When Trumpets Call: Theodore Roosevelt After the White House
"T.J. Stiles has given us a balanced and absorbing biography of this colorful and often ruthless entrepreneur, the first of the 'robber barons' who transformed the American economy in the nineteenth century."
—James M. McPherson, author of Battle Cry of Freedom: The Civil War Era
"The First Tycoon is a brilliant exposition of the life of Cornelius Vanderbilt and the entrepreneurial environment that he shaped. Readers will look at Grand Central Station and much else in American life with fresh eyes."
—Joyce Appleby, author of The Restless Revolution: A History of Capitalism
"The definitive biography of Commodore Vanderbilt. Both as portrait of an American original and as a book that brings to life an important slice of American history long neglected, this is biography at its very best. A magnificent achievement."
—Arthur Vanderbilt II, author of Fortune's Children: The Fall of the House of Vanderbilt
"In this whacking new biography of Vanderbilt, T. J. Stiles . . . demonstrates a brute eloquence of his own. This is a mighty—and mighty confident—work, one that moves with force and conviction and imperious wit through Vanderbilt's noisy life and times . . . I read eagerly and avidly. This is state-of- the-art biography, crisper and more piquant than a 600-page book has any right to be."
—Dwight Garner, The New York Times
"The illuminating, authoritative portrait of Vanderbilt that has been missing for so long."
—Alice Schroeder, The Washington Post
"Very absorbing . . . [The First Tycoon] is in fact much more than a biography. The book is filled with important, exhaustively researched and indeed fascinating details that would profit every student of American business and social history to read."
—Richard M. Abrams, San Francisco Chronicle
"Perceptive and fluently written . . . Stiles writes with both the panache of a fine journalist and the analytical care of a seasoned scholar. And he offers a fruitful way to think about the larger history of American elites as well as the life of one of their most famous members."
—Michael Kazin, The New York Times Book Review
"Superbly written and researched . . . Worthy of its subject."
—The Economist

About the Author
T. J. Stiles
has held the Gilder Lehrman Fellowship in American History at the Dorothy and Lewis B. Cullman Center for Scholars and Writers at the New York Public Library, taught at Columbia University, and served as adviser for the PBS series The American Experience. His first book, Jesse James: Last Rebel of the Civil War, won the Ambassador Book Award and the Peter Seaborg Award for Civil War Scholarship, and was a New York Times Notable Book. He has written for The New York Times Book Review, Salon.com, Smithsonian, and the Los Angeles Times. He lives in San Francisco.

Find Items On Similar Subjects

Biography