Troublesome Young Men
: The Rebels Who Brought Churchill to Power and Helped Save England
Lynne Olson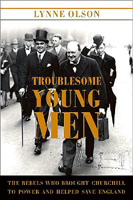 Format:
Paperback, 494pp.
ISBN:
9780374531331
Publisher:
Farrar, Straus and Giroux
Pub. Date:
April 29, 2008
Average Customer Review:

For Bulk Orders Call: 626-441-2024

Description and Reviews
From
The Publisher:A riveting history of the daring politicians who challenged the disastrous policies of the British government on the eve of World War II
On May 7, 1940, the House of Commons began perhaps the most crucial debate in British parliamentary history. On its outcome hung the future of Prime Minister Neville Chamberlain's government and also of Britain—indeed, perhaps, the world. Troublesome Young Men is Lynne Olson's fascinating account of how a small group of rebellious Tory MPs defied the Chamberlain government's defeatist policies that aimed to appease Europe's tyrants and eventually forced the prime minister's resignation.
Some historians dismiss the "phony war" that preceded this turning point—from September 1939, when Britain and France declared war on Germany, to May 1940, when Winston Churchill became prime minister—as a time of waiting and inaction, but Olson makes no such mistake, and describes in dramatic detail the public unrest that spread through Britain then, as people realized how poorly prepared the nation was to confront Hitler, how their basic civil liberties were being jeopardized, and also that there were intrepid politicians willing to risk political suicide to spearhead the opposition to Chamberlain—Harold Macmillan, Robert Boothby, Leo Amery, Ronald Cartland, and Lord Robert Cranborne among them. The political and personal dramas that played out in Parliament and in the nation as Britain faced the threat of fascism virtually on its own are extraordinary—and, in Olson's hands, downright inspiring.

Reviews
"During the 1930s, as the rise of Nazism threatened western civilization, Winston Churchill's was a lonely voice warning of the coming danger, opposing the British government's policy of appeasement and urging immediate rearmament. Lonely, but not entirely alone. For a few younger Tory members of Parliament held similar views about the German threat, though they did not necessarily agree with Churchill on other issues. The odds were against them, and in attacking their own party's leaders they put their careers at risk, but in the end they and their allies prevailed: Neville Chamberlain and his defeatist government were overthrown, opening up the room at the top that Churchill so famously filled. Lynne Olson has seized upon their wonderful but neglected story and has told it with verve. It is a riveting tale, immensely readable, that brings to history the excitement of a novel."
—David Fromkin, author of Europe's Last Summer
Starred Review. In 1930s England, faced with the gathering menace of fascism, 30 or so junior members of Parliament understood that Hitler would not be dissuaded by Prime Minister Chamberlain's policy of appeasement. Their rebellion against their leader and the "elderly mediocrities" of their own Conservative Party is the subject of Olson's absorbing book. The forces opposed to Chamberlain were initially inhibited by party loyalty and the ferocious reprisals threatened against anyone who challenged the prime minister. Olson traces how Hitler's continuing depredations (Austria, Czechoslovakia, Poland) served to recruit more insurgents in the House of Commons and galvanize those shamed by England's inaction. Olson's story picks up energy as she reviews the events of 1940, when at long last Chamberlain was replaced by Churchill. Olson is interested in the moral imperatives driving her protagonists. The dominant figure in the narrative, of course, is Churchill, who despised Chamberlain's defeatism but served loyally in his cabinet until Chamberlain's forced resignation. Infused with the sense of urgency felt by the young Tories, Olson's vivid narrative of a critical generational clash leaves the reader wondering what might have happened had they prevailed earlier on.
—Publishers Weekly, Copyright © Reed Business Information, a division of Reed Elsevier Inc. All rights reserved.

About the Author
Lynne Olson
, former White House correspondent for The Sun (Baltimore), is the author of many books, including Freedom's Daughters, and co-author, with her husband, Stanley Cloud, of A Question of Honor and The Murrow Boys. She lives in Washington, D.C.

Table of Contents
| | | |
| --- | --- | --- |
| | | |
| | Introduction | 3 |
| 1 | "We May Be Going to Die" | 8 |
| 2 | Playing the Game | 21 |
| 3 | "Troublesome Young Men" | 36 |
| 4 | "Dictators Are Very, Popular These Days" | 61 |
| 5 | "I Lack the 'Spunk'" | 84 |
| 6 | "Quite Simply, He Told Lies" | 107 |
| 7 | "Our Own Soul Is at Stake" | 126 |
| 8 | "'Terrible, Unmitigated, Unparalleled Dishonor'" | 143 |
| 9 | Retribution | 158 |
| 10 | "Waiting for a Stirring Lead" | 176 |
| 11 | "Here Is the Testing" | 192 |
| 12 | "Speak for England" | 202 |
| 13 | Playing at War | 219 |
| 14 | "The Misery of Doing Nothing" | 240 |
| 15 | "He Is Absolutely Loyal" | 261 |
| 16 | "Gambling with the Life of the Nation" | 275 |
| 17 | "'In the Name of God, Go!'" | 289 |
| 18 | "Victory at All Costs" | 306 |
| 19 | A Question of Loyalty | 322 |
| 20 | A Son's Betrayal | 339 |
| 21 | Aftermath | 347 |
| | Notes | 365 |
| | Bibliography | 403 |
| | Acknowledgments | 413 |
| | Index | 417 |

Find Items On Similar Subjects

Churchill on Leadership
: Executive Success in the Face of Adversity