Rise of the Rocket Girls
: The Women Who Propelled Us, from Missiles to the Moon to Mars
Nathalia Holt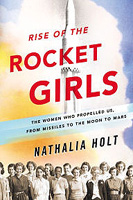 Format:
Hardcover, 352pp.
ISBN:
9780316338929
Publisher:
Little, Brown and Company
Publication Date:
April 5, 2016
Average Customer Review:

For Bulk Orders Call: 626-441-2024

Description and Reviews
From
The Publisher:
The riveting true story of the women who launched America into space.
In the 1940s and 50s, when the newly minted Jet Propulsion Laboratory needed quick-thinking mathematicians to calculate velocities and plot trajectories, they didn't turn to male graduates. Rather, they recruited an elite group of young women who, with only pencil, paper, and mathematical prowess, transformed rocket design, helped bring about the first American satellites, and made the exploration of the solar system possible.
For the first time,
Rise of the Rocket Girls
tells the stories of these women—known as "human computers"—who broke the boundaries of both gender and science. Based on extensive research and interviews with all the living members of the team,
Rise of the Rocket Girls
offers a unique perspective on the role of women in science: both where we've been, and the far reaches of space to which we're heading.

Reviews
A New York Times bestseller
An Amazon Best Book of April 2016
An Entertainment Weekly "10 Books You Have to Read in April"
An Elle "8 Books by Women for Bill Gates to Read This Summer"
"Holt's accessible and heartfelt narrative celebrates the women whose crucial roles in American space science often go unrecognized."
—Publishers Weekly, Starred Review
"Wow! Talk about forgotten history! Those interested in space history will find much to enjoy here, but it is the stories of the women involved, highlighted in sections by decade, that commands attention....and her stellar research is evident on every page. This is an excellent contribution to American history, valuable not only for what it reveals about the space program and gender equality but even more as great reading. Book clubs will be lining up."
—Colleen Mondor, Booklist (Starred Review)
"Illuminating...these women are vividly depicted at work, at play, in and out of love, raising children--and making history. What a team--and what a story!"
—Gene Seymour, USA Today (3.5 stars/4)
"I stole sleep to finish this book and was happy to do so. I admire how Holt gives voice to a group of important (and lesser-known) female scientists who have in the past been overshadowed by their male counterparts. The domestic and the scientific are elegantly rendered--it is an impressive contribution to American history and I was sad to turn the last page."
—TaraShea Nesbit, bestselling author of The Wives of Los Alamos
"An inspiring, beautiful book. Nathalia Holt has a gift for capturing the joys and fears of scientists working at the edge of possibility. By profiling the women who learned to keep American rockets flying true, she paints the dawn of the space age with new and vivid colors."
—Jason Fagone, author of Ingenious: A True Story of Invention, Automotive Daring, and the Race to Revive America
"This highly readable, entertaining and informative book tells the story of JPL's 'computers,' the young women who did the calculations now handled by bits of silicon. Holt brings her characters to life, tracing them from their hiring as JPL began its career with the Army developing missiles for the Cold War through its conversion to NASA's lead center for planetary exploration. She celebrates their lives, achievements, and service to the nation, as well as their excitement at having front row seats to the earliest voyages of solar system exploration. It's a story whose telling is long overdue. We can be grateful for this enjoyable read."
—Dr. Charles Elachi, Director of the Jet Propulsion Laboratory, Vice President of the California Institute of Technology, and Professor of Electrical Engineering and Planetary Science
"Most of our time in history class is spent learning about men, but women were obviously just as vital to innovation and progress. Rise of the Rocket Girls proves that by reexamining the space age--specifically, the group of women who redesigned rocket science...and made that 'one small step for man' possible in the first place."
—Isabella Biedenharn, Christian Holub, Dana Getz, Entertainment Weekly
"Here, math is dramatic, not mundane. Calculating is a physical, even athletic, act....Personal anecdotes...will fascinate general readers and provide valuable primary source materials for future academics."
—Jennifer Light, Nature
"Holt does a fine job balancing the personal stories of these women with the technical discussions of their work ....Rise of the Rocket Girls tells a fascinating story of the women who made largely unseen yet essential contributions to the early history of spaceflight."
—Jeff Foust, The Space Review
"These female pioneers who helped the U.S. win the space race are finally getting their due....The book acts as a fascinating time capsule, capturing what it was like to be a working woman at a time when only 20 percent of women worked outside the home, or when a woman could be fired simply for being pregnant."
—Naomi Shavin, Smithosonian
"Rocket science has long been associated with men...but in Rise of the Rocket Girls, Nathalia Holt shines a light on the women behind the scenes."
—Eliza Thompson, Cosmopolitan, "6 New Books to Read This Month"

About the Author
Nathalia Holt
, Ph.D. is a science writer and the author of Cured: The People who Defeated HIV (Penguin Random House 2014) and Rise of the Rocket Girls: The Women Who Propelled Us from Missiles to the Moon to Mars (Little, Brown, 2016). Her work has appeared in numerous publications including The New York Times, The Los Angeles Times, The Atlantic, Slate, Popular Science, and Time. She has trained at the Ragon Institute of MGH, MIT and Harvard University, the University of Southern California, and Tulane University. She lives with her husband and their two daughters in Boston, MA.