Presence
: Bringing Your Boldest Self to Your Biggest Challenges
Amy Cuddy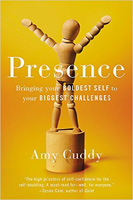 Format:
Hardcover, 352pp.
ISBN:
9780316256575
Publisher:
Little, Brown and Company
Pub. Date:
December 22, 2015
Average Customer Review:

For Bulk Orders Call: 626-441-2024

Description and Reviews
From
The Publisher:
How can we be our strongest selves in life's most challenging situations? We often approach these situations — job interviews, difficult conversations, speaking up for ourselves — with anxiety and leave them with regret. Moments that require us to be genuine and powerful instead cause us to feel phony and powerless, preventing us from being our best selves.
Harvard professor Amy Cuddy shows us we need to stop worrying about the impression we're making on others, and instead change the impression we're making on ourselves. Cutting-edge science reveals that if we adopt behaviors reflecting power and strength, we liberate ourselves from the fears and doubts that obstruct us. By redirecting our thoughts, actions, and even physiology, we free ourselves to be our best.
Amy Cuddy galvanized viewers around the world with her TED talk about "power poses." Now she explains the science underlying these and many other fascinating body-mind effects, and teaches us how to use this science to become self-assured in high-pressure moments.
Impassioned, beautifully researched, and accessible,
Presence
is filled with stories of individuals facing real obstacles, and succeeding against the odds. Every reader will learn how to approach stress-filled challenges without fear and leave them without regret.

Reviews
"Amy Cuddy is making the world a braver place with her book, PRESENCE. Courage is contagious and presence begets presence. Weaving together science, practical examples, and storytelling, Cuddy shows us how bringing our boldest, most authentic selves to challenging situations inspires others to do the same. This book is a game-changer!"
—Brene Brown, author of Daring Greatly and Rising Strong
"Millions of people have already been empowered by Amy Cuddy's groundbreaking TED talk on 'power posing' -- but that was just the tip of the iceberg! In PRESENCE, Cuddy reveals a much bigger and deeper science: a whole new way of understanding the body-mind connection, and how our physical habits affect our thoughts, feelings and choices. Reading this book will forever change how you carry yourself, and in doing so, it will make you braver, bolder, and better able to show up for all of your life's greatest opportunities."
—Jane McGonigal, author of Reality Is Broken and SuperBetter
"A captivating, charming read on harnessing confidence and poise. Demystifying a century of science, Amy Cuddy shows how we can achieve greater success and sincerity by changing the way we carry ourselves."
—Adam Grant, Wharton professor and New York Times bestselling author of Give and Take
"In one exquisitely written book, Amy Cuddy illuminates for us the latest research of how the body and mind, in surprising yet elegant ways, affect who we are and how we are perceived. This generously cited book goes far beyond Amy Cuddy's TED talk. Delving deeply and widely into the research that confirms that we can transform ourselves, that we can change how we are perceived, that we can master the art and science of influence. But first we have to understand how the body affects the mind and the mind working with the body changes us, changes perceptions, and changes the world around us. And no one does this better than Amy Cuddy."
—Joe Navarro, author of What Every BODY Is Saying
"There is one thing that separates those who do from those who don't: power. Amy Cuddy helps us understand what it means to build our personal power, keep it strong when it falters and help us steer clear of arrogance. This book is a must read for every doer out there."
—Simon Sinek, optimist and author of the New York Times bestseller Leaders Eat Last and Start with Why
"What could be more important in life than being yourself? In this wonderfully engaging, intelligent, and practical book, Amy Cuddy unpacks the cutting-edge psychology of presence when we most need it. I recommend it highly!"
—William Ury, coauthor of Getting to Yes and author of Getting to Yes with Yourself
"With advice that is both practical and profound, Amy Cuddy shows how to summon your true and best self when doing so matters most. Emotions are contagious. If you personify poise and optimism yourself, you enhance the odds that they will respond in kind."
—Michael Wheeler, Harvard Business School, author of The Art of Negotiation
"Amy Cuddy is the high priestess of self-confidence for the self-doubting. In PRESENCE, she uses her warmth, empathy, and laser-sharp intelligence to decode the mysteries of presence under social pressure. A must-read for--well, for everyone."
—Susan Cain, co-founder of Quiet Revolution and author of the New York Times bestseller QUIET
"It's no mystery why Amy Cuddy is one of the most beloved TED speakers of all time. Her candid and incisive voice is a gift for anyone seeking to understand what makes people tick, and her research-based, inside-out approach to putting your best self forward in high-stakes situations makes this a must-read."
—John Neffinger and Matthew Kohut, coauthors of Compelling People

About the Author
Amy Cuddy
is a professor and researcher at Harvard Business School who studies how nonverbal behavior and snap judgments affect people. Her research has been published in top academic journals and covered by NPR, New York Times, Wired, Fast Company, and more. Cuddy has been named a Game Changer by Time, one of 50 Women Who Are Changing the World by Business Insider, and a Young Global Leader by the World Economic Forum. Her 2012 TED Talk is the second most-viewed talk in TED's history.