Outliers
: The Story of Success
Malcolm Gladwell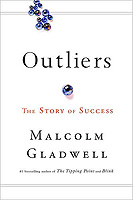 Format:
Hardcover, 320pp.
ISBN:
9780316017923
Publisher:
Little, Brown and Company
Pub. Date:
November 18, 2008
Average Customer Review:

For Bulk Orders Call: 626-441-2024

Description and Reviews
From
The Publisher:
In this stunning new book, Malcolm Gladwell takes us on an intellectual journey through the world of "outliers"--the best and the brightest, the most famous and the most successful. He asks the question: what makes high-achievers different? His answer is that we pay too much attention to what successful people are like, and too little attention to where they are from: that is, their culture, their family, their generation, and the idiosyncratic experiences of their upbringing. Along the way he explains the secrets of software billionaires, what it takes to be a great soccer player, why Asians are good at math, and what made the Beatles the greatest rock band.
Brilliant and entertaining,
Outliers
is a landmark work that will simultaneously delight and illuminate.


Reader's Index
Send us your favorite quotes or passages from this book
.
• "
Outliers
is a book about success. It starts with a very simple question: what is the difference between those who do something special with their lives and everyone else? In
Outliers
, we're going to visit a genius who lives on a horse farm in Northern Missouri. We're going to examine the bizarre histories of professional hockey and soccer players, and look into the peculiar childhood of Bill Gates, and spend time in a Chinese rice paddy, and investigate the world's greatest law firm, and wonder about what distinguishes pilots who crash planes from those who don't. And in examining the lives of the remarkable among us--the brilliant, the exceptional and the unusual--I want to convince you that the way we think about success is all wrong." Pg.

About the Author
Malcolm Gladwell
is a staff writer for The New Yorker and a bestselling author of narrative nonfiction that examines the intersection of science and culture. In 2005, Time Magazine named him one of the 100 Most Influential People.
Gladwell's English father is a civil engineer and his mother is a Jamaican-born psychotherapist.
Growing up in Canada at a time when the country was essentially a socialist nation, Gladwell was a self-professed right-wing kid. "Being a conservative was the kind of fun, radical thing to do," he told The New York Times. He notes that his politics have changed over the years.
When Gladwell decided to grow his formerly short and conservatively cut hair into an Afro, he began to receive special, unwanted attention (more speeding tickets, additional checks in airport security lines, etc.). These experiences got him thinking about how first impressions lead to snap judgments -- which inspired his bestseller Blink.
Starbucks' founder Howard Schultz publicly attributed his company's success to the tipping-point phenomenon.

Table of Contents
| | | |
| --- | --- | --- |
| | Introduction The Roseto Mystery: "These people were dying of old age. That's it" | 3 |
| | | |
| | Part 1 Opportunity | |
| 1 | The Matthew Effect: "For unto everyone that hath shall be given, and he shall have abundance. But from him that hath not shall be taken away even that which he hath." - Matthew 25:29 | 15 |
| 2 | The 10,000-Hour Rule: "In Hamburg, we had to play for eight hours" | 35 |
| 3 | The Trouble with Geniuses, Part 1: "Knowledge of a boy's IQ is of little help if you are faced with a formful of clever boys" | 69 |
| 4 | The Trouble with Geniuses, Part 2: "After protracted negotiations, it was agreed that Robert would be put on probation" | 91 |
| 5 | The Three Lessons of Joe Flom: "Mary got a quarter." | 116 |
| | | |
| | Part 2 Legacy | |
| 6 | Harlan, Kentucky: "Die like a man, like your brother did!" | 161 |
| 7 | The Ethnic Theory of Plane Crashes: "Captain, the weather radar has helped us a lot" | 177 |
| 8 | Rice Paddies and Math Tests: "No one who can rise before dawn three hundred sixty days a year fails to make his family rich" | 224 |
| 9 | Marita's Bargain: "All my friends now are from KIPP" | 250 |
| | Epilogue: A Jamaican Story: "If a progeny of young colored children is brought forth, these are emancipated" | 270 |
| | | |
| | Notes | 287 |
| | Acknowledgments | 297 |
| | Index | 301 |

Find Items On Similar Subjects

The Tipping Point
: How Little Things Can Make a Big Difference - Paperback

Blink
: The Power of Thinking Without Thinking