The Thinking Life
: How to Thrive in the Age of Distraction
P. M. Forni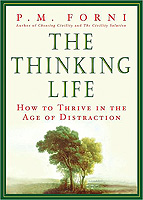 Format:
Paperback, 192pp.
ISBN:
9780312625726
Publisher:
St. Martin's Press
Pub. Date:
August 7, 2012
Average Customer Review:

For Bulk Orders Call: 626-441-2024

Description and Reviews
From
The Publisher:
Civility expert P.M. Forni shows you how good thinking leads to the good life
P.M. Forni is America's civility expert. In his first two books he taught readers the rules of civil behavior and ways of responding to rudeness. In
The Thinking Life
, he looks at the importance of thinking in our lives: how we do it, why we don't do enough of it and why we need to do more of it because, for Forni, serious thinking leads to the good life. In 12 short chapters, he gives readers a remedy for the Age of Distraction, an age fuelled by the internet, Blackberries and cellphones, all of which make constant demands on our attention, diverting it from one thing to another. After suggesting ways we can find time to think more, Forni shows readers how we can improve our abilities of:
Attention
Reflection
Introspection
Self-control
Positive thinking
Proactive thinking
Effective decision-making strategies
Creative thinking
Problem-solving strategies
Just as Forni did with civility, he puts the importance of good thinking front and center in a book as simple and as profound as his earlier works.

Reviews
"Being highly educated and extraordinarily decorated does not necessarily translate into good thinking. But if a Nobel Prize were awarded for gracious self-control, Professor Forni would be the proper judge. As with Choosing Civility and The Civility Solution, The Thinking Life serves well to refine even the most intransigent of us. Having just finished the book, I growled at my college-age daughter when she announced that her friends would visit our home late this evening. Then it immediately dawned on me that I was guilty of disobeying Professor Forni's thoughtful guidelines. Fortunately my heartfelt apology was accepted. And for penance, I promise to think first next time."
—Peter Agre, 2003 Nobel Prize in Chemistry
"The Thinking Life is as the most provocative and useful book I've read in years. As I traveled through it, Professor Forni gave me ideas about how to become more thoughtful, made me feel guilty, annoyed me with his grumpiness, and inspired me with his wit and optimism. You probably won't agree with everything in this book, but that is part of its brilliance: Forni's compels you to live The Thinking Life as you devour his little gem."
—Robert Sutton, Stanford Professor and author of New York Times bestsellers Good Boss, Bad Boss and The No Asshole Rule
"I am always interested in what Dr. Forni has to say about becoming more civil, and this book talks about how much harder it is when we're constantly on our cell phones, blackberries, Twitter and Facebook. And don't forget the iPad! Dr. Forni says serious thinking leads to the good life…and I am listening with both ears."
—Gayle King
An eloquent introduction on how to lead a more conscientious, thoughtful life."
—Ben Casnocha, author, My Start-Up Life

About the Author
P. M. Forni
is a professor at Johns Hopkins University. He is the author of Choosing Civility and The Civility Solution. His work has been featured in The New York Times and the Washington Post. He has appeared on NPR and Oprah. He lives in Baltimore, Maryland.