3 Seconds
: The Power of Thinking Twice
Les Parrott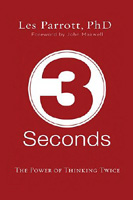 Format:
Hardcover, 199pp.
ISBN:
9780310272496
Publisher:
Zondervan Publishing Company
Pub. Date:
June 15, 2007
Average Customer Review:

For Bulk Orders Call: 626-441-2024

Description and Reviews
From
The Publisher:
Three seconds is all that stands between those who settle for "whatever" and those who insist on "whatever it takes." Award-winning author and psychologist Dr. Les Parrott reveals six common impulses that sabotage greatness in our lives. We can unleash our full potential and excellence when we learn how to give our first impulses a second thought.
Just three seconds. The time it takes to make a decision. That's all that lies between settling for "Whatever" ... or insisting on "Whatever it takes."
3 Seconds shows how to unleash the inner resources that can move you to a whole new level of success. It comes down to six predictable impulses that most of us automatically accept without a second thought. You can replace them with new impulses that lead toward impact and significance. For instance, it takes Three Seconds to ...
Disown Your Helplessness: The First Impulse: "There's nothing I can do about it." The Second Impulse: "I can't do everything, but I can do something."
Quit Stewing and Start Doing: The First Impulse: "Someday I'm going to do that." The Second Impulse: "I'm diving in ... starting today."
Fuel Your Passion: The First Impulse: "I'll do what happens to come my way." The Second Impulse: "I'll do what I'm designed to do."
Inhale ... exhale ... the difference of your lifetime can begin in the space of a single breath. The decision is yours. Start today.

About the Author
Drs. Les and Leslie Parrott are codirectors of the Center for Relationship Development at Seattle Pacific University (SPU), a groundbreaking program dedicated to teaching the basics of good relationships. Les Parrott is a professor of clinical psychology at SPU, and Leslie is a marriage and family therapist at SPU. The Parrotts are authors of the Gold Medallion Award-winning Saving Your Marriage Before It Starts. They have also written Love Talk, I Love You More, Your Time-Starved Marriage, and the Complete Guide to Marriage Mentoring. They have been featured on Oprah, CBS This Morning, CNN, and The View, and in USA Today and the New York Times. They live in Seattle, Washington, with their two sons.

Table of Contents
Foreword by John C. Maxwell
11
Introduction: The Power of Thinking Twice
13
1
It Takes Three Seconds to...Empower Yourself
The First Impulse: "There's nothing I can do about it"
The Second Impulse: "I can't do everything, but I can do something"
2
It Takes Three Seconds to...Embrace a Good Challenge
The First Impulse: "It's too difficult to even attempt"
The Second Impulse: "I love a challenge"
27
3
It Takes Three Seconds to...Fuel Your Passion
The First Impulse: "I'll do what happens to come my way"
The Second Impulse: "I'll do what I'm designed to do"
77
4
It Takes Three Seconds to...Own Your Piece of the Pie
The First Impulse: "It's not my problem, somebody else is to blame"
The Second Impulse: "The buck stops here."
105
5
It Takes Three Seconds to...Walk the Extra Mile
The First Impulse: "I've done what's required, and that's that"
The Second Impulse: "I'll go above and beyond the mere minimum"
131
6
It Takes Three Seconds to...Quit Stewing and Start Doing
The First Impulse: "Someday I'm going to do that"
The Second Impulse: "I'm diving in...starting today"
157
Conclusion: How to Make Your Second Impulse Second Nature
185
Notes
195
Acknowledgments
199

Find Items On Similar Subjects

25 Ways to Win with People
: How to Make Others Feel Like a Million Bucks