Global Tilt
: Leading Your Business Through the Great Economic Power Shift
Ram Charan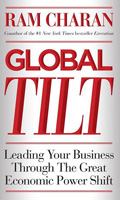 Format:
Hardcover, 336pp.
ISBN:
9780307889126
Publisher:
Crown Business
Pub. Date:
February 26, 2013
Average Customer Review:

For Bulk Orders Call: 626-441-2024

Description and Reviews
From
The Publisher:
The greatest change in business history is happening right now. What are you going to do about it?
the tilt
(tilt):
1.
The shift in business and economic power from countries of the north to the fast-developing markets and economies of the south – not only China, India and Brazil but also the Middle East and parts of Africa.
2.
The result of unstoppable forces, including the volatile global financial system, digitization, the rise of state capitalism and a new global middle class that is both youthful and urban—forces by which industries and economies rapidly emerge and change the global playing field.
3.
A call to abandon old assumptions and rules of thumb about the North and South, and the opening of mega-opportunities for leaders who learn to see the world not just from the vantage point of New York but also from that of Beijing, Mumbai, Singapore, and Sao Paulo.
Ram Charan has spent more time anyone else on the ground observing and analyzing the the tilt. Here he gives business leaders the tools to detect trends that cut across not just industries but also countries, rethink the economic and business principles they rely on, and adapt to the speed of innovation and unprecedented needs of the new global economy. With The Tilt, he provides the essential, practical playbook for strategizing and succeeding in a tilted world.

Reviews
"Ram is a gifted visionary who is above all a pragmatist. He knows that the pathway from the possible to reality is not linear, but one of applied imagination and strategic leaps. In Global Tilt, Ram teaches us that unlearning is essential to new learning, with many examples that will both inspire and educate even the most seasoned business leader."
—Inge Thulin, Chairman of the Board, President and CEO, 3M Company
"A timely and insightful call to establishment leaders to rethink the world business equation. Charan encourages leaders of the North to strategize and operate with a different and more realistic mind set if they are to counter the thrust of exuberant, ever more affluent and confident leaders of the South. A must read for those seeing a more growth orientated future."
—Larry Bossidy, former Chairman and CEO of Honeywell
"Global Tilt is more than just a crisp and insightful look at the North to South power-shift taking place in the world today. It's a brilliantly crafted managerial and strategy blueprint for leaders of businesses and organizations that are trying to make sense of this dynamic new landscape. This is Ram and his sharp strategic acumen at his very best. No CEO's library should be without it."
—Muhtar Kent, Chairman of the Board and Chief Executive Officer of The Coca-Cola Company
Cuts to the core, right from page 1. The first chapter sets the agenda and you are immersed. In his inimitable way, Prof. Ram Charan then proceeds to give us the solutions. An enormously educative must-read for every business leader."
—K.V. Kamath, Chairman, Infosys Limited
"Ram Charan has this rare ability to distill meaningful from meaningless and transfer it to others in a quite effective way without destroying confidences."
—Jack Welch
"He probably knows more about America than anybody."
—Richard Harrington, CEO Thomson Corporation
"He is constantly providing depth to issues, not just answers."
—Ivan Seidenberg, former chairman and CEO, Verizon Communications
"He's helped me in business, in government and in the nonprofit."
—Gaston Caperton, former governor of West Virginia, president and CEO of The College Board
"Ram is a catalyst in the real sense of that word. Her facilitates things happening ... and is an immense source of energy."
—John Reed, former CEO of Citibank

About the Author
Ram Charan
is a highly sought-after business advisor famous among executives for his uncanny ability to solve their toughest business problems. He is the co-author of the number one New York Times best seller, Execution: The Discipline of Getting Things Done and the author of What the CEO Wants You to Know. Dr. Charan's articles have been published in Fortune, Harvard Business Review and Strategy+Business.