American Icon
: Alan Mulally and the Fight to Save Ford Motor Company
Bryce G. Hoffman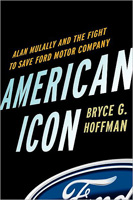 Format:
Paperback, 432pp.
ISBN:
9780307886064
Publisher:
Crown Business
Pub. Date:
February 5, 2013
Average Customer Review:

For Bulk Orders Call: 626-441-2024

Description and Reviews
From
The Publisher:
THE INSIDE STORY OF THE EPIC TURNAROUND OF FORD MOTOR COMPANY UNDER THE LEADERSHIP OF CEO ALAN MULALLY.
At the end of 2008, Ford Motor Company was just months away from running out of cash. With the auto industry careening toward ruin, Congress offered all three Detroit automakers a bailout. General Motors and Chrysler grabbed the taxpayer lifeline, but Ford decided to save itself. Under the leadership of charismatic CEO Alan Mulally, Ford had already put together a bold plan to unify its divided global operations, transform its lackluster product lineup, and overcome a dysfunctional culture of infighting, backstabbing, and excuses. It was an extraordinary risk, but it was the only way the Ford family—America's last great industrial dynasty—could hold on to their company.
Mulally and his team pulled off one of the greatest comebacks in business history. As the rest of Detroit collapsed, Ford went from the brink of bankruptcy to being the most profitable automaker in the world.
American Icon
is the compelling, behind-the-scenes account of that epic turnaround. On the verge of collapse, Ford went outside the auto industry and recruited Mulally—the man who had already saved Boeing from the deathblow of 9/11—to lead a sweeping restructuring of a company that had been unable to overcome decades of mismanagement and denial. Mulally applied the principles he developed at Boeing to streamline Ford's inefficient operations, force its fractious executives to work together as a team, and spark a product renaissance in Dearborn. He also convinced the United Auto Workers to join his fight for the soul of American manufacturing.
Bryce Hoffman reveals the untold story of the covert meetings with UAW leaders that led to a game-changing contract, Bill Ford's battle to hold the Ford family together when many were ready to cash in their stock and write off the company, and the secret alliance with Toyota and Honda that helped prop up the American automotive supply base.
In one of the great management narratives of our time, Hoffman puts the reader inside the boardroom as Mulally uses his celebrated Business Plan Review meet­ings to drive change and force Ford to deal with the painful realities of the American auto industry.
Hoffman was granted unprecedented access to Ford's top executives and top-secret company documents. He spent countless hours with Alan Mulally, Bill Ford, the Ford family, former executives, labor leaders, and company directors. In the bestselling tradition of
Too Big to Fail
and
The Big Short
, American Icon is narrative nonfiction at its vivid and colorful best.

Reviews
"Bryce Hoffman has done a stellar job of capturing the Ford story—and more to the point showing us how Mulally did it. American Icon is a story of leadership that offers valuable lessons for organizations of all sizes."
—Lee Iacocca
"Bryce G. Hoffman's American Icon brilliantly recounts the Lazarus-like resurgence of the Ford Motor Company under the bold and inspiring leadership of CEO Alan Mulally. Hoffman, one of America's best auto industry reporters, has written a timely book about the relevance of Ford that serves as a larger metaphor for America at large. Highly recommend!"
—Douglas Brinkley, professor of history, Rice University, and author of Wheels for the World: Henry Ford, His Company, and a Century of Progress
"Bryce Hoffman has written a riveting tome based on deep insider information about the resurrection of the Ford Motor Company from a near death experience and the establishment of a business model that promises to be a prototype for large organizations of all types. It features the transformation from a top-down style of leadership to that of a coach led by CEO Alan Mulally whose focus is the team, the team, the team."
—David E. Cole, chairman emeritus, Center for Automotive Research
"From the precipitous demise of an American icon through decades of infighting and self-destructive management to a turnaround not only financial but also in terms of forging the foundation of a new, healthy culture, this book reads like an un-put-downable novel. Bryce Hoffman's amazing inside access tells the story of how Alan Mullally built on Henry Ford's own management principles—which quickly got lost in the company—and created one company, with one purpose and a passion for product and customers. A great story."
—Jeffrey Liker, professor, University of Michigan, and author of The Toyota Way
"Amazing. I would give Alan Mulally twelve D's for his work at Ford, for Discipline, Data, Daring, Determination, Design, Direction, Decisiveness, Delivery, Doubt-Free, Debt Free, Downsizing, and of course, Dearborn. I thought I was disciplined until I read how Mulally worked. Bryce is a gifted writer, and American Icon is both educational and entertaining. Most telling of all—I learned from reading this book."
—Lee Cockerell, former Executive Vice President, Walt Disney World Resort, and author of Creating Magic
"After decades of stories about the failure of America's traditional industries to meet world competition, it is heartening to encounter a signal success. But Bryce Hoffman's rendering of how Alan Mulally reversed the fortunes of Ford Motor is more than heartening; it is riveting. Almost certainly one of the best business books of the year."
—H. W. Brands, professor of history at the University of Texas at Austin, and author of Traitor to His Class and The First American
"This superbly reported book is not just about cars. It is an authoritative and inspiring account of leadership, management, corporate culture, and the prospects for American manufacturing."
—John Taylor, author of Storming the Magic Kingdom

About the Author
Bryce G. Hoffman
is an award-winning journalist who has covered the auto industry, both in the United States and around the world, since 1998. He began covering Ford Motor Company for the Detroit News in 2005. That beat gave him a front-row seat for many of the events chronicled in
American Icon
. Hoffman has been honored by the Society of American Business Editors and Writers, the Society of Professional Journalists, the Associated Press, and others for his coverage of Ford and is one of the world's foremost authorities on the automaker. He lives in Grand Blanc, Michigan.

Find Items On Similar Subjects

Car Guys vs. Bean Counters
: The Battle for the Soul of American Business