SuperCorp
: How Vanguard Companies Create Innovation, Profits, Growth, and Social Good
Rosabeth Moss Kanter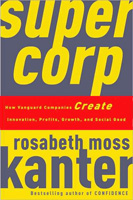 Format:
Hardcover, 336pp.
ISBN:
9780307382351
Publisher:
Crown Business
Pub. Date:
August 25, 2009
Average Customer Review:

For Bulk Orders Call: 626-441-2024

Description and Reviews
From
The Publisher:
Rosabeth Moss Kanter on the answer to the global crisis of business and American-style capitalism
Out of the ashes of conventional business models arises a set of companies using their power not only for profits and sustainable growth but also social good.
If you think business corporations are doomed to be lumbering, bloated, and corrupt, think again.
Based on an extraordinary three-year investigation, interviewing more than 350 key people at major companies around the world, Rosabeth Moss Kanter provides encouraging and astounding evidence that this assumption is completely outdated. The businesses that are agile, keeping ahead of the curve in terms of market changes and customer needs, are the businesses that are also progressive, socially responsible human communities.
Take IBM. When the tsunami and earthquake struck Asia, IBM didn't just cut a check for relief funds and call it a day. The company used its technological expertise and skilled people to create what government and relief agencies could not: information systems to effectively track relief supplies and reunite families. While IBM did this with no commercial motive, its employees' desire to serve people suffering during these crises stimulated innovations that later benefited the company.
Or Proctor & Gamble. Despite a decade-long commitment to research and development of a water purification product, commercial prospects were unpromising. But because it was so consistent with P&G's statement of purpose, people within the company persevered. And when the tsunami struck, it was then able to deliver roughly a billion glasses of drinking water for the victims, earning plaudits from aid partners, the media, governments, and crucially, P&G employees.
SuperCorp
captures the zeitgeist of the emerging twenty-first-century business. For example:
The strong potential synergy between financial performance and attention to community and social needs
The unique competitive advantage from embracing the values and expectations of a new generation of professionals
The growth opportunities that result from stressing values and supressing executive egos when seeking partners and integrating acquisitions
SuperCorp
is a remarkable look at the business of the future and the management skills required to get there. IBM, Banco Real, P&G, Cemex, Omron, and other companies reported on now move with the rapidity and creativity of much smaller enterprises. These companies are not perfect, but when people are empowered and values drive decisions, everything can come together in magical "Rubik's Cube moments" of deep satisfaction. Kanter's compelling and inspiring stories show that people are more inclined to be creative when their company values innovation that helps the world.

Reviews
"Rosabeth Moss Kanter puts a new and welcome human face on the many ways companies can serve a public purpose while also prospering financially and building an enduring culture of success."
—Andrea Jung, chairman and CEO of Avon Products
"A brilliant report from the front lines of companies creating the future by accomplishing the seemingly impossible."
—Daniel Vasella, chairman and CEO of Novartis
"Rosabeth Moss Kanter . . . breaks new ground in SuperCorp by envisioning the corporation of the future that creates long-term value through breakthrough strategies that help solve intractable social problems."
—Bill George, former chairman and CEO of Medtronic and author of True North
"This is the book that the world has been anxiously waiting for, perhaps Kanter's most notable, certainly one of the most important books of this decade."
—Warren Bennis, University Professor at the University of Southern California and author of On Becoming a Leader
"Kanter makes a compelling case about the role played by corporate culture, values-based decision making, and larger societal issues in the creation of sustainable success."
—Ivan Seidenberg, chairman and CEO of Verizon
"Innovative insights on how companies–and their leaders–can be at the vanguard of the twenty-first century. . . . Timely, informative, and uplifting–all of the qualities of a great read!"
—David Gergen, CNN senior political analyst and White House counselor to four U.S. presidents
"Kanter's careful analysis goes beyond the platitudes by offering solid examples and important insights."
—Samuel J. Palmisano, chairman, p­resident, and CEO of IBM
"Unless your business is also serving a social purpose you miss an opportunity for innovations that bring profits. Rosabeth Moss Kanter, one of our most outstanding scholars, excels in her characteristic manner by taking the lead and developing practical ideas for the leaders of the future."
—Ram Charan, coauthor of Execution: The Discipline of Getting Things Done

About the Author
Named by the London Times as one of the "50 most powerful women in the world,"
Rosabeth Moss Kanter
is the Ernest L. Arbuckle Professor at Harvard Business School. She is the author of the New York Times bestseller Confidence, The Change Masters, named by the Financial Times as one of the most influential business books of the twentieth century, and Men and Women of the Corporation, which won the C. Wright Mills Award for the year's best book on social issues. Dr. Kanter chairs the Harvard Advanced Leadership Initiative, offering innovative collaboration across business, education, government, law, and public health.

Find Items On Similar Subjects

Confidence
: How Winning Streaks and Losing Streaks Begin and End - P

The Breakthrough Company
: How Everyday Companies Become Extraordinary Performers