How the Wise Decide
: The Lessons of 21 Extraordinary Leaders
Aaron Sandoski and Bryn Zeckhauser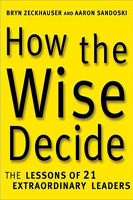 Format:
Hardcover, 224pp.
ISBN:
9780307339737
Publisher:
Crown Business
Pub. Date:
August 26, 2008
Average Customer Review:

For Bulk Orders Call: 626-441-2024

Description and Reviews
From
The Publisher:
Discover the formula used by twenty-one of the world's most extraordinary leaders to make consistent and smart decisions.
How do the wise decide and lead businesses and organizations to great success is the question Bryn Zeckhauser and Aaron Sandoski posed to themselves after landing their first jobs as managers. Despite the best training the world could offer—Harvard MBAs and stints at McKinsey & Company, the elite powerhouse consulting firm—they felt unprepared when faced with the pressure to make critical decisions. So they set out on a three-year quest to discover how people with remarkable success and experience in both corporate and public life—"the wise"—went about making crucial, often make-or-break decisions.
How did William George, when CEO of Medtronic, get the real story about why a critical tool used by cardiologists was failing and use that information to fix a systemic problem within the company?
When inventor Dean Kamen has to make a decision about investing in a new technology, why does he find it useful to "fill a room with barbarians" to get the best thinking from his team?
How did Shelly Lazarus assess the risks of making a nontraditional career move, a decision that eventually led her to being appointed CEO?
How did Stephen Schwarzman and Peter Peterson, the founders of The Blackstone Group, turn $400,000 of their own money into one of the world's preeminent alternative asset managers with $100 billion under management?
These and the other accounts of the direct conversations Zeckhauser and Sandoski had with twenty-one major leaders show that between wise decisions and poor ones lie vast fortunes and extraordinary contrasts in success.
How the Wise Decide
distills their wisdom, and it reveals how you can use this wisdom to be on the winning side of the ledger.

Reviews
"How the Wise Decide is akin to sitting down for a mentoring session with some of the great leaders of recent years. Its commonsense lessons on decision-making, clear writing, and practical guidelines make it a wise choice for both people just starting their careers as well as those with years of experience under their belt."
—Frank Blake, chairman and CEO, Home Depot
"Bryn Zeckhauser and Aaron Sandoski offer a rich collection of insights on how leaders make and implement important decisions, distilled from an impressively wide range of major decision-makers. The discussion of risk, risk mitigation, and incentives is particularly useful. The importance of transparency and its relation to self-selection is very interesting. And the commentary on the no-carryover principle and the pocket veto is just fascinating.
—A. Michael Spence, former dean, Stanford Graduate School of Business, and winner of the Nobel Prize in Economics
"What is wisdom? How is it acquired? Can it be codified? Can it be learned? Bryn Zeckhauser and Aaron Sandoski have attacked these questions head-on by focusing on how twenty-one remarkable leaders make decisions. They discern some fascinating patterns, which form the basis for concrete and practical advice. Zeckhauser and Sandoski have done us a great service by picking these people to study and helping us learn from them. Every reader can benefit from reading How the Wise Decide since we all can certainly use a dose of wisdom."
—William A. Sahlman, Dimitri V. d'Arbeloff– MBA Class of 1955 Professor of Business Administration, Harvard Business School
"How the Wise Decide thoughtfully examines principles that inform effective decision-making and shows how successful leaders have used them to make critical decisions. In a series of interesting and well-researched lessons, Bryn Zeckhauser and Aaron Sandoski offer practical advice and a method that all managers can use to improve their decision-making."
—Roger W. Ferguson Jr., president and CEO, TIAA-CREF
"The most difficult dilemma in business is how to make the tough decisions. How the Wise Decide provides compelling examples from our greatest leaders as to how they source information, deal with risk, and let their long-term vision guide them in making the tough calls. For anyone who wants to be a wise decision-maker, the first choice should be to buy this book."
—Sarah Levy, COO, Nickelodeon

About the Authors
Bryn Zeckhauser
is a senior fellow at Harvard University's Mossavar-Rahmani Center for Business and Government and a principal at Equity Resource Investments, a real-estate investment firm with funds in the United States and Asia. She developed her interest in strategic decision making working with portfolio companies at Kleiner Perkins Caufield & Byers and with her Fortune 500 clients at McKinsey and Company.
Aaron Sandoski
is managing director of Norwich Ventures, a medical device venture capital firm. He began his professional career with the consulting firm McKinsey & Company and has also been a teaching fellow at Harvard University, where he won the Allyn Young Teaching Prize.

Table of Contents
| | | |
| --- | --- | --- |
| | | |
| | The 21 Club | 1 |
| | | |
| 1 | Go to the Source | 7 |
| 2 | Fill a Room with Barbarians | 44 |
| 3 | Conquer the Fear of Risk | 73 |
| 4 | Make Vision Your Daily Guide | 104 |
| 5 | Listen with Purpose | 129 |
| 6 | Be Transparent | 155 |
| | | |
| | Practicing the Principles | 172 |
| | | |
| | App. A Methodology | 175 |
| | App. B Peer Survey | 180 |
| | App. C Leader Profiles | 182 |
| | Notes | 199 |
| | Acknowledgments | 203 |
| | Index | 205 |

Find Items On Similar Subjects

How We Decide