The Pixar Touch
: The Making of a Company
David A. Price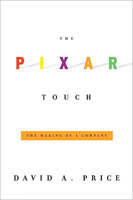 Format:
Paperback, 320pp.
ISBN:
9780307278296
Publisher:
Vintage
Pub. Date:
May 5, 2005
Average Customer Review:

For Bulk Orders Call: 626-441-2024

Description and Reviews
From
The Publisher:
The roller-coaster rags-to-riches story behind the phenomenal success of Pixar Animation Studios: the first in-depth look at the company that forever changed the film industry and the "fraternity of geeks" who shaped it.
The Pixar Touch
is a story of technical innovation that revolutionized animation, transforming hand-drawn cel animation to computer-generated 3-D graphics. It's a triumphant business story of a company that began with a dream, remained true to the ideals of its founders—antibureaucratic and artist driven—and ended up a multibillion-dollar success.
We meet Pixar's technical genius and founding CEO, Ed Catmull, who dreamed of becoming an animator, inspired by Disney's Peter Pan and Pinocchio, realized he would never be good enough, and instead enrolled in the then new field of computer science at the University of Utah. It was Catmull who founded the computer graphics lab at the New York Institute of Technology and who wound up at Lucasfilm during the first Star Wars trilogy, running the computer graphics department, and found a patron in Steve Jobs, just ousted from Apple Computer, who bought Pixar for five million dollars. Catmull went on to win four Academy Awards for his technical feats and helped to create some of the key computer-generated imagery software that animators rely on today.
Price also writes about John Lasseter, who catapulted himself from unemployed animator to one of the most powerful figures in American filmmaking; animation was the only thing he ever wanted to do (he was inspired by Disney's The Sword in the Stone), and Price's book shows how Lassetertransformed computer animation from a novelty into an art form. The author writes as well about Steve Jobs, as volatile a figure as a Shakespearean monarch . . .
Based on interviews with dozens of insiders,
The Pixar Touch
examines the early wildcat years when computer animation was thought of as the lunatic fringe of the medium.
We see the studio at work today; how its writers, directors, and animators make their astonishing, and astonishingly popular, films.
The book also delves into Pixar's corporate feuds: between Lasseter and his former champion, Jeffrey Katzenberg (A Bug's Life vs. Antz), and between Jobs and Michael Eisner. And finally it explores Pixar's complex relationship with the Walt Disney Company as it transformed itself from a Disney satellite into the $7.4 billion jewel in the Disney crown.

About the Author
David A. Price
was raised in Richmond, Virginia, and was educated at the College of William and Mary, where he received his degree in computer science. He graduated from Harvard Law School and Cambridge University. Price has written for The Wall Street Journal, Investor's Business Daily, Business 2.0, The Washington Post, Forbes, and Inc. and is the author of Love and Hate in Jamestown. He lives with his wife and sons in Washington, D.C.

Find Items On Similar Subjects

My Years with General Motors