Woodrow Wilson
: A Biography
John Milton Cooper Jr.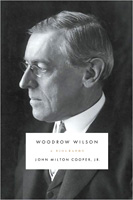 Format:
Paperback, 736pp.
ISBN:
9780307277909
Publisher:
Vintage
Pub. Date:
April 5, 2011
Average Customer Review:


For Bulk Orders Call: 626-441-2024

Description and Reviews
From
The Publisher:
The first major biography of America's twenty-eighth president in nearly two decades, from one of America's foremost Woodrow Wilson scholars.
A Democrat who reclaimed the White House after sixteen years of Republican administrations, Wilson was a transformative president—he helped create the regulatory bodies and legislation that prefigured FDR's New Deal and would prove central to governance through the early twenty-first century, including the Federal Reserve system and the Clayton Antitrust Act; he guided the nation through World War I; and, although his advocacy in favor of joining the League of Nations proved unsuccessful, he nonetheless established a new way of thinking about international relations that would carry America into the United Nations era. Yet Wilson also steadfastly resisted progress for civil rights, while his attorney general launched an aggressive attack on civil liberties.
Even as he reminds us of the foundational scope of Wilson's domestic policy achievements, John Milton Cooper, Jr., reshapes our understanding of the man himself: his Wilson is warm and gracious—not at all the dour puritan of popular imagination. As the president of Princeton, his encounters with the often rancorous battles of academe prepared him for state and national politics. Just two years after he was elected governor of New Jersey, Wilson, now a leader in the progressive movement, won the Democratic presidential nomination and went on to defeat Theodore Roosevelt and William Howard Taft in one of the twentieth century's most memorable presidential elections. Ever the professor, Wilson relied on the strength of his intellectual convictions and the power of reason to win over the American people.
John Milton Cooper, Jr., gives us a vigorous, lasting record of Wilson's life and achievements. This is a long overdue, revelatory portrait of one of our most important presidents—particularly resonant now, as another president seeks to change the way government relates to the people and regulates the economy.

Reviews
"If we must have another presidential biography, best to have one of a figure who hasn't had his life written about at length for two decades. While the Wilson we find here differs little from the man we've known before, Cooper's new book is an authoritative, up-to-date study of the great president. Cooper (Breaking the Heart of the World), a noted Wilson expert at the University of Wisconsin–Madison, offers balanced and judicious assessments of the life and career of one of the nation's most controversial leaders. From his youth in Virginia, through his years at Princeton, then as New Jersey governor and president, Wilson faced thickets of challenges, not all of which he managed effectively. At the end, sick and weakened, characteristically stubborn and moralistic, he notoriously failed to gain American membership in the League of Nations. Yet Cooper, while sympathetic to his subject—a visionary and Progressive reformer in domestic politics—fairly records Wilson's Southern racism along with his keen intellect and political acuity. Wilson would come to be, Cooper concludes, one of the best remembered and argued over of all presidents. While not stemming any disputes, this book will please and inform all readers." 16 pages of photos. (Nov. 2)
—Publishers Weekly, Copyright © Reed Business Information, a division of Reed Elsevier Inc. All rights reserved.
"A landmark work, the best one-volume biography ever written about the 28th president, and political history as its finest. With great deftness, Cooper describes and evaluates Wilson's personality and intellect, in ways that will surprise many readers. He thereby illuminates the idealism and tragedy, the insight and the blindness, of one of the monumental figures in the nation's history."
—Sean Wilentz, author of The Rise of American Democracy: Jefferson to Lincoln
"A rich and thoughtful portrait of a transformative, controversial and resonant president. Americans who remember Woodrow Wilson as a dour scholar-president will find a vastly more complicated and fascinating man in the pages of this sweeping new book."
—Jon Meacham, Pulitzer Prize-winning author of American Lion
"There is no more accomplished Woodrow Wilson scholar than Cooper, and this magisterial, judicious, deeply researched book–the culmination of decades of study–shows the author at the zenith of his powers. This book demonstrates Wilson's importance to our own generation, and his powerful judgments will shape the way we view the 28th President for a very long time."
—Michael Beschloss, author of Presidential Courage
"Woodrow Wilson continues to intrigue–and divide–us. At once an idealist expressing the noblest of liberal sentiments and a racist, an intellectual and a skilled politician, a man capable of great kindness and great vindictiveness–Cooper's masterly biography describes him warts and all. A full and fascinating study of the man and his turbulent times."
—Margaret MacMillan, author of Paris 1919
"A riveting account of one of America's most intellectually magnetic, yet also enigmatic, presidents. Cooper does a superb job of portraying the aspirations of Wilson's idealistic internationalism while at the same time detailing the realistic pitfalls that helped undermine it. This is a fascinating read for those who want to understand a presidency that helped set the tone for U.S. foreign policy in the 20th Century."
—James A. Baker, III, 61st U.S. Secretary of State
"A rich and readable study by a leading historian who has made Wilson and his times his life work. A fine combination of sound scholarship and compelling narrative."
—James MacGregor Burns, Pulitzer Prize-winning author of Roosevelt: Soldier of Freedom 1940-1945
"Of all the important presidents of the 20th century, Woodrow Wilson has always been the least-known and seemed the least-knowable. Now, Cooper has written a crisp clear eyed account of the life of this extraordinary but deeply flawed leader who began his career as a dynamic far-seeing reformer and ended it short-sighted and delusional. It is a Shakespearean story, beautifully and sensitively told by one of our finest historians."
—Geoffrey C. Ward, author of A First Class Temperament: The Emergence of Franklin Delano Roosevelt

About the Author
John Milton Cooper, Jr.
, is professor of history at the University of Wisconsin. He is the author of Breaking the Heart of the World: Wilson and the Fight for the League of Nations and The Warrior and the Priest: Woodrow Wilson and Theodore Roosevelt, among other books. He was recently a fellow at the Woodrow Wilson International Center for Scholars in Washington, D.C. He lives in Madison, Wisconsin.

Find Items On Similar Subjects

Biography