Augustus
: First Emperor of Rome
Adrian Goldsworthy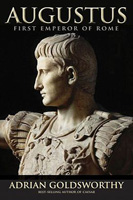 Format:
Paperback, 640pp.
ISBN:
9780300216660
Publisher:
Yale University Press
Pub. Date:
September 29, 2015
Average Customer Review:


For Bulk Orders Call: 626-441-2024

Description and Reviews
From
The Publisher:
Caesar Augustus' story, one of the most riveting in western history, is filled with drama and contradiction, risky gambles and unexpected success. He began as a teenage warlord, whose only claim to power was as the heir of the murdered Julius Caesar. Mark Antony dubbed him "a boy who owes everything to a name," but in the years to come the youth outmaneuvered all the older and more experienced politicians and was the last man standing in 30 BC. Over the next half century he reinvented himself as a servant of the state who gave Rome peace and stability, and created a new system of government—the Principate or rule of an emperor.
In this highly anticipated biography Goldsworthy puts his deep knowledge of ancient sources to full use, recounting the events of Augustus' long life in greater detail than ever before. Goldsworthy pins down the man behind the myths: a consummate manipulator, propagandist, and showman, both generous and ruthless. Under Augustus' rule the empire prospered, yet his success was never assured and the events of his life unfolded with exciting unpredictability. Goldsworthy captures the passion and savagery, the public image and private struggles of the real man whose epic life continues to influence western history.

Reviews
"Augustus splendidly completes the trilogy that started with Caesar and continued with Antony and Cleopatra. It is the best extended treatment in English of Augustus' career and his many contradictions."
—Karl Galinsky, University of Texas at Austin
"Goldsworthy has produced an elegantly written and well-argued biography of Augustus that pulls no punches. Sifting through the literature of the Augustan Age, he brings together the ancient evidence with the best of modern scholarship, producing a meticulously researched, but highly readable, volume on Rome's first emperor. The result is a study on the nature of leadership, the wielding of power, and the price to be paid by both."
—Col. Rose Mary Sheldon, Virginia Military Institute
"Goldsworthy peers like a master jeweler into the strange cold diamond at the heart of Roman history—the emperor Augustus—and reveals the whole Roman world reflected in its facets. But the book itself is warm with human sympathy, elegant writing, and the sheer joy and love of history it evokes in its reader."
—J. E. Lendon, author of Soldiers and Ghosts: A History of Battle in Classical Antiquity and Song of Wrath: The Peloponnesian War Begins
"For all his importance, Augustus is often an enigma behind a classical façade. Goldsworthy's Augustus reveals all the drama and detail surrounding Rome's first emperor. Brimming with energy, scholarship, and wisdom, it is a history book to savor."
—Barry Strauss, author of Masters of Command: Alexander, Hannibal, Caesar and the Genius of Leadership
"Goldsworthy (Caesar: Life of a Colossus, 2008, etc.) obviously has ancient Rome in his bones, and his biography of Augustus is also a solid chronicle of Rome and its development. . . . Goldsworthy questions why Augustus has slipped off of many historians' lists of great leaders, which include Julius Caesar, Alexander, Hannibal and Hadrian. He provides plenty of reasons why he should be at the top of those lists."
—Kirkus Reviews
"Goldsworthy's true expertise is as a military historian, and this is what really gives his biography its strength and bite: his depiction of Augustus's relationship with his legions is masterly."
—Robert Harris, London Sunday Times
"Like Goldsworthy's biography of Julius Caesar, this is essential reading for anyone interested in Ancient Rome."
—Natalie Haynes, The Independent
"A fascinating exploration of the life of one of Rome's most stable and yet still mysterious emperors. . . . This vast accomplished book . . . is a book to read avidly but also dip in to, to enjoy the huge range of characters and events."
—Jennifer Selway, Daily Express
"In too many of the numerous histories of this period, Augustus as an individual is blurred, if not overlooked, as strange as that may seem. Goldsworthy's goal is to rescue the life of Augustus from the history, limning the passions, cruelty, and wiliness that made up that often-dismissed character. . . . Adrian Goldsworthy's fine new biography tells the founder's story as it deserves to be told."
—Michael Auslin, National Review Online
"Impressive. . . Mr. Goldsworthy. . . moves nimbly around other important evidence about Augustus' life. . . The resulting life is, in one sense, deeply unified. This is a welcome corrective to traditional presentations."
—Brendan Boyle, The Wall Street Journal

About the Author
Adrian Goldsworthy
is a leading historian of the ancient world and author of acclaimed biographies of Julius Caesar and Antony and Cleopatra among many other books. He lectures widely and consults on historical documentaries produced by the History Channel, National Geographic, and the BBC. He lives in the Vale of Glamorgan, UK.

Find Items On Similar Subjects

Biography

Victoria
: A Life

Rebel Yell
: The Violence, Passion, and Redemption of Stonewall Jackson