Advocacy
: Championing Ideas and Influencing Others: Championing Ideas and Influencing Others
John A. Daly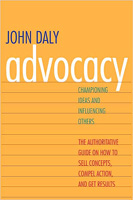 Format:
Paperback, 400pp.
ISBN: 9780300188134
Publisher:
Yale University Press
Pub. Date:
June 19, 2012
Average Customer Review:


For Bulk Orders Call: 626-441-2024

Description and Reviews
From
The Publisher:
When a group of people gather together to generate ideas for solving a problem or achieving a goal, sometimes the best ideas are passed over. Worse, a problematic suggestion with far less likelihood of success may be selected instead. Why would a group dismiss an option that would be more effective? Leadership and communications expert John Daly has a straightforward answer: it wasn't sold to them as well. If the best idea is yours, how can you increase the chances that it gains the support of the group? In
Advocacy: Championing Ideas and Influencing Others
, Daly explains in full detail how to transform ideas into practice.
To be successful, leaders in every type of organization must find practical and action-oriented ways to market their ideas and achieve buy-in from the members of the group. Daly offers a comprehensive action guide that explains how to shape opinion, inspire action, and achieve results. Drawing on current research in the fields of persuasion, power relations, and behavior change, he discusses the complex factors involved in selling an idea—the context of the communication, the type of message being promoted, the nature and interests of the audience, the emotional tenor of the issues at stake, and much more. For the businessperson, politician, or any other member of a group who seeks the satisfaction of having his or her own idea take shape and become reality, this book is an essential guide.

About the Author
John Daly
has published more than 100 scholarly articles, produced five books, and made numerous conference presentations. He has served as editor of two academic journals and is the president of the National Communication Association, as well as the president of the Council of Communication Associations. He has been on the Board of Directors of the International Customer Service Association and the International Communication Association. Daly has worked with more than 300 companies and public agencies worldwide on topics related to communication, influence, and customer loyalty. In recent years, he has worked with corporate entities such as American Airlines, IBM, Marriott, Merck, and Merrill Lynch, as well as governmental units such as the White House, Department of the Army, Department of Interior, and many others.

Table of Contents
| | | |
| --- | --- | --- |
| 1 | The Politics of Ideas | |
| 2 | Communicate Your Idea with Impact | |
| 3 | Frame Your Advocacy Message | |
| 4 | Build Your Reputation, Create a Brand | |
| 5 | Form Alliances | |
| 6 | Your Idea Is Only as Good as Its Story | |
| 7 | Who's Making the Decision? | |
| 8 | Network! | |
| 9 | Timing Is Everything | |
| 10 | Create Persuasive Messages | |
| 11 | Make the Idea Matter | |
| 12 | Make a Memorable Case | |
| 13 | Demonstrate Confidence | |
| 14 | Steer Meetings Your Way | |
| | | |
| | Notes | |
| | Index | |