Leading the Charge
: Leadership Lessons from the Battlefield to the Boardroom
Tony Zinni and Tony Koltz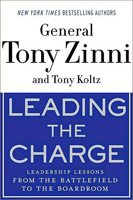 Format:
Hardcover, 256pp.
ISBN:
9780230612655
Publisher:
Palgrave Macmillan
Pub. Date:
August 4, 2009
Average Customer Review:

For Bulk Orders Call: 626-441-2024

Description and Reviews
From
The Publisher:
"What's happened to our leaders and to our leadership?"
Based on General Zinni's leadership experiences from the battlefield to the boardroom,
Leading the Charge
shows a new way through the significant leadership challenges of the 21st century.
The times are changing at an ever-increasing velocity. Old systems, organizations, and ways of operating no longer work in our dynamic, complex and increasingly unstable new environment. Out of this chaos and confusion, a new and different leader must emerge. Old systems and methods will no longer work.
Leading the Charge
is a visionary leadership book that examines the trends that have reshaped our world and the ways in which visionary leaders and organizations can effectively respond. Tomorrow's successful leaders—in all fields, including the military, academia, politics, and business—must know how to create, operate, and thrive in very fluid, flattened, and integrated structures that are remarkably different from the traditional organizations we are used to seeing. They will have to manage rapidly changing technology and flows of information, and create faster and more far-reaching spans of control.
Leading the Charge
shows the way, and is an incisive and compelling guide to the new world of leadership, one that will prove indispensable for years to come.
Organized around "Leading a New World," a revolutionary leadership course General Zinni developed and taught at the Terry Sanford Institute of Public Policy at Duke University, Leading the Charge makes a convincing case that leaders must . . .
- change with the times to be relevant.
- be ready forcrisis mode at any given time.
- have a moral compass and the ability to steer the company in the right direction.
- be forward thinking, not reactive, to provide innovation and creativity.
- develop great leaders.

Reviews
"A warning that deserves serious consideration."
—The New York Times
"[Zinni] is a distinctly non-ideological man in an era when ideology is running rampant both home and abroad."
—Michael Abramowitz, The Washington Post
"Zinni is one of the more interesting men produced by the American military, with a supple mind that quickly adjusted to the new realities brought about by the collapse of the Soviet empire."
—Philip Caputo, New York Times Book Review
"The intellectual complement to Zinni and Clancy's bestselling Battle Ready...This volume provides the former Central Command chief's analysis of America's current global position...Zinni's pragmatic, low key approach merits serious condiseration."
—Publishers Weekly
"Refreshingly contrarian, and perfectly commonsensical."
—Kirkus Reviews
"[Zinni and Koltz] provide a clear analysis and plan for the future of America that challenges all--policy wonks, soldiers, and citizens alike--to rethink how we use our power to influence the global community."
—Library Journal
"Provocative, insightful, and straight-from-the-shoulder blunt."
—William S. Cohen, U.S. Secretary of Defense, 1997-2001
"Tony Zinni's writing is straightforward and to the point...a primer to guide us in the 21st century. Well done."
—Richard L. Armitage, U.S. Deputy Secretary of State, 2001-2005
"Sensible and deserve[s] wide support."
—James Fallows, national correspondent of The Atlantic Monthly, author of National Defense

About the Authors
General Tony Zinni
(Ret.) was commander in chief of CENTCOM and special envoy to the Middle East. He has appeared on The Daily Show and Meet the Press among others.
Tony Koltz
co-authored Tom Clancy's Into the Storm and Battle Ready as well as The Battle for Peace, a New York Times bestseller.