Work with Me
: The 8 Blind Spots Between Men and Women in Business
Barbara Annis and John Gray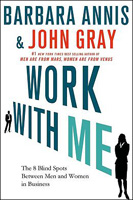 Format:
Paperback, 272pp.
ISBN:
9780230341906
Publisher:
St. Martin's Griffin
Pub. Date:
May 27, 2014
Average Customer Review:

For Bulk Orders Call: 626-441-2024

Description and Reviews
From
The Publisher:
Work With Me
is the timely collaboration of two of the world's foremost authorities on gender relations. Barbara Annis, world-renowned expert on gender issues in the workplace, and John Gray, author of the number one relationship book of all time,
Men Are from Mars, Women Are from Venus
, team up to resolve the most stressful and confusing challenges facing men and women at work. Annis and Gray reveal, for the first time, survey results of over 100,000 in-depth interviews of men and women executives in over 60 Fortune 500 companies.
Readers will discover the Eight Gender Blind Spots, the false assumptions and opinions men and women have of each other, and in many ways, believe of themselves. Through research, science, and stories, Annis and Gray expose the blind spots that cause our misunderstandings, miscommunications, mistrust, resentment, and frustrations at work. Readers will discover the biology and social influences that compel men and women to think and act as they do, and direct how they communicate, solve problems, make decisions, resolve conflict, lead others, and deal with stress, enabling them to achieve greater success and satisfaction in their professional and personal lives.
Work With Me
is the definitive work-life relational guide, filled with "ah-ha!" moments and discoveries that will remove the blind spots and enable men and women to work and succeed together.

Reviews
"Work With Me is a lucid, evidence-based guide for a comprehensive and immensely useful understanding of the unique, sex-specific features of the human brain. Barbara Annis, an articulate and intelligent advisor to corporations, has taught us how to meld the talents of men and women into an effective whole. She collaborates with John Gray, who was the first to engage the public in understanding the differences between the way we think, plan, and communicate. The book exemplifies the fact that gender-specific science is not an emotion-laden pursuit, but an ever-expanding, evidence-based exposition of the extraordinary—and for the most part completely unexpected—sex specific features of the human brain. This ought to be obligatory reading for every person who wants to fashion and maintain productive relationships."
—Marianne J. Legato, M.D., F.A.C.P, Professor of Clinical Medicine, Columbia University, Founder, Foundation for Gender-Specific Medicine, Inc.
"Work with Me is a landmark work that examines today's workplace opportunities and challenges through both an economic and social interaction lens and demonstrates why gender intelligence – not gender equality – will inspire a culture of inclusiveness and create a sustainable source of economic advantage for, individuals, leaders, and their organizations."
—Lara Warner, Chief Financial Officer, Credit Suisse Investment Bank
"It's time to get smart about Gender Intelligence. If anyone on Earth – or Venus or Mars – can sort out these complex relationships, John Gray and Barbara Annis can. "Work" your way through this remarkable book!"
—Harvey Mackay, #1 New York Times bestselling author of "Swim With The Sharks Without Being Eaten Alive."
"I firmly believe that for all high performers, the end goal is the same: to work and communicate as effectively and successfully as possible. This insightful and well-researched book shares valuable guidance for executives and employees at all levels, all of whom face challenges with different styles, expectations and approaches. Work with Me is an engaging and impactful read for men and women alike."
—Janet Wood, EVP Global Strategic Service Partners, SAP
"It seems that most books written on gender relations implore women to act more like men and deplore men for acting like themselves. Men and women want to find ways to work and succeed together, and to do so by being their authentic selves. Work with Me shows us how, with equal learning for women and men. It is refreshingly non-judgemental – neither gender is to be blamed or "fixed". Annis and Gray reveal that gender differences are not weaknesses but strengths that are often misunderstood and undervalued by both genders. Work with Me is an enjoyable and enlightening read, filled with practical information supported by empirical data, scientific explanations, and dozens of anecdotes that skilfully and warmly reflect gender interactions in our professional and personal lives."
—Valerie Sorbie, Chief Administrative Officer, BMO Capital Markets
"What a concept! Men being men and women being women. It's about time we put to rest the failed notion that we are all the same. Annis and Gray introduce an entirely new way to think and talk about gender equality in the 21st century. Work with Me is a perfect blend of work-life and personal-life messages. No other book tackles the issue of men and women working and winning together."
—Raymond Aaron, New York Times bestselling author of "Double Your Income Doing What You Love."
"Annis and Gray bravely reveal the blind spots that perpetually prevent men and women from understanding and appreciating their gender differences, not hiding or suppressing their authentic natures, and as a result, finding greater success and happiness in their professional and personal lives."
—Dr. Fabrizio Mancini, bestselling author of "The Power of Self-Healing"
"'Work with Me is the definitive relational guide for the workplace, bringing insights and solutions to help both men and women eliminate their gender blind spots, powerfully complement each other's natural strengths and efforts, and together achieve extraordinary levels of performance."
—George H. Labovitz, Ph.D., Founder and CEO of Organizational Dynamics, Inc.
"We all know in our hearts and minds that men and women are different. We see it in the natural behavior of children. The reality—and beauty—is that the authentic person within is the perfect counterpart of the other. Work with Me opens our hearts and minds to that genuineness. This valuable book will unsurprisingly make an uplifting difference in your personal life and perhaps surprisingly a significant financial difference in your business life - highly recommended."
—Stewart Emery, bestselling author, speaker, and teacher
"Men and women are individually creations of wonder, yet when engaged in unison, a harmonic is achieved. Our whole is more than merely the sum of our parts. Work with Me is not about tolerating the other gender, modifying our behavior, or learning new behaviors. It is about understanding and appreciating the genuineness within each of us and embraces our differences."
—Janet Bray Attwood, co-author of the New York Times bestseller, "The Passion Test: The Effortless Path to Discovering Your Life Purpose."
"Based on decades of impeccable research and worldwide practice, Work with Me is without a doubt one of the single most important books of the year. The practical techniques offered within these pages outline powerful solutions for challenges arising from gender differences and allow men and women alike to succeed in creating more valuable, meaningful relationships by genuinely learning to understand and bridge their differences. To read this book is to invest in building better relationships throughout every area of your life."
—Ivan Misner, Ph.D., NY Times Bestselling author and founder of BNI®
"Barbara Annis and John Gray team up to make a winning combination. Can every man and woman expect to work so well together? They can if they read Work with Me! With sensitivity, insight, and real-life examples, this book unlocks the secrets of successful mixed-gender workplaces, helping both men and women play to their strengths, and appreciate the strengths of the other."
—Scott Haltzman, MD, psychiatrist and author of "The Secrets of Happily Married Men," and "The Secrets of Happily Married Women."
"Men and women are individually creations of wonder, and when engaged in unison, a symphony of greatness is achieved – an elevated sound from the blending of our notes. Our whole is more than merely the sum of our parts. It is not about tolerating the other gender, modifying our behavior, learning new behaviors, or learning to accommodate each other's differences. It is about understanding and appreciating the other gender, an inclusive mindset that respects, and actually seeks out and embraces our differences."
—Graciela Meibar, Vice President Global Diversity, Mattel, Inc.

About the Authors
Barbara Annis
is a world-renowned expert on Gender Intelligence® and inclusive leadership, advocating the value and practice of Gender Intelligence in over 60 Fortune 500 companies, ten governments, and numerous organizations across the globe.
John Gray
, PhD is the leading relationship expert in the world and bestselling relationship author of all time. His book, Men are from Mars, Women are from Venus, is ranked by USA Today as one of the top ten most influential books over the last 25 years. His 17 books have been published in 50 different languages and he is a popular keynote speaker for international organizations and Fortune 500 companies. He is the founder of Mars Venus Coaching and has personally trained over 500 coaches in 27 countries to bridge the gender gap in business through gender smart leadership, sales, and team-building trainings.