Rethinking Reputation
: How PR Trumps Marketing and Advertising in the New Media World
Fraser P. Seitel and John Doorley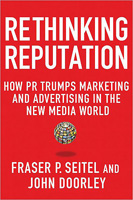 Format:
Hardcover, 256pp.
ISBN:
9780230338333
Publisher:
Palgrave Macmillan
Pub. Date:
August 21, 2012
Average Customer Review:

For Bulk Orders Call: 626-441-2024

Description and Reviews
From
The Publisher:
Good public relations is no longer just icing—it's a strategic imperative more important to your competitive success than even advertising or marketing. This is true whether you're a century-old multibillion-dollar corporation or a penniless startup. In
Rethinking Reputation
, public relations guru Fraser Seitel and John Doorley, founder of the Academy for Communication Excellence and Leadership at Johnson & Johnson, examine a fascinating new set of case studies—including the BP oil spill and the launch of CitySlips—to glean the PR dos and don'ts for the new media world, covering both standard reputation maintenance and crisis management. They also show start-up companies and entrenched organizations how to use the power of word-of-mouth to jump-start business like never before. This is a wake-up call from two industry legends—for public relations professionals as well as entrepreneurs, CEOs, and anyone else tasked with representing their organization to the world.
These new media lessons include:
Remember that research is cheaper, and more critical, than ever.
Don't let the perfect be the enemy of the good—launch your idea before someone else does.
Don't get so excited about social media that you forget about traditional media.
In a crisis, you are never offstage.
Never lie, never whine, and never try to predict the future!

Reviews
"A fun and educational discussion of building and protecting a reputation by two leaders in the field of public relations… Lots of practical information for both building a business and living a life.""A fun and educational discussion of building and protecting a reputation by two leaders in the field of public relations… Lots of practical information for both building a business and living a life."
—Kirkus Reviews
"By now you know we're in the middle of a communications revolution with an explosion of new media channels to reach your audience directly and then have your ideas shared in social networks. But most organizations act as if we're still in the mainstream media era of big expensive campaigns. Rethinking Reputation shows you how to reset your concept of reputation and to navigate this new media world. Beautifully written with compelling real-word examples from companies large and small, Seitel and Doorley show you how to succeed."
—David Meerman Scott, bestselling author of The New Rules of Marketing and PR, now in over 25 languages from Bulgarian to Vietnamese
"In an age of public conversations, reputation maintenance is a daily practice, and your crisis management skills may be needed at any moment. Fraser Seitel and John Doorley's book Rethinking Reputation doesn't just shed light on PR best practices; it's a wake-up call and a must-read for all communications professionals today."
—Deirdre Breakenridge, CEO Pure Performance Communications and author of Social Media and Public Relations
"Rethinking Reputation reminds us all of the importance of PR in the most ad-cluttered world we've ever lived in. I highly recommend it to business professionals everywhere. Two big likeable thumbs up!"
—Dave Kerpen, New York Times bestselling author, Likeable Social Media and Likeable Business
"Personal reputations seem in tatters everywhere you look today. This entertaining guide to public relations shows how the world's 'second oldest profession" is the basis of our individual reputations and relationships."
—Helen Ostrowski, retired chairman and CEO, Porter Novelli
"If your Master of the Universe reputation is under threat, you must immediately read this essential guide to master any crisis--or better yet hire the wise gurus of reputation, Fraser Seitel and John Doorley. Crammed full of wisdom from other Masters' fall from grace."
—Robert Lenzner, Contributing Editor and Columnist, Forbes Media and bestselling author of The Great Getty
"Everyone knows that reputation is a bridge--and an illusion. Rethinking Reputation is a hands-on training book that drives away theoretic cobwebs and teaches you how to use modern PR to a variety of ends. You can give this book to your bosses, boards or other constituents to get buy-in for newthink, no-BS strategies---while saving you from pulling out your hair!"
—Richard Laermer, CEO RLMpr and author of Full Frontal PR
"Whether in business or politics, one's reputation is the critical foundation on which success is built. Seitel and Doorley have put forward a thought-provoking blueprint on how to both build and maintain this valuable asset."
—Ed Ingle, Managing Director of Government Affairs, Microsoft Corporation, and former senior White House aide
"The authors are good storytellers, with tales of the famous and the obscure. They are especially good at conveying the power of character-based communication."
—Rudy Giuliani, former mayor of New York CityKirkus Reviews

About the Authors
Fraser P. Seitel
is a public relations consultant, author, lecturer, columnist, and media commentator, appearing frequently on the Fox News Network and other outlets. He is the author of The Practice of Public Relations, which is used in universities worldwide and has sold over a million copies in eleven editions.
John Doorley
is the founding academic director of the Master of Science in Public Relations degree program at New York University. He also founded and directs the Academy for Communication Excellence and Leadership at Johnson & Johnson, with multiple course offerings in the United States, Europe, and Asia. Until 2000, Doorley was head of corporate communication at Merck & Co., which was named America's Most Admired Company. He has been the chief speechwriter for CEOs of major firms and copyrighted a program to help firms manage their reputations.