Custom-Built Leadership
: Three Critical Decisions only You can Take
Robin Ryde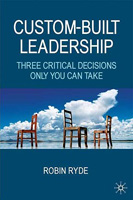 Format:
Hardcover, 240pp.
ISBN:
9780230202597
Publisher:
Palgrave Macmillan
Pub. Date:
December 9, 2008
Average Customer Review:

For Bulk Orders Call: 626-441-2024

Description and Reviews
From
The Publisher:
The success of the modern day leader depends in no small part on their ability to bring clarity and purpose to a world that is otherwise swamped in a fog of information, complexity and change. Somewhere along the way between the innocence of the early twentieth century and the mayhem of the twenty first century things became very complicated. The internet made customers much more intelligent. The new economies shifted the global power balance. The apparent separation of peoples and countries disappeared and climate change, terrorism and the technology explosion told a different story.
Leaders more than ever have got to know what they are doing. Each and every leader needs to understand their own response to the challenges they face. This book poses three fundamental questions that will bring a new clarity to your leadership and will put you firmly in the driving seat of your most important decisions. This book is your leadership base camp; Read, rest, reflect and gear up for the most important journey of your career.

Reviews
"There are too many leadership authors today that over sell and under deliver. Robin Ryde is different. With energy, wit and clarity, Robin has found a way to cut through the rubbish and see straight to the heart of the leadership challenge. Buckle up for a fascinating journey through the real world of leadership."
—Robert Swan OBE, the first person in history to walk to the North and South Pole
"An indispensable read for anyone in their first 90 days. Robin Ryde makes it all seem so damn simple!"
—Jim Harris, management thinker & author of 'Blindsided!' and 'The Learning Paradox
"Robin Ryde is one of those rare individuals who effectively combines deep insight and research with a practical make-it-happen approach. This book will help many current and would-be leaders to find their way in rising to the challenge of leadership in ever more demanding times."
—David Macleod, author of 'The Extra Mile

About the Author
Robin Ryde
is an independant consultant and former CEO of the National School of Government. Ryde is also the author of the groundbreaking book 'Thought Leadership: Moving Hearts and Minds'. Ryde has a background in leadership and organizational development. He was the youngest person to direct the British Prime Minister's flagship leadership development program, one of the largest program of its kind in Europe. He has delivered consultancy in the UK, the US and other territories including South America, Australia and Eastern Europe. Ryde enjoys mixing his love for Sociology with harder commercial skills and has a lesser known talent as a chartered accountant. For years he immersed himself in a variety of complex transformational projects ranging from international programs to tackle poverty to large 'big ticket' infrastructure deals. His interest in leadership thinking is matched only by his passion for SCUBA diving and a longing to swim with whale sharks.

Table of Contents
| | | |
| --- | --- | --- |
| | Sympathy for the Devil | |
| | Your First Decision - How Long have I Got? | |
| | Your Second Decision - How Grand is My Plan? | |
| | Your Third Decision - How Broadly will I Lead? | |
| | Extended Moments of Clarity | |

Find Items On Similar Subjects

Thought Leadership
: Moving Hearts and Minds