The Third Industrial Revolution
: How Lateral Power Is Transforming Energy and Changing the World
Jeremy Rifkin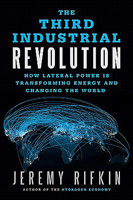 Format:
Paperback, 302pp.
ISBN:
9780230341975
Publisher:
Griffin
Pub. Date:
January 8, 2013
Average Customer Review:

For Bulk Orders Call: 626-441-2024

Description and Reviews
From
The Publisher:
We are undergoing a historical transformation in the way we create and disseminate energy. Together, Internet technology and the reality of renewable energy are creating a new type of electrical grid, one in which energy is stored and distributed on an individual basis. Soon, hundreds of millions of human beings will be generating their own green energy in their homes, offices and factories, and sharing it, just as they now create their own information and share it on the Internet. In just a few years, millions of buildings and even cities will become energy self-sufficient, signaling the end of our reliance on fossil fuels. This transformation is already underway in Europe, where author Jeremy Rifkin serves as EU advisor on a project that will revolutionize the continent's energy supply, with Asia to follow. We even see shades of it in Texas, Colorado, and California, where electrical companies will be laying down parts of the Smart Grid over the next several years.
But it's not just about the promise of clean energy. Rather, this "Energy Internet" will fundamentally change every aspect of the way we work and live. It will foster continental markets and the creation of continental political unions to oversee new expansive commercial opportunities. It will signify the end of needless wars fought over energy sources, and the dawning of an era of true international cooperation. Finally, it offers the hope that we can get to a post-carbon era by mid century and avert catastrophic climate change. Here, Rifkin explains how the United States can embrace this ambitious vision of the future, end its decades-old crisis over foreign oil, and ensure its continued status as world power. He also paints an accessible, anecdotal picture of what our lives will look like in this new global order—if we can summon the political will to join it.

Reviews
"Jeremy Rifkin's The Third Industrial Revolution is more than thought provoking. It is a call for action to policy makers and business leaders to embrace the opportunity of a society and economy driven by sustainable innovation and powered by renewable and distributed energy. It offers a practical game plan to create new business models and eco-systems for growth in the post-carbon era."
—Rudy Provoost-CEO, Philips Lighting
"Jeremy Rifkin's book gives us a brilliant new economic paradigm to guide the human journey in the 21st century. His comprehensive Third Industrial Revolution vision, which is the centerpiece of Rome's long-term economic development plan, provides a blueprint for every city in the world to create a sustainable and prosperous society."
—Gianni Alemanno- Mayor of Rome
"Jeremy's intellectual rigor, combined with lively and engaging prose, has produced a timely and important work on how to diversify our energy sources in order to create a world in which people can live well and within the limits of the planet."
—Bjorn Stigson- President, World Business Council for Sustainable Development
"Jeremy has provided a road map on how to change the economic paradigm. As the chairman of a global real estate services company, I'm convinced that Jeremy's vision of rethinking buildings as green "micro-power plants" is the future. But to do this, we need the courage to act quickly and lay the foundation for the Third Industrial Revolution. So let's get on with it."
—Bruce Mosler, Chairman, Cushman & Wakefield Global Brokerage
"This is a remarkable piece of work. Rifkin, who is one of the foremost thinkers of our time, has blended economic, sociological and technical knowledge to come up with a new economic development model that ensures the sustainability of our natural resources and ecosystems…a visionary and innovative approach to the challenges facing civilization."
—Rajendra Pachauri, Chief, United Nations Intergovernmental Panel on Climate Change
"Jeremy Rifkin's The Third Industrial Revolution sets forth a comprehensive, realistic, technically sound, market-driven model for transitioning the global economy into a more sustainable future. Rifkin's vision of 'Distributed Capitalism' strikes a powerful chord among leading CEOs in the design and construction industries who will be tasked with turning the theory and promise of a Third Industrial Revolution into reality."
—Mark Casso, President, Construction Industry Round Table

About the Author
Jeremy Rifkin
is president of the Foundation on Economic Trends and the author of eighteen bestselling books, including The Hydrogen Economy and The End of Work. He has been a guest on Face the Nation, The Lehrer News Hour, 20/20, Larry King Live, Today, and Good Morning America. The National Journal named Rifkin as one of 150 people in the U.S. that have the most influence in shaping federal government policy. He has also testified before numerous congressional committees, and since 1994, Mr. Rifkin has been a senior lecturer at the Wharton School's Executive Education Program at the University of Pennsylvania.
Rifkin is chairman of the Global CEO Business Roundtable, which includes IBM, Cisco, Cushman and Wakefield, and has served as an adviser to various global leaders, including Nicolas Sarkozy of France and Angela Merkel of Germany. His monthly column on global issues appears in many of the world's leading newspapers and magazines, including The Los Angeles Times, The Guardian in the U.K., Die Süddeutsche Zeitung in Germany, Trud in Bulgaria, Clarín in Argentina, and Al-Ittihad in the U.A.E. He lives in Bethesda, MD.