The Learning Layer
: Building the Next Level of Intellect in Your Organization
Steven D. Flinn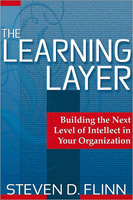 Format:
Hardcover, 204pp.
ISBN:
9780230103016
Publisher:
Palgrave Macmillan
Pub. Date:
July 6. 2010
Average Customer Review:

For Bulk Orders Call: 626-441-2024

Description and Reviews
From
The Publisher:
Perhaps you have already noticed that a fundamentally new period of IT is now upon us—the era of adaptation—in which our systems learn from their experiences with us, and then deliver this learning back to us in ways that make us all smarter and more productive. Emerging from this era of adaptation is a radically new phenomenon that goes well beyond the bounds and categories that have come before it, called the learning layer.
The learning layer is a merging of people and systems that automatically learns, evolves, and integrates into the very fabric of your business. The learning layer takes its lessons from the way the brain works, taps into the cognitive surplus of your organization, and leads to possibilities for attaining whole new levels of business productivity, innovation, and sustainable advantages. It makes the dream of the truly adaptive enterprise a reality.
Author Steven Flinn draws on his experience and expertise as a senior global executive, CIO, strategist, scientist, and inventor, to provide an in-depth look at the learning layer and how it promises to transform the performance of your organization.
The Learning Layer
is written for business executives who want to begin staking out opportunities for taking their businesses to the next level of performance, as well as for practitioners in fields such as IT, knowledge management, organizational learning, and business innovation. And business and technology futurists who seek to understand, and extrapolate from, the next major wave of IT capabilities will find much to consider in these pages.

Reviews
"The only sustainable edge is to learn faster by working with others. This book explores in very compelling terms the learning layer that all companies will need to stay competitive. Do not delay in buying and reading this path-breaking book – it may save your career and your company."
—John Hagel, Co-Chairman, Deloitte Center for the Edge and co-author of The Power of Pull
"This book explores the fundamentals of how humans learn and think, and applies them systematically to define a means by which organizations can better innovate and grow. By describing a real-world system for engineering innovation, Flinn captures a means by which businesses can harness the entrepreneurial creativity of individuals and systematize it. The Learning Layer is a must-read for any leader seeking to instill their organization with this potential."
—David Berry, MD PhD, Partner, Flagship Ventures
"As always, Steve Flinn has his eyes on technology's frontier, exploring the possibilities that may define our future. In this book, he considers adaptation — advances that promise to bring people and systems closer together so that they can learn in tandem. He offers a compelling framework for how this 'learning layer' might transform organizations. Anyone interested in the Internet's evolution or its potential impact on next-generation business will benefit from Flinn's reflections."
—Dipak C. Jain, Dean Emeritus and Sandy and Morton Goldman Professor of Entrepreneurial Studies, Kellogg School of Management at Northwestern University
"The Learning Layer is a thorough and detailed examination of how people learn and how organization can use technology to enhance organizational learning to drive sustainable competitive advantage. It provides valuable insights into how organizations can unlock latent knowledge, talent, and innovation to produce outstanding performance and is an essential read for all business leaders."
—Gordon Bull, Director of the American Society for Training and Development
"The Learning Layer describes so well the new challenges and opportunities in knowledge management and information technology today. Most impressively, it provides a framework for how to address those challenges by integrating learning into the 'fabric of business' in effective and measurable ways. Mr. Flinn has done a superb job of capturing and processing thoughts on adaptation and learning that many of us have observed but not been able to codify."
—Jamie Hatch, Knowledge Management Officer, U.S. Pacific Fleet

About the Author
Steven D. Flinn
is a founder and CEO of ManyWorlds, Inc., which conducts R&D in the area of next generation systems and business processes, and delivers the results to leading companies around the world. Mr. Flinn is a pioneering inventor in the field of adaptive systems and processes and has been awarded numerous patents. He is widely sought as a speaker and executive educator and has delivered the keynote addresses at international conferences on innovation, business strategy, intellectual capital and knowledge management, and IT strategies and futures. Prior to founding ManyWorlds, Mr. Flinn was a senior executive at Royal Dutch Shell.

Table of Contents
| | | |
| --- | --- | --- |
| | | |
| | Preface | |
| | IMPERATIVE AND OPPORTUNITY | |
| | Introduction | |
| | Intellectual Capital Acceleration: The Competitive Imperative | |
| | | |
| | THE LEARNING LAYER | |
| | Lessons from the Brain | |
| | The Architecture of Learning | |
| | The End of Zombie Systems! | |
| | Adaptive Recommendations | |
| | The Learning Layer Emerges | |
| | Social Networks and Knowledge Management Unite! | |
| | Processes that Learn | |
| | | |
| | BUILDING LEARNING INTO THE FABRIC OF BUSINESS | |
| | The Fabric of Business | |
| | Learning and Value | |
| | Business Renewal and Innovation | |
| | A Fabric of a Different Nature | |
| | Learning Layer Application Tour | |
| | | |
| | BUILDING LEARNING INTO THE FABRIC OF YOUR BUSINESS | |
| | Implementing the Learning Layer | |
| | | |
| | Conclusion | |