Meaningful Work
: A Quest to Do Great Business, Find Your Calling, and Feed Your Soul
Shawn Askinosie with Lawren Askinosie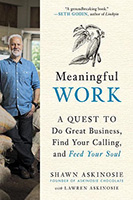 Format:
Hardcover, 224pp.
ISBN:
9780143130314
Publisher:
TarcherPerigee
Pub. Date:
November 14, 2017
Average Customer Review:

For Bulk Orders Call: 626-441-2024

Description and Reviews
From
The Publisher:
The founder and CEO of Askinosie Chocolate, an award-winning craft chocolate factory, shows readers how he discovered the secret to purposeful work and business - and how we can too, no matter what work we do.
Askinosie Chocolate is a small-batch, award winning chocolate company widely considered to be a vanguard in the industry. Known for sourcing 100% of his cocoa beans directly from farmers across the globe, Shawn Askinosie has pioneered direct trade and profit sharing in the craft chocolate industry with farmers in Tanzania, Ecuador, and the Philippines. In addition to developing relationships with smallholder farmers, the company also partners with schools in their origin communities to provide lunch to 1,600 children every day with no outside donations. Twenty-five years ago, Shawn Askinosie was a successful criminal defense lawyer trying his first murder death penalty case that would later go on to become a Dateline special. For many years he found law satisfying, but after several high profile trials he reached a breaking point and found solace in the search for a new career.
In this inspiring guide to discovering a vocation that feeds your heart and soul, Askinosie describes his quest to discover more meaningful work – a search that led him to volunteering in the palliative care wing of a hospital, to a Trappist monastery where he became inspired by the monks focus on "being" rather than "doing," and eventually traipsing through jungles across the globe in search of excellent cocoa bean farmers to make award winning chocolate. Askinosie shares his hard-won insights into doing work that reflects one's values and purpose in life. He shares with readers visioning tools that can be used in any industry or field to create a work life that is inspired and fulfilling. Askinosie shows us that everyone has the capacity to find meaning in their work and be a positive force for good in the world.

Reviews
"This is a groundbreaking book, a book that will change the way you see the world. It's about far more than chocolate. Shawn and Lawren have shared the wisdom of the ages, a book about faith, fairness and love. A must read."
— Seth Godin, author of Linchpin
"Meaningful Work is a beautiful and candid account of a brilliant entrepreneur's journey to self-actualization—personal, professional, and spiritual—and the resulting birth of Askinosie Chocolate. Here is a family business that provides genuine meaning and soul-nourishing purpose to everyone in its path. Shawn Askinosie's commitment to the welfare of his stakeholders—and their reciprocal devotion to the Askinosie mission—represents the height of achievement in purpose-driven business."
—Danny Meyer, Founder and CEO, Union Square Hospitality Group, Author of the New York Times bestseller Setting the Table: The Transforming Power of Hospitality in Business
"I have witnessed the evolution of Askinosie Chocolate. It has been a courageous journey which had to have been guided by a higher authority. This message is one for all of us who have a feeling or desire to do something we believe in and lay everything on the line to get there."
—Jack Stack, author of The Great Game of Business, founder and CEO of SRC Holdings
"If you're looking for help in making your work and life more meaningful, Shawn's book is a must read. If you're already flourishing and feeling grounded in how you life is going. .. you'll really want to read it. And if you think you don't need to hear his message, well, to paraphrase Shawn, you probably ought to read it twice! Meaningful Work is a not-be-missed-inspiration for all of us!"
—Ari Weinzweig, co-founding partner, Zingerman's Community of Businesses and author of Zingerman's Guide to Good Leading, Part 4, the Power of Beliefs in Business
"If I were to begin the journey of social entrepreneurship all over again, I would do it with this book in one hand, and a bar of his finest chocolate in the other!"
—Andy Puddicombe, Co-founder of Headspace

About the Authors
Shawn Askinosie
is the founder of Askinosie Chocolate.
Lawren Askinosie
, his daughter, is the Chief Marketing Officer. Their business model has been featured in
The New York Times, The Wall Street Journal
, and on
Bloomberg
and numerous other media outlets. Shawn was named by O, The Oprah Magazine, as "One of 15 Guys Who Are Saving the World." He is a Family Brother at Assumption Abbey, a Trappist monastery near Ava, Missouri.