Eyes Wide Open
: Overcoming Obstacles and Recognizing Opportunities in a World That Can't See Clearly
Isaac Lidsky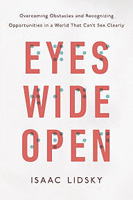 Format:
Hardcover, 320pp.
ISBN:
9780143129578
Publisher:
TarcherPerigee
Pub. Date:
March 14, 2017
Average Customer Review:

For Bulk Orders Call: 626-441-2024

Description and Reviews
From
The Publisher:
In
Eyes Wide Open
, Isaac Lidsky draws on his experience of achieving immense success, joy, and fulfillment while losing his sight to a blinding disease to show us that it isn't external circumstances, but how we perceive and respond to them, that governs our reality.
Fear has a tendency to give us tunnel vision—we fill the unknown with our worst imaginings and cling to what's familiar. But when confronted with new challenges, we need to think more broadly and adapt. When Isaac Lidsky learned that he was beginning to go blind at age thirteen, eventually losing his sight entirely by the time he was twenty-five, he initially thought that blindness would mean an end to his early success and his hopes for the future. Paradoxically, losing his sight gave him the vision to take responsibility for his reality and thrive. Lidsky graduated from Harvard College at age nineteen, served as a Supreme Court law clerk, fathered four children, and turned a failing construction subcontractor into a highly profitable business.
Whether we're blind or not, our vision is limited by our past experiences, biases, and emotions. Lidsky shows us how we can overcome paralyzing fears, avoid falling prey to our own assumptions and faulty leaps of logic, silence our inner critic, harness our strength, and live with open hearts and minds. In sharing his hard-won insights, Lidsky shows us how we too can confront life's trials with initiative, humor, and grace.

Reviews
"Isaac is inspiring. He triumphs in the face of great challenges, with grace and humility. I have seen how Isaac meaningfully connects with and touches those around him, and each of us is better for it. Because of his exceptional experiences, Isaac has much to teach readers about his practical yet expansive approach to life. They will greatly benefit from his book."
—Sandra Day O'Connor, Associate Justice, US Supreme Court (Ret.)
"Few people have excelled in as many different ways as Isaac Lidsky has—and few have surmounted such hurdles. He has a fascinating, inspiring story to tell, and many practical, powerful insights to impart."
—Gretchen Rubin, New York Times bestselling author of The Happiness Project and Better Than Before
"Throughout his entire life, Isaac has proven time and time again that anything is possible, no matter the circumstance. His story is one of true strength, perseverance, and hope—one that we can all learn something from. Isaac's journey will encourage many to think with limitless boundaries and go after their dreams, no matter how big."
—Dan Gilbert, founder and chairman of Quicken Loans Inc., and majority owner of the Cleveland Cavaliers
"In the face of great challenges, Isaac Lidsky has repeatedly chosen to take responsibility for his life and his happiness. In Eyes Wide Open, he teaches us how, inspiring us to envision and create the lives we want for ourselves. His insights are practical and powerful, pure and profound."
—Shawn Achor, New York Times bestselling author of The Happiness Advantage and Before Happiness
"Without sight to guide him, Isaac Lidsky gives us a book of extraordinary vision about how to make best use of our talents. Read, savor, and grow!"
—Barbara Oakley, PhD, bestselling author of Mindshift and A Mind for Numbers
"In Eyes Wide Open, Isaac Lidsky vividly demonstrates how to live and lead well-empowered, aware, and accountable. He is a beacon of true success and inner happiness, and his vision is worthy of careful study."
—Michelle Gielan, bestselling author of Broadcasting Happiness and founder of the Institute for Applied Positive Research
"This master class in counting one's blessings will stay with readers long after the final page is turned."
—Publishers Weekly
"In our personal and professional lives, we can all benefit greatly from Isaac Lidsky's clarity of vision. Eyes Wide Open is a joy to read and to learn from. It is rich with valuable lessons to improve ourselves, our relationships, and our businesses."
—Dr. Ivan Misner, bestselling author of Masters of Networking and founder of Business Network International
"In Eyes Wide Open, Isaac captures the essence of exceptional living and leadership through the lenses of inner vision and aspiration. True perspective is an active pursuit. I learned much from this book and will approach my life and my work with my eyes wider open!"
—McKeel Hagerty, International Chairman of the Young Presidents' Organization
"Eyes Wide Open will enable anyone who has an interest in living a fuller life to do just that. Not only will Isaac inspire you to do so, but he also provides the construct to pull it off."
—Jack Daly, author of The Sales Playbook

About the Author
Isaac Lidsky
"may possess the most eclectic resume in entrepreneurship" according to Inc. Magazine. He played series regular "Weasel" on Saved by the Bell: The New Class; graduated from Harvard College at age nineteen with a degree in mathematics and computer science; graduated from Harvard Law School magna cum laude; served as a law clerk for Supreme Court Justices Sandra Day O'Connor and Ruth Bader Ginsburg; argued more than a dozen appeals in federal court on behalf of the United States and never lost a case; started a tech company that sold for $230 million; transformed a struggling $15 million concrete subcontractor into an industry-leading $150 million construction services company in five years; and founded Hope for Vision, a nonprofit organization that funds the development of treatments and cures for blinding diseases. Lidsky was born with Retinitis Pigmentosa, a rare degenerative disease of the retina that caused him to gradually lose his sight. Lidsky lives in Windermere, Florida with his wife, Dorothy; their triplets, Lily Louise, Phineas, and Thaddeus; and baby Clementine.