Rebound
: A Proven Plan for Starting Over After Job Loss
Martha I. Finney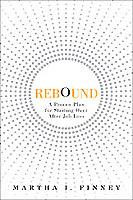 Format:
Paperback, 208pp.
ISBN:
9780137021147
Publisher:
FT Press
Pub. Date:
February 2, 2009
Average Customer Review:

For Bulk Orders Call: 626-441-2024

Description and Reviews
From
The Publisher:Been laid off? Fired? Pushed out? See it coming?
This book will help you get back on your feet, develop a plan of action, and find your next great job!
Real answers from real experts:
What to do first…and what never to do
How to cope with the havoc, trauma, and anger
How to protect your professional reputation
How to keep your options open
Know your rights
What to do while you're out of work
How to safeguard your finances
What to tell your family
How to keep it from happening again
How to come back stronger and better than ever!
You've just lost your job. (Or you're expecting to.) You know you're not alone: Millions of great people are losing their jobs these days. But this is you we're talking about. Losing your job can turn your life upside down. It can mess with your mind, your heart, your health, your family life...not to mention your financial security. Losing your job is just plain painful. This practical book will help you get through the trauma-–and come out stronger, smarter, better. Top workplace expert Martha Finney brings together all the answers you need to empower yourself and regain mastery over your own life. Drawing on powerful insights and personal stories from an enormous network of experts, she answers questions like:
How do I protect my finances?
How do I get past the anger, alienation, and isolation?
Why haven't I heard from my coworkers?
What are my rights?
Can I get a better severance package?
Can I sue? Should I?
How do I stay on my career path and keep my options open?
How can I objectively evaluate a new job offer?
From start to finish, this book will help you identify your best next steps: the steps that'll help you get past the trauma and move forward–-emotionally, financially, in your career, and in every part of your life.
The 29 first, best, and worst things to do after a layoff or firing
What to do right now–-and what you should never do
How to protect yourself, one step at a time
Practical solutions for safeguarding your finances, your health, and your family
Build your status as an "A" player
Enhancing your visibility, skills, and even your prestige while you're out of work
Learn to love networking
It's not as bad as you think–-really!
Keep it from happening again
Rethinking the whole way you look at employment

About the Author
Martha Finney
, President and CEO of Engagement Journeys, LLC, is an expert in employee engagement and leadership communications. A business journalist for 20 years before becoming a full-time consultant, she specializes in helping organizations achieve greater employee engagement, loyalty, retention, and passion. Finney is author or co-author of over 13 books, including The Truth About Getting the Best From People (FT Press), and HR From the Heart, with Yahoo's Chief People Officer, Libby Sartain. Her original research on the American workplace has been featured on CNN, NPR's Morning Edition, and in major newspapers nationwide.

Find Items On Similar Subjects

Your Job Survival Guide
: A Manual for Thriving in Change