Winners Never Cheat
: Even in Difficult Times
New and Expanded Edition
Jon M. Huntsman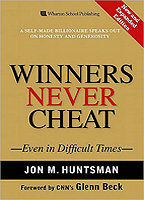 Format:
Hardcover, 256pp.
ISBN:
9780137009039
Publisher:
Wharton School Publishing
Pub. Date:
November 10, 2008
Average Customer Review:

For Bulk Orders Call: 626-441-2024

Description and Reviews
From
The Publisher:
Times are difficult and uncertain. In times like these, some will say that you can no longer afford principles, ethics, or honesty. They're 100% wrong and the proof is right here, in Jon Huntsman's
Winners Never Cheat: Even In Difficult Times
.
Who's Jon Huntsman? Someone who started with practically nothing, and made it to Forbes' list of America's Top 100 richest people: a self-made multi-billionaire. This book presents the lessons of his lifetime in business: a life that has included the best of times and the worst. The first edition became an instant classic; now, Huntsman has thoroughly updated it with new chapters on maintaining your principles in difficult times, when dishonest "sharks" seem to be everywhere. This is no mere exhortation: it's as practical as a book can get. It's about how you listen to your moral compass, even as others ignore theirs. It's about building teams with higher values...sharing success and taking responsibility...earning the rewards that only come with giving back. Huntsman built his career and fortune on these principles. You don't live them just to "win": you live them because they're right. But in an age of cheating and scandal, Huntsman's life proves honesty is more than right: it's your biggest competitive differentiator.
So, consider what kind of person you want to do business with. Then, be that person and use this book to get you there. All author royalties from this book go to the Huntsman Cancer Foundation.

About the Author
Jon M. Huntsman
is founder and Chairman of Huntsman Corporation, a global manufacturer and marketer of differentiated and commodity chemicals that now has 14,000 employees, and annual revenues exceeding $13 billion. Widely recognized as one of America's foremost concerned citizens and philanthropists, Mr. Huntsman, with his wife, Karen, founded the Huntsman Cancer Institute in 1995 to accelerate the work of curing cancer through human genetics. The Institute is now one of America's major cancer research centers dedicated to finding a cure for cancer, as well as a state of the art clinic and treatment center for cancer patients.

Find Items On Similar Subjects

Winners Never Cheat
: Everyday Values We Learned as Children (But May Have Forgotten)