Achieve Leadership Genius
: How You Lead Depends on Who, What, Where, and When You Lead
Drea Zigarmi, Susan Fowler and Dick Lyles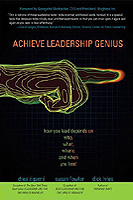 Format:
Hardcover, 338pp.
ISBN:
9781450268998
Publisher:
iUniverse Publishing
Pub. Date:
June 6, 2011
Average Customer Review:

For Bulk Orders Call: 626-441-2024

Description and Reviews
From
The Publisher:
Hundreds and hundreds of leadership books have been published over the years. Almost all of them treat leadership as if "one size fits all": as if leadership skills were "one trick pony" skills that can be applied across any circumstance. Nothing could be further than the truth.
Leadership genius depends on your ability to recognize the setting you are leading in. Are you leading a team? Leading one person? Leading yourself? Leading an entire organization? Leading an alliance? Who, what, when, and where you lead determines how you should lead.
This book presents a detailed, practical, and skill-based framework any leader can use to become dramatically more effective.
Another aspect of leadership genius is realizing that within each setting, or context, a leader must also be able to adapt to a wide variety of scenarios. The authors show you how to bring your best to bear in any circumstance, and in every facet of the leadership process: envisioning, initiation, and implementation.
From start to finish, this book addresses both the high-level and 'micro' skills that define leadership genius—guiding readers systematically through assessing their current behaviors and moving toward excellence.
Develop the attributes of leadership genius
Skillfully respond to what the context and circumstances demand of you as a leader
Move beyond the leadership "quick fix"
Discover a solid, proven framework for becoming a contextual leader
Master the five contexts of leadership
Lead yourself... lead one-to-one... lead teams, organizations, and alliances
Master the skills of all five leadership practices
Prepare, envision, initiate, assess, and respond
Leverage your leadership success; move from individual to organizational excellence
A new view of leadership and its imperatives
Leadership is not a "one size fits all" pursuit . . . different scenarios require different techniques. . . learn them in this book!
How to lead individuals, teams, organizations, alliances, and above all, yourself
The five crucial leadership practices that work no matter who you're leading
How to handle the unique issues that arise in every leadership context and situation
What does it really take to become a great leader? Commitment, hard work...and a framework for leading that gives you clarity when there's chaos all around you.
That framework exists. It's called Contextual Leadership. This book will help you master it, and put it to work. You'll discover high-level and "micro"-level techniques you needto achieve breakthrough effectiveness. You'll practice them, internalize them, make them yours.
This bookdraws on more than forty years of research, and the extraordinary personal experience of three renowned leadership consultants—all alumni of the legendary Ken Blanchard Companies.
Its techniques are tested. Proven. They're not a quick fix. But, as thousands of leaders can tell you, they work.

Reviews
"This is not one of those leadership books to be scanned and tossed aside. Instead, it is a special book that deserves to be closely read and then kept nearby so that you can draw upon it again and again as you seek to lead effectively."
—David Gergen, Professor, Harvard's Kennedy School, Director, Center for Public Leadership
"Drea, Susan, and Dick are three of the nation's most innovative, perceptive, and gifted management thinkers. Their book, Achieve Leadership Genius, is an exceptional tour de force against which all books brave enough to tackle the critical issue of leadership must be judged."
—Sheldon Bowles, Best-selling Co-author, Raving Fans, Gung Ho!, and High Five
"A gem! One of the first books I'd recommend to a novice or champion if they want to learn about improving the lives they lead and make the journey to leadership mastery."
—Warren Bennis, Distinguished Professor of Management, University of Southern California, author of On Becoming a Leader

About the Authors
Dr. Drea Zigarmi
is Founding Associate of The Ken Blanchard Companies®, and co-creator of Situational Leadership® II, today's best-of-class developmental leadership model. He co-authored the two-million-copy best-seller Leadership and the One Minute Manager, and most recently, The Leader Within. He has trained 50,000 managers from organizations ranging from American Honda to IBM, Nissan to Siemens, McDonnell-Douglas to The San Diego Padres.
Susan Fowler
is one of the world's foremost experts on personal empowerment. She is creator and lead developer of The Ken Blanchard Companies Situational Self Leadership, today's best-of-class self-leadership and personal empowerment program. Fowler's publications include The Team Leader's Idea-a-Day Guide (with Drea Zigarmi), Empowerment (with Ken Blanchard), and Self Leadership and The One Minute Manager (with Ken Blanchard and Laurence Hawkins).
Dr. Dick Lyles
is President and CEO of Leadership Legacies, a company that focuses on developing a new generation of leaders. He co-founded Maric College in San Diego, is past President of the Ken Blanchard Companies, and currently sits on the Board of Directors for a number of firms. His best-selling books include Winning Ways: Four Secrets for Getting Great Results by Working Well with People.

Table of Contents
| | | |
| --- | --- | --- |
| | Foreword | |
| | About the Authors | |
| | Acknowledgments | |
| | Introduction | |
| | | |
| | Part One: The Five Contexts | |
| 1 | The Self Context: Your Role In Creating Meaningful Work | |
| 2 | The One-to-one Context: Your Role In Developing Individual Excellence | |
| 3 | The Team Context: Your Role In Facilitating High-impact Teams | |
| 4 | The Organizational Context: Your Role In Generating The Organization's Vitality | |
| 5 | The Alliance Context: Your Role In Fostering Strategic Relationships | |
| | | |
| | Part Two: The Five Practices of Contextual Leadership | |
| 6 | Prepare: The First Leadership Practice | |
| 7 | Prepare: What's Driving Your Leadership Behavior? | |
| 8 | Prepare: Leading With Developed Values | |
| 9 | Prepare: Investigating Your Persona | |
| 10 | Prepare: The Challenge Of Change | |
| 11 | Envision: The Second Leadership Practice | |
| 12 | Envision In The Self Context | |
| 13 | Envision In The One-to-one Context | |
| 14 | Envision In The Team Context | |
| 15 | Envision In The Organizational Context | |
| 16 | Envision In The Alliance Context | |
| 17 | Initiate: The Third Leadership Practice | |
| 18 | Initiate In The Self Context | |
| 19 | Initiate In The One-to-one Context | |
| 20 | Initiate In The Team Context | |
| 21 | Initiate In The Organizational Context | |
| 22 | Initiate In The Alliance Context | |
| 23 | Assess: The Fourth Leadership Practice | |
| 24 | Assess In The Self Context | |
| 25 | Assess In The One-to-one Context | |
| 26 | Assess In The Team Context | |
| 27 | Assess In The Organizational Context | |
| 28 | Assess In The Alliance Context | |
| 29 | Respond: The Fifth Leadership Practice | |
| | | |
| | Part Three: The Promise And Challenge Of Contextual Leadership | |
| 30 | A New View Of Leadership | |
| 31 | Leadership Imperatives | |
| | | |
| | Bibliography | |
| | Index | |

Find Items On Similar Subjects

The Leader Within
: Learning Enough About Yourself to Lead Others