Advantage Makers
: How Exceptional Leaders Win by Creating Opportunities Others Don't
Steven Feinberg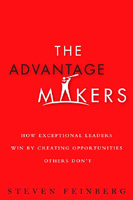 Format:
Hardcover, 304pp.
ISBN:
9780132347785
Publisher:
FT Press
Pub. Date:
July 23, 2007
Average Customer Review:

For Bulk Orders Call: 626-441-2024

Description and Reviews
From
The Publisher:
Great leaders can see opportunities where others see only problems...influence outcomes where others are hopelessly stuck...transform even their major obstacles into powerful advantages. They've learned to use levers of power that other executives don't even know exist. Straight from renowned advantage maker consultant Steven Feinberg, this relentlessly practical, hands-on book will show you how. It's packed with new ideas, techniques, exercises, and checklists that will transform the way you view every business challenge…so you can find the winning solutions that are hidden in plain sight!

Reviews
"
The Advantage-Makers
not only helps you avoid errors, it helps you see what is possible. This translates into moving the organization forward. You will be better, and look better to your manager, by applying the know-how in this book. Buy the book, have the training and development department buy the book, and then have your boss read it."
—Shelly Begun, VP, HR Xilinx
"I've had the advantage of working closely with Dr. Feinberg on a couple of occasions. Whether you as a manager are trying to build a high-performing team of first-level managers or senior executives, you will find his tools and techniques intuitive and effective. His services have never been inexpensive, but he delivers results. You may not be able to hire him to work directly with you or your team, but this book will get you started in the right direction."
—Jim Haar, CIO, BEA Systems
"
The Advantage-Makers
will captivate your mental and intuitive processes. You will experience many 'ahas' and be elated to find within its pages real life help that can put you on the leading edge of organizational and personal thinking. You will receive an arsenal of profound leadership thoughts and an array of actionable ideas that you will continually refer to throughout your life. So set back, open its pages, and enjoy the engaging wisdom of a cutting edge thinker and doer."
—Bill Fields, President, Packaging Results, Inc.
"I have found the ideas in
The Advantage-Makers
not only useful in my role as an executive, but also in my personal life."
—Don Lundgren, former CFO, Frame Technology

About the Author
Steven Feinberg
has spent more than thirty years applying the study of human behavior to performance efficacy. For the past twenty-three years, he has advised senior executives on key leadership, team, and organizational issues, with an emphasis on advantage-making: how to maximize their opportunities. As President of Steven Feinberg, Inc., he has designed and developed Advantage-Making programs that have turned around ailing organizations, teams, and leaders in multiple industries and business environments. His client list ranges from Fortune 500 firms to start-ups, and includes Wells Fargo, Visa, Citibank, Sun Microsystems, Plantronics, Symantec, Cadence Design Systems, HBO & Co., BEA Systems, Synopsys, NVidia, Pac Bell, Xilinx, Affymax, firstRain, and many more. For twenty-three years, Steven has taught courses on leadership and organizational effectiveness in the University of San Francisco's Department of Organizational Behavior and Leadership. He graduated magna cum laude from the State University of New York at Buffalo, received an MSW from Tulane University, and holds a PhD from the Professional School of Psychology, San Francisco, CA. For Steven, "getting leadership right" means acting as an Advantage-Maker.

>
Table of Contents
| | | |
| --- | --- | --- |
| | Foreword | xiii |
| | Preface | xv |
| | Acknowledgments | xxiii |
| | | |
| | Part 1 Strategic Shifting: How to See What Others Miss | |
| 1 | How to Shift the Odds in Your Favor in the Best of Times and the Worst of Times | 3 |
| 2 | Breaking the Secret Code of the Great Advantage Makers | 25 |
| 3 | Wise or Otherwise: Are You Following Any of the Hidden Laws of Defeat? | 61 |
| 4 | Shifting to a Commanding (Ad)Vantage Point | 87 |
| | | |
| | Part 2 The Advantage Points: The Levers of Advantage Making | xxiii |
| 5 | Adaptive Stretching: It's Not the BestWho Wins[md]It's Who's the Most Adaptive | 111 |
| 6 | The Game Changer: If You Are in a Hole, Stop Digging and Change the Game | 137 |
| 7 | Move or Lose: Manage Momentum to Advance Your Organization | 169 |
| 8 | Strategic Influence: How to Get People to Say Yes in the Right Way to the Right Things | 195 |
| 9 | Influence Perception: Helping People See What They Need to See | 233 |
| 10 | Being an Advantage-Maker: How to Play in a Different League | 251 |
| | | |
| | Index | 266 |

Find Items On Similar Subjects

Attitude Is Everything
: 10 Life-Changing Steps to Turning Attitude Into Action