The Self-Destructive Habits of Good Companies
...And How to Break Them
Jagdish N. Sheth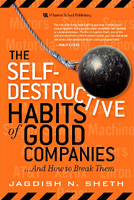 Format:
Paperback, 304pp.
ISBN:
9780136117414
Publisher:
Wharton School Publishing
Pub. Date:
May 6 2007
Average Customer Review:

For Bulk Orders Call: 626-441-2024

Description and Reviews
From
The Publisher:
Why Even Great Companies Fail: Diagnose the Symptoms and Cure Them!
Conquer–or prevent–the seven disastrous "addictions" that can destroy your company
Overcome corporate denial, arrogance, complacency, "competency dependence," turf wars, and more
For every executive, strategist, entrepreneur, and manager who wants to sustain success
GM. Ford. AT&T. Sears. Firestone. Krispy Kreme. Digital. Kodak. Once, they were riding high, the exemplars of business excellence. Then, disaster. Is your company headed for the same fate? How do you know? How do you change course? Find out. Shine a light on the dark places in your business. Uncover your self-destructive habits before they destroy you. The blinders, culture confl icts, and corporate denial. The competitive myopia. The focus on volume, not profits. Root them out–all of them. Then, instill the good habits your business needs: the habits of sustainable profitability and market leadership. This book shows you how–in detail, from start to finish.
Why do so many good companies engage in self-destructive behavior? This book identifies seven dangerous habits even well-run companies fall victim to—and helps you diagnose and break these habits before they destroy you. Through case studies from some of yesterday's most widely praised corporate icons, you'll learn how companies slip into "addiction" and slide off the rails...why some never turn around...and how others achieve powerful turnarounds, moving on to unprecedented levels of success. You'll learn how an obsession with volume leads inexorably to rising costs and falling margins...how companies fall victim to denial, myth, ritual, and orthodoxy... how they start wasting vital energy on culture confl ict and turf wars...how they blind themselves to emerging competition...how they become arrogant, complacent, and far too dependent on their traditional competences. Most important, you'll find specific, detailed techniques for "curing"—or, better yet, preventing—every one of these self-destructive habits.
The "cocoon" of denial
Find it, admit it, assess it, and escape it
The stigma of arrogance
Escape this fault that "breeds in a dark,closed room"
The virus of complacency
Six warning signs and five solutions
The curse of incumbency
Stop your core competencies from blinding you to new opportunities
The threat of myopia
Widen your view of your competitors—and the dangers they pose
The obsession of volume
Get beyond "rising volumes and shrinking margins"
The territorial impulse
Break down the silos, factions, fiefdoms, and ivory towers

About the Author
Dr. Jag Sheth
is the Charles H. Kellstadt Chair of Marketing in the Goizueta Business School at Emory University. Dr. Sheth is a renowned scholar and world authority in the field of marketing. His insights on global competition, strategic thinking, and customer relationship management are considered revolutionary. Professor Sheth has published more than 200 books and research papers in different areas of marketing and business strategy, many of which are considered classic references. His timely advice promises to aid business leaders looking to develop immediate and long-term strategies for improving their competitive position.

Table of Contents
| | | |
| --- | --- | --- |
| | Preface | |
| | Foreword | |
| | | |
| 1 | Why Do Good Companies Go Bad? | |
| 2 | Denial: The Cocoon of Myth, Ritual, and Orthodoxy | |
| 3 | Arrogance: Pride before the Fall | |
| 4 | Complacency: Success Breeds Failure | |
| 5 | Competency Dependence: The Curse of Incumbency | |
| 6 | Competitive Myopia: A Nearsighted View of Competition | |
| 7 | Volume Obsession: Rising Costs and Falling Margins | |
| 8 | The Territorial Impulse: Culture Conflicts and Turf Wars | |
| 9 | The Best Cure is No Cure at All | |
| 10 | Endnotes | |
| | | |
| | Index | |

Customer Reviews
Write your own online review
.

Bunnie trails and short on how to's
January 3, 2010
Reviewer: Edward Hayes from United States
This book was interesting with some anecdotes on companies such as the founding of Avon, the history of its name, and how demographics led it to venture overseas. There is a very interesting piece on how Enterprise snuck up on Avis and Hertz while these two long-time rivals just focused on each other. The author described this as "competitive myopia".
Beyond the interesting anecdotes, I found that the author went down some related yet distracting trails such as US corporate tax history and asset accounting. Though fascinating, I did not find that these side trail discussions were very helpful. Rather, I had a difficult time correlating the companies covered and how they correlated to the destructive habit the author was describing.
Finally, I felt as if the author did not spend enough time on instructing how to break these habits.

Find Items On Similar Subjects

The Halo Effect
... and the Eight Other Business Delusions That Deceive Managers