The Power of Thanks
: How Social Recognition Empowers Employees and Creates a Best Place to Work
Eric Mosley and Derek Irvine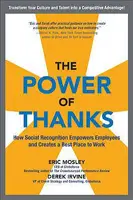 Format:
Hardcover, 240pp.
ISBN:
9780071838405
Publisher:
McGraw-Hill
Pub. Date:
January 9, 2015
Average Customer Review:

For Bulk Orders Call: 626-441-2024

Description and Reviews
From
The Publisher:
The most powerful word in your leadership vocabulary is . . . THANKS!
Building a fully engaged, energized workforce is the key to business success.
The Power of Thanks
reveals how leading companies like Intuit, JetBlue Airways, IHG, Symantec, ConAgra Foods, and The Hershey Company empower employees through social recognition, in which the practice of mutual appreciation and trust directs and rewards higher performance.
Eric Mosley and Derek Irvine, executives at the world-renowned employee recognition firm Globoforce, explain why social recognition is so powerful and how you can apply it in your company. Case by case, they show how a carefully planned and consistently executed Culture of Recognition business strategy inspires:
• Greater employee engagement and loyalty
• Stronger, more unified teams and departments
• A creative, innovative company culture
• Improved customer satisfaction
• Increased profitability and organizational health
Mosley and Irvine provide practical advice and proven examples for devising a powerful, growth-generating strategy that modernizes employee recognition for today's social, global, multi-generational and 24x7 wired workforce.
When employees participate in a culture that makes everyone a stakeholder in the organization's success, positive energy spreads like wildfire, and business results follow. Something so simple and powerful might work like magic, but it's really just common sense. It's smart management. It's long-term thinking.
It's
The Power of Thanks
.

Reviews
"Eric and Derek offer practical guidance on how to create a company culture that feeds our true motivators."
—Daniel H. Pink, New York Times bestselling author of Drive and To Sell is Human
"At work, nothing matters more than being valued and appreciated. By providing a natural way for people to give and receive recognition, the strategies outlined in this book can help HR leaders drive higher levels of engagement and performance."
—Adam Grant, Wharton professor and New York Times bestselling author of Give and Take
"The principles in this book have redefined how Hershey employees interact across the globe every day. There is immense power in a thank you and well done. Social recognition is not a 'nice-to-have'. . . it is part of a winning, vibrant culture that will help deliver sustainable performance and outstanding results."
—Kevin Walling, SVP, Chief Human Resources Officer, The Hershey Company
"Perfect guide for business leaders in positively tapping the talents of their associates, especially during stressful, turbulent times."
—Steve Forbes, chairman and editor-in-chief of Forbes Media and bestselling author of Money
"The Power of Thanks isn't just a book. It's a greater movement driven by social recognition to show your people how truly important they are to the mission of a company. It's helped us 'lift' our crewmembers to higher levels of performance and engagement by recognizing the most important pieces of our culture: our values and people."
—Michael Elliott, SVP of People, JetBlue Airways
"Recognition is something we all crave on the inside. When it's done effectively, in the ways Eric and Derek articulate, it resonates on the outside, driving positive change and moving organizations to enviable levels of success."
—Marshall Goldsmith, author of the New York Times bestseller What Got You Here Won't Get You There

About the Author
Eric Mosley
is CEO of Globoforce, where he helps companies build strong cultures of engaged employees by taking a modern, more strategic approach to recognition. Today, Globoforce is trusted by some of the most admired companies in the world to inspire and energize employees and create best places to work. He is the author of The Crowdsourced Performance Review.
Derek Irvine
is Vice President, Client Strategy and Consulting, at Globoforce where he helps customers leverage proven recognition strategies and best practices to elevate employee engagement, increase retention, and improve bottomline results.