Taking Smart Risks
: How Sharp Leaders Win When Stakes are High
Doug Sundheim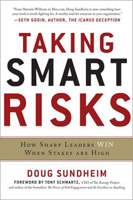 Format:
Hardcover, 256pp.
ISBN:
9780071778190
Publisher:
McGraw-Hill
Pub. Date:
January 11, 2013
Average Customer Review:

For Bulk Orders Call: 626-441-2024

Description and Reviews
From
The Publisher:
In today's market, playing it safe is not an option
The business world is in flux, and you have to think and act quickly in order to stay competitive. But the last thing you want to do is make reckless business decisions. You have to find the middle ground. You have to take SMART RISKS.
In this groundbreaking book, leadership expert Doug Sundheim explains how to find that precise point between comfort and danger for generating the sustained ability to work at the highest level of performance.
Taking Smart Risks
reveals the secrets to discovering, planning for, and acting upon the kind of risks that will move your company forward and ahead of the competition. Learn how to:
Find Something Worth Fighting For
—What do you care enough about to risk time, energy, and money to try to make happen? Determining this is half the battle.
See the Future Now
—Clarify your big idea in terms of real objectives, plans, and intended results.
Act Fast, Learn Fast
—Make your move quickly, but be sure you don't squander valuable resources in the process.
Communicate Powerfully
—Assume communication will break down at points, plan accordingly—and don't shy away from the tough conversations.
Create a Smart Risk Culture
— Build teams that share the same mindsets and values about expected smart risk behavior.
Applying Sundheim's advice will help you let go of old assumptions, explore new possibilities, move your organization out of its comfort zone, and experience long-term success.
When you take smart risks, you will create. You will innovate. You will grow. And you will WIN.

Reviews
"From Sherwin Williams to Moo.com, Doug Sundheim is onto something here: your work is worth fighting for. A worthy read for everyone in your organization."
—Seth Godin, Author, The Icarus Deception
"The risk-taking concepts in this book lie at the heart of effective leadership. Using case studies and stories from executives who have 'been there, done that,' Doug Sundheim teaches us that sometimes the most dangerous thing to do—in business and life—is to play it safe."
—Marshall Goldsmith, million-selling author of the New York Times bestsellers MOJO and What Got You Here Won't Get You There
"Sundheim delivers a message that every business needs to hear right now: excessive risk will kill you, but so will complacency. . . . If you're charged with driving growth in your organization, buy this book—but more importantly, use it."
—Jed Hartman, Group Publisher, Fortune & CNNMoney.com
"A spectacular book! The stories were powerful, the advice was crystal clear, and every few pages called me to action. I have bookmarked more pages in Taking Smart Risks than I have in any book since reading Peter Drucker's classics."
—Michael Hejtmanek, President & CEO, Hasselblad Bron Inc.
"Doug Sundheim does an excellent job of demonstrating not only how to take smart risks, but also how to lead the process of risk-taking—a critical skill set for leaders today."
—Cindy Zollinger, President & CEO, Cornerstone Research
"A compelling case for why smart risk taking is so important in today's fast-paced, uncertain world."
—Willie Pietersen, Professor, Columbia Business School; former CEO, Tropicana and Seagram USA

About the Author
Doug Sundheim
is a leadership and organizational consultant with over 20 years of experience in growing businesses and helping others do the same. He works with leaders and teams of Fortune 500 companies and entrepreneurial firms to help them maximize their effectiveness. His clients include Morgan Stanley, Harvard Management Company, The Chubb Corporation, Citigroup, University of Chicago, and Procter & Gamble, among others. Prior to his work in leadership and organizational consulting, he spent several years in the Internet strategy field. You can learn about Doug and his services at www.dougsundheim.com.