Toyota Under Fire
: Lessons for Turning Crisis into Opportunity
Jeffrey Liker and Timothy N. Ogden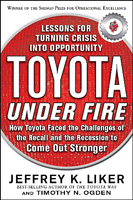 Format:
Hardcover, 237pp.
ISBN:
9780071762991
Publisher:
McGraw-Hill
Pub. Date:
March 14, 2011
Average Customer Review:

For Bulk Orders Call: 626-441-2024

Description and Reviews
From
The Publisher:
For decades, Toyota has been setting standards that are the envy--and goal--of organizations worldwide. Its legendary management principles and business philosophy, first documented by Jeffrey Liker in his influential book
The Toyota Way
, changed the business world's approach to operational excellence. Granted unprecedented access to Toyota's facilities worldwide, Liker, along with Timothy Ogden, investigated the inside story of how Toyota faced the challenges of the recession and the recall crisis of 2009-2010. In both cases, the company was caught off guard--and found that a root cause of the challenges it faced was its failure to live up to its own principles. But the fundamentals were still there, and the company has ultimately come out of the most challenging years of its post-war existence even stronger than before.
Toyota under Fire
chronicles the events of the recession and the recall crisis in detail, providing valuable lessons any business leader can use to survive and thrive in a crisis, no matter how large:
Crisis response must start by building a strong culture long before the crisis hits.
Culture matters far more than decisions made by top executives.
Investing in people, even in the depths of a recession, is the surest path to long-term profitability.

Reviews
Those who write off Toyota in the current climate of second guessing and speculation are making a profound mistake and need to read this book to get the facts. Toyota is a company that will channel the current challenges to push themselves to even more relentless continuous improvement.
—Charles Baker, Vice President for Advanced Technology, Harley-Davidson (former VP of R&D, Honda)
"Toyota, noted for making "junk" in 1960, grew to become the world's richest and most successful automotive company. "Toyota Under Fire" is a superb book and should prove very helpful clearly the problems faced and how any company can prevent similar occurrences in the future."
—Norman Bodek, author, founder of Productivity Press, and inductee in 2010 Industry Week Manufacturing Hall of Fame.
As a former automotive supplier executive,and student of Toyota, I was concerned to see the many negative reports and investigations into the quality and safety of its vehicles. Toyota Under Fire tells the story of how this great company is growing wiser and stronger by living its culture and values.
—Michael Fisher CEO, Cincinnati Children's Hospital Medical Center
"Just as Toyota has put itself through excruciating soul-searching in order to understand what went wrong, as explained in Toyota Under Fire, so should we all take advantage of the opportunity for learning presented to us by Toyota's misfortune. In these pages you will find that the actual circumstances were far more complex, nuanced, and uncertain than you saw reported in the news."
— John Y. Shook, Chairman and CEO, Lean Enterprise Institute (First American Manager for Toyota in Japan)

About the Authors
Jeffrey K. Liker
is the author of the bestselling The Toyota Way. He is a professor of industrial and operational engineering at the University of Michigan and co-founder and president of the Toyota Way Academy. With nine Shingo Prizes for research excellence, his work has appeared in books and such publications as Harvard Business Review and Sloan Management Review.
Timothy Ogden
is an executive partner at the communications firm Sona Partners. He has written for Harvard Business Review, Miller-McCune magazine, and Alliance magazine and is frequently quoted in The New York Times, Chronicle of Philanthropy, The Wall Street Journal, and Financial Times.