The Why of Work
: How Great Leaders Build Abundant Organizations That Win
David Ulrich and Wendy Ulrich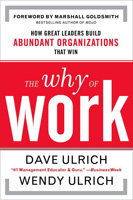 Format:
Hardcover, 304pp.
ISBN:
9780071739351
Publisher:
McGraw-Hill
Pub. Date:
June 4, 2010
Average Customer Review:


For Bulk Orders Call: 626-441-2024

Description and Reviews
From
The Publisher:
In this powerful new book, world-acclaimed leadership expert David Ulrich teams up with clinical psychologist Wendy Ulrich to explore the "why" of work—the common driving force behind every successful organization. Once you learn how to harness this force, you can:
MAKE MEANING in the workplace—to bring out the best in everyone.
CREATE VALUE for your employees, your customers, your company, and yourself.
BUILD HOPE for the future by building "the abundant organization."
The Ulrichs' unique step-by-step system combines proven professional techniques and sharp psychological insights to bring new meaning to our work and its impact on the world outside the workplace. Filled with revealing questionnaires, checklists, interviews, and case studies, it's all you need to fully engage your team in the most challenging times—and to create a renewed sense of purpose, a sustainable source of commitment, and an environment that encourages and supports outstanding performance.
Why We Wrote This Book:
This morning, people all over the planet got out of bed and got ready for work. Some headed out before dawn in high-end cars to claim high-rise offices with high-tech computers and high-brow clients. Some headed out before dawn to walk barefoot, wares on their head, to claim a choice spot in the dirt near the entrance to the village market. Some people wrestled with the muses to create artistic masterpieces or solve perplexing scientific problems. Some wrestled with boredom to complete their shifts at cash registers, call centers, or assembly lines. Some pitched their resumes in business suits, looking for good benefits and a sure path to comfortable retirement. Some made their pitch in ragged jeans on street corners, looking for someone to rent their muscles for at least the day.
Some people in every one of these and many other categories by which we could define work found a sense of meaning, purpose, even abundance in their labor today. Other people in every category found world-weary tedium, frustration, and a sense of despair.
Which were you? Which were the people you lead?
Before you ask, "What do my employees put into their work?"… ask yourself, "What do they get out of it?" According to studies, we all work for the same thing—and it's not just money. It's meaning. Through our work, we seek a sense of purpose, contribution, connection, value, and hope. When we achieve meaning through our work, we succeed beyond our wildest dreams.
That's the simple but profound premise behind this groundbreaking book by renowned management expert Dave Ulrich and psychologist Wendy Ulrich. They've interviewed thousands of people—from rank-and-file workers to day-to-day customers to top-level executives—and synthesized major disciplines to identify the "why" behind our most successful experiences.
Using the model of the "abundant organization," they provide you with the "how" to create meaning and value in your own workplace. Learn how to:
Ask the seven questions that drive abundance • Understand the needs of your customers and staff
Personalize the work to motivate your employees
Build and grow your business in any economy
When you understand why we work, you know how to succeed.

About the Authors
Dave Ulrich
's work passion has been how to build organization capabilities (systems, processes, cultures) that create value to multiple stakeholders, then to help leaders build intangible value in organizations. Working with over half of the Fortune 200 and with companies throughout the world, he provides seminars, writes books, and coaches leaders to build sustainable organizations by turning customer and investor expectations into personal and organizational actions. He helps leaders move beyond employee engagement to helping employees find real meaning from work. He is a professor of business at the Ross School of Business, University of Michigan and co-founder of The RBL Group. He has written 15 books covering topics in HR and Leadership; is currently on the Board of Directors for Herman Miller; is a Fellow in the National Academy of Human Resources; and is on the Board of Trustees of Southern Virginia University.
Wendy Ulrich, Ph.D.
, has been a psychologist in private practice in Michigan for over twenty years. She is founder of Sixteen Stones Center for Growth in Utah, offering seminar-retreats on abundance. Their work with organizations and individuals intersects at helping people find meaning at work. Dave works to rethink and redefine how organizations work and Wendy works to help individuals rethink and redefine their own lives. At the same time, they are committed to the importance of the organization's responsibility to shareholders and investors as they respond to external conditions.

Table of Contents
| | | |
| --- | --- | --- |
| | | |
| | Foreword | |
| | Preface | |
| | | |
| 1 | The Case for Meaning | 1 |
| 2 | The Making of Abundance | 27 |
| 3 | What Am I Known For? (Identity) | 53 |
| 4 | Where Am I Going? (Purpose and Motivation) | 81 |
| 5 | Whom Do I Travel With? (Relationships and Teams [Th]at Work) | 103 |
| 6 | How Do I Build a Positive Work Environment? (Effective Work Culture or Setting) | 125 |
| 7 | What Challenges Interest Me? (Personalized Contributions) | 157 |
| 8 | How Do I Respond to Disposability and Change? (Growth, Learning, and Resilience) | 185 |
| 9 | What Delights Me? (Civility and Happiness) | 219 |
| 10 | Implications for Executives, Human Resources, and Individuals | 243 |
| | | |
| | Appendix: Leadership Challenges and Actions as Meaning Makers | 265 |
| | Notes | 269 |

Find Items On Similar Subjects

Leadership Brand
: Developing Customer-Focused Leaders to Drive Performance and Build Lasting Value