Never Fly Solo
: Lead with Courage, Build Trusting Partnerships, and Reach New Heights in Business
Robert "Waldo" Waldman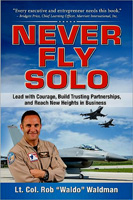 Format:
Hardcover, 208pp.
ISBN:
9780071637060
Publisher:
McGraw-Hill
Pub. Date:
December 1, 2009
Average Customer Review:

For Bulk Orders Call: 626-441-2024

Description and Reviews
From
The Publisher:
Whether you are a senior executive, a mid-level manager, entrepreneur or a new hire fresh out of college, your success depends on the support of trusted associates to help you maximize your potential and reach the top. The belief that maverick leaders and self-made entrepreneurs set the bar is no longer relevant in today's volatile business world. While self-leadership is critical to success, no one performs at their highest level without the support of equally skilled partners.
Fighter pilots call these partners wingmen.
Like the world of aerial combat, today's high stakes business world operates faster than the speed of sound. Teamwork and trust are critical to overcome the missiles of adversity, fear and change. Like a fighter pilot, you too need wingmen to help you to conquer these missiles and take positive action that will lead to success.
In
Never Fly Solo
, former combat decorated fighter pilot Lt. Col. Rob "Waldo" Waldman shares business critical concepts for success and delivers a very human message: we all have missiles in life to overcome and we can't do it alone.
But it's not just about survival. From trusted partners come better ideas, more opportunities and best practices. Their role looms larger than the accountability of a board of directors … reaches deeper than the advice of a mentor or trainer … and stands firmer than the contribution of an employee. Trusted partners have the greatest power to expand your performance because they are as vested in your success as you are theirs.
Whether you're an entrepreneur, seasoned executive or simply looking to enhance your current personal relationships,
Never Fly Solo
will help you learn to:
Commit to the core wingman values of integrity, accountability, service, and excellence
Transform your relationships with colleagues into interdependent partnerships for success
Take courageous action and ask for help when adversity strikes
Communicate effectively in high-stress situations
Connect with your coworkers and customers on a deeper level
Through compelling, real-world stories, Waldo relates how his Air Force wingmen helped him overcome challenges and become successful by teaching him lessons that work in an office as well as in a cockpit.
Like the world of aerial combat, today's high-stakes business world operates faster than the speed of sound. Teamwork and trust are critical for thwarting the missiles of fear, change, and risk that too often send even the most seasoned professional into a downward spiral.
You can't dodge these missiles alone.
Never Fly Solo
is your flight plan for taking positive action that leads to greater success.

Reviews
"An amazing book that bucks the old paradigm that maverick leaders and self-made entrepreneurs set the bar. It will forever change the way you look at leadership."
—Marshall Goldsmith, author of The Wall Street Journal #1 business bestseller What Got You Here Won't Get You There
"If you are serious about building trusting relationships and launching your business and life to new heights, then invest in yourself and buy this book."
—Keith Ferrazzi, author of the New York Times #1 bestseller Who's Got Your Back
"Authentic and inspirational,
Never Fly Solo
is a winning formula for successful leadership that everyone in business should read."
—Howard Putnam, former CEO of Southwest Airlines and author of The Winds of Turbulence
"Waldo does a superb job of applying to the business world the lessons he learned in his military career. His excellent use of vignettes shows how standards and values are applicable to leading an honorable life."
—General Ron Fogleman, U.S. Air Force Retired, former Chief of Staff, USAF

About the Author
Rob "Waldo" Waldman
is a decorated former fighter pilot, sales manager, and professional leadership speaker. His Fortune 500 clients include Hewlett-Packard, Aflac, Marriott, Medtronic, and Nokia. He has been featured on Fox News and BusinessWeek online and in the Atlanta Journal-Constitution and Selling Power. A lieutenant colonel in the Air Force Reserve, Waldman lives in Atlanta where he was ranked one of the Top 40 under 40 Business Leaders in Georgia.

Table of Contents
| | | |
| --- | --- | --- |
| | Acknowledgements | xi |
| | Introduction | xv |
| | | |
| 1 | Push It Up | 1 |
| 2 | Chair Flying | 11 |
| 3 | Check Six | 25 |
| 4 | Over-G | 39 |
| 5 | Lift vs. Drag | 51 |
| 6 | Break Right | 65 |
| 7 | Lose Sight, Lose Fight | 77 |
| 8 | Situational Awareness | 89 |
| 9 | Abort! Abort! | 105 |
| 10 | Walk the Flight Line | 117 |
| 11 | New Day, New Jet | 131 |
| 12 | Service Before Self | 143 |
| 13 | Release Breaks | 153 |
| | | |
| | Wingman Glossary of Terms | 165 |
| | Index | 169 |