The Real Truth About Success
: What the Top 1% Do Differently, Why They Won't Tell You, and How You Can Do It Anyway!
Garrison Wynn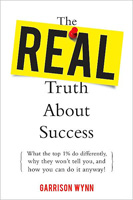 Format:
Hardcover, 256pp.
ISBN:
9780071629966
Publisher:
McGraw-Hill
Pub. Date:
October 6, 2009
Average Customer Review:

For Bulk Orders Call: 626-441-2024

Description and Reviews
From
The Publisher:
Life and business aren't fair, which is good. If they were, you couldn't seize the unfair advantage.
Think about it. Is your CEO the smartest person in the company? Is the head of your department more driven than you? Does the leading company in your industry make the best products? Probably not. They all have one thing in common, though: They're on top of the pile because they discovered and exploited their unfair advantage—and with the help of business expert and motivational dynamo Garrison Wynn, you can do the same.
The Real Truth about Success
is the culmination of ten years' worth of interviews with more than 5,000 top performers in their fields. During the process, Wynn discovered that better brains, a positive attitude, and superior all-around quality rarely drive true success. Rather, the most successful people in the world leverage their unique, distinctive qualities—whatever they may be—to propel themselves to the front of the line.
In
The Real Truth about Success
, Wynn helps you n Discover (or create) your own personal advantage
Align it with the most appropriate goals
Transition from self-knowledge to repeatable implementation
Relentlessly put your advantage to practical use
Bask in the sunshine of well-deserved success
All of us have a personal advantage we can use to stack the cards in our own favor. What's yours? High intelligence? Good looks? Likability? Great connections? (Your unfair advantage may well be a talent for leveraging other peoples' unfair advantage.)
Refreshingly (sometimes brutally) honest about what it takes to get to the top,
The Real Truth about Success
blows the lid off the secret of their success—so you can make it the secret of
your
success.

Reviews
"Very quotable and brutally honest."
—David Stephenson, CEO, American Concrete
"Funny, and dead on! I want all of my employees to read this book. This is not another self-help motivational book, far from it. It's about developing your own tools to find your own path to success."
—Keith Baizer, Mayor of Creativity, Art Mart
"Garrison shows it's not cheating to use the advantages we have over others to win and stay on top. One of the key reasons some pretty unimpressive people are superstars is willingness."
—Byron Haney, Director, Financial Advisory, Farmers Insurance
"This book shows you how to win an unfair fight! It's filled with those secret truths that can be impossible to learn on your own."
—Shep Hyken, USA Today and Wall Street Journal bestselling author of The Cult of the Customer
"As he thoughtfully debunks conventional wisdom, Wynn provides high-impact insights for success in this fast-moving, humorous, and entertaining book."
—Wiliam F. Murdy, Chairman and CEO, Comfort Systems USA

About the Author
Garrison Wynn
is a former professional stand-up comedian and the founder of Wynn Solutions, a firm that provides business strategies and influence techniques to audiences around the world. In his teens, Wynn worked with Magnavox and Hank Aaron to promote the world's first video gaming system, and by age 27, he became the youngest department head in a Fortune 500 company's history. He lives in Houston, Texas.

Table of Contents
| | | |
| --- | --- | --- |
| 1 | Lies About Success – And Why We Believe Them | |
| 2 | From Interview To Confession | |
| 3 | The Innate Secret Advantage | |
| 4 | Why Would Anybody Want To Be In A Fair Fight? | |
| 5 | Leveraging Resources And Relationships | |
| 6 | The Truth About Success | |
| 7 | What Most People Will Not Do | |
| 8 | Summoning The Willingness | |
| 9 | Action And Adaptability Create Opportunity | |
| 10 | For The Lazy Reader | |

Find Items On Similar Subjects

Success Is A Choice
: Ten Steps To Overachieving In Business and Life - Paperback