The Purpose Linked Organization
: How Passionate Leaders Inspire Winning Teams and Great Results
Alaina Love and Marc Cugnon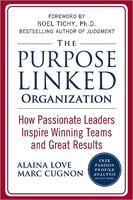 Format:
Hardcover, 256pp.
ISBN:
9780071624701
Publisher:
McGraw-Hill
Pub. Date:
May 4, 2009
Average Customer Review:

For Bulk Orders Call: 626-441-2024

Description and Reviews
From
The Publisher:
Meet the indispensable people who can bring your organization to that crucial next level.
How many can you recognize?
And where do you fit in?
The Builder:
Creating a strong sense of urgency to deliver results, they're the driving force of a growing business
The Connector:
Born communicators, adept at negotiation and relationship-building
The Conceiver:
These "intellectual acrobats" think outside the box, imagine new possibilities, and contribute to innovation
The Altruist:
On the lookout to raise your organization's profile while benefiting the world at large
Leadership development experts Alaina Love and Marc Cugnon have identified ten such "Passion Profile Archetypes," and in The Purpose Linked Organization, you'll learn the strengths, vulnerabilities, and proper care and feeding of them all.
Authors Love and Cugnon offer easily implementable ways to channel the power of each individual's passions in a positive, purposeful direction. You'll understand how to link skills, values, and passions to performance—and how doing so will bring the results your organization can't afford to be without.
Just as important, you'll be able to confidently assess your own purpose and passions so thatyour own organizational role will be as engaging, fulfilling, and productive as possible. Most employees spend more than 84,000 hours of their lives at work. When that time is personally meaningful, great things can happen, which will enrich your organization, the customers it serves, and even society as a whole.
FREE WITH YOUR PURCHASE:
Exclusive access to "The Passion Profiler," an online tool for identifying your Passion Archetypes—your individual strengths, vulnerabilities, and capacity for achievement, as well as those of every member of your organization.

Reviews
"Grow your business and inspire your team with the secrets of purpose and passion in this highly practical book."
—Marshall Goldsmith, bestselling author of What Got You Here Won't Get You There
"Smart leaders understand that productivity and innovation would be greatly increased if only they could fully engage their people by putting them in jobs that match their passions and talents; but how? The Purpose Linked Organization provides a novel, practical, and no-nonsense approach to help leaders accomplish that goal."
—Henri Lipmanowicz, former president of Merck, Intercontinental Region and Japan; chairman and cofounder of Plexus Institute
"This book is timely and essential for developing passionate leaders."
—Virgil L. Smith, vice president, Gannett Co., Inc.
"If you're a business leader searching for better ways to develop your organization's talent . . . don't miss this book!"
—Joseph Pieroni, CEO, Daiichi-Sankyo
"Love and Cugnon offer leaders the missing link for boosting employee performance beyond the level that skills and competence alone will allow."
—Patricia O'Connell, management editor, BusinessWeek

About the Authors
Alaina Love, SPHR
, is president and cofounder of Purpose Linked Consulting and the creator and author of many of the firm's leadership workshops and assessment tools. Formerly a human resources executive at multinational corporations, Love now provides leadership, team, and organizational development services to Fortune 500 firms, private companies, hospitals, and universities.
Marc Cugnon
is CEO and cofounder of Purpose Linked Consulting. With over three decades of experience as a senior executive in the pharmaceutical industry, he now provides leadership development, strategic planning, and marketing consultation services to large firms, small businesses, and international universities.

Table of Contents
| | | |
| --- | --- | --- |
| | | |
| | Introduction | |
| | | |
| | PART ONE: PURPOSE AND PASSION | |
| 1 | Why Passion and Purpose Matter | |
| 2 | Everyone Has a Passion Profile | |
| | | |
| | PART TWO: THE PASSION PROFILES | |
| 3 | The Builder | |
| 4 | The Conceiver | |
| 5 | The Connector | |
| 6 | The Creator | |
| 7 | The Discoverer | |
| 8 | The Processor | |
| 9 | The Transformer | |
| 10 | The Altruist | |
| 11 | The Healer | |
| | | |
| | PART THREE: PUTTING PASSION AND PURPOSE TO WORK | |
| 12 | Getting Results through Passion and Purpose | |
| 13 | How Great Leaders Leverage Passion | |

Find Items On Similar Subjects

The Leadership Code
: Five Rules to Lead By

What Got You Here Won't Get You There
: How Successful People Become Even More Successful