Wargaming for Leaders
: Strategic Decision Making from the Battlefield to the Boardroom
Mark L. Herman, Mark D. Frost and Robert Kurz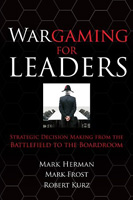 Format:
Hardcover, 320pp.
ISBN:
9780071596886
Publisher:
McGraw-Hill
Pub. Date:
December 12, 2008
Average Customer Review:

For Bulk Orders Call: 626-441-2024

Description and Reviews
From
The Publisher:
Business is war. Here's how to win it—with field-tested strategies from the world's leading wargamers at Booz & Company
Today, wargaming is used at the highest levels of government and business to provide leaders with the sharpest competitive edge--to anticipate the future and beat the enemy. In Wargaming for Leaders, Mark Herman, world-renowned wargame developer for Booz & Company with coauthors Frost and Kurz, explores the strategies learned from wargames designed and staged for the U.S. Army, global corporations, and nonprofit groups, revealing how these exercises have made for significant decisions and competitve advantage.

Reviews
"As the Commander of US Central Command in the late 1990's I spent a lot of time thinking about how to take down Iraq or deal with the aftermath should the regime implode. We had a detailed plan for the former, but a vacuum on the latter. It was clear that we had to create a whole of government understanding and approach. The authors designed a superb wargame that engaged officials from multiple agencies and produced a detailed picture of the reconstruction challenges in Iraq.
Wargaming for Leaders
, with the story of the Desert Crossing Wargame, is an important read for anyone interested in testing their strategies and plans, and thinking about how to address current and future challenges. As a warfighter and a military commander, I know the importance of using wargames to test strategies and plans before risking blood and treasure. The authors of
Wargaming for Leaders
tell the inside story of how wargames can help decision makers achieve success and avoid the pain of failure."
—General (Ret.) Anthony Zinni, former Commander of U.S. Central Command
"Over the past several years, I have personally participated in several Booz Allen-designed wargames to find solutions to the health challenges facing our country. The exercises led directly to transformational proposals that went on to directly shape government and industry decision making. By working through scenarios, these simulations can accomplish in a day or two the kind of practical problem solving and consensus building that too often takes months or even years. If your organization hasn't put these methods to work, you should."
—Newt Gingrich, former Speaker of the U.S. House of Representatives, founder of the Center for Health Transformation
"Wargaming, once only a discipline used in military preparation, has emerged as a driving force in shaping strategies in corporate boardrooms. It serves as a powerful tool to examine a broad range of intricate scenarios and extract the key cause and effect relationship to provide real insight-what Dr. Jim O'Toole refers to as 'simplicity on the other side of complexity.' Any leader in either government or business will benefit greatly from this book and understanding the potential of Wargaming in their own decision making."
—Michael McConnell, Director of National Intelligence, United States

About the Authors
Mark Herman
is a vice president of Booz Allen Hamilton, specializing in the research, design, and staging of wargames for the government and private sector. He is the author and developer of almost fifty commercial wargames.
Robert Kurz
, a principal at Booz Allen Hamilton, specializes in strategy, analysis, and wargaming.
Mark Frost
, a principal at Booz Allen Hamilton, leads the firm's work in business wargaming.

Table of Contents
| | | |
| --- | --- | --- |
| | | |
| | Part I: Military Wargames | |
| | Part II: Wargames for Business | |
| | Part III: Global Crisis Wargames | |

Find Items On Similar Subjects

High Altitude Leadership
: What the World's Most Forbidding Peaks Teach Us About Success