Executive Warfare
: Pick Your Battles and Live to Get Promoted Another Day
David D'Alessandro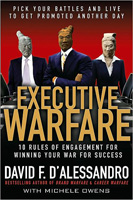 Format:
Hardcover, 288pp.
ISBN:
9780071544238
Publisher:
McGraw-Hill
Pub. Date:
July 7, 2008
Average Customer Review:

For Bulk Orders Call: 626-441-2024

Description and Reviews
From
The Publisher:
The rules are different at the top
It's not enough anymore to be smart, hard-working, and able to show results; At this level, everybody is smart, hard-working, and able to show results. Now it's a game for grown-ups. What really sets you apart is the relationships you build with people of influence. These people can include your peers, your employees, your organization's directors, reporters, vendors, and regulators-as well as the people directly above you in the organizational hierarchy.
In senior management, you no longer answer to just one boss. There is now a hazy matrix of hundreds of bosses both inside and outside the office, any one of whom can stop you cold or give you a tremendous push forward. Executive Warfare offers concrete advice for handling all of them, including
Your peers: They are the most valuable of allies or the most dangerous of enemies
The CEO: Her office is often where the real fairy dust is kept. Make sure you have a good relationship here
The Board of Directors: They won't judge you fairly if all they see of you is your PowerPoints
Your direct reports: They are your vital organs, so treat them accordingly. And if you find a blood clot among them-excise that person before he kills you
Your rivals: It's not always wise to shoot at them, but if you do, do not shoot to wound
On-line gossips: You cannot afford to engage directly with them
In his bestsellers
Brand Warfare
and
Career Warfare
, author David D'Alessandro offered sharp advice for building a brand and building a career. Now Executive Warfare is the advanced class for the truly ambitious. Learn what it takes to rise to the top-and to do the even harder thing, which is survive there.

Reviews
"D'Alessandro is that refreshing rarity: a businessman who tells it like it is."
—Chicago Sun-Times
"When it comes to straight talk about what it really takes to thrive in business, no one does it better today than bestselling author David D'Alessandro. Executive Warfare is the most compelling installment of his Warfare trilogy."
—James M. Citrin, bestselling author, The Dynamic Path and Senior Director, Spencer Stuart
"Executive Warfare is a rare find…a management skills book which provides excellent advice and is a good read at the same time. David looks at what it takes to climb the corporate ladder and tells it like it really is: the good, the bad and the ugly."
—Judith A. McHale, former president and CEO of Discovery Communications

About the Authors
David F. D'Alessandro
, former chairman and CEO of John Hancock Financial Services, serves as an advisor and guest speaker on business issues and branding strategies, as well as topics related to professional and career development. He is sought after as a speaker for corporations and universities, including industry and governmental conventions. In addition, he is a guest columnist for the Boston Globe, and a guest commentator on CNBC on business and social issues. He is the bestselling author of Brand Warfare and Career Warfare.
Michele Owens
is a former speechwriter for New York Governor Mario Cuomo and Massachusetts Governor William Weld. Ms. Owens has worked with David D'Alessandro on a variety of projects since 1996.

Find Items On Similar Subjects

Career Warfare
: 10 Rules for Building a Successful Personal Brand on the Business Battlefield