Jacked Up
: Inside Welch's Communication Revolution at GE
Bill Lane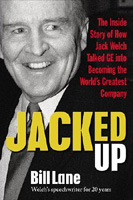 Format:
Hardcover, 300pp.
ISBN:
9780071544108
Publisher:
McGraw-Hill
Pub. Date:
December 23, 2007
Average Customer Review:

For Bulk Orders Call: 626-441-2024

Description and Reviews
From
The Publisher:
When it comes to leadership, do you know Jack?
The power, the passion, the profanity — Welch's speechwriter reveals how the CEO's manic attention to communications was the cornerstone to great leadership and GE's meteoric rise
Cross
The Art of War
with
The Devil Wears Prada
, and you might have something like this raucous, revealing, and irreverent portrait of business mega legend Jack Welch. Welch's speechwriter of 20 years, Bill Lane, takes you "backstage" and shows how ferociously Welch prepared for presentations.
Whether he faced angry congressmen, critical shareholders, or hostile union members, Welch knew how to win hearts and minds. Jack's ability to lead came from his ability to communicate and his intolerance of others who could not communicate clearly. As in politics, communication equaled the ability to lead. From his controversial firing of the bottom 10 percent of managers to his staggering increase of GE's capitalization to $400 billion,
Jacked Up
gives readers get an up-close, fly-on-the-wall view of Welch's riskiest moves: his falling out with his top lieutenant, Gary Wendt, the Long Bow Key analyst presentation that ignited GE's explosive stock growth, his "circle the wagons" reaction to Larry Bossidy's surprise departure to run Honeywell, and other landmark events.
The book also describes Welch's most outstanding speeches, outspoken opinions, outrageous philosophies, and outside-the-box principles that teach and inspire, shock and provoke, all at the same time. Like Jack himself, it's bold, brilliant-and a real kick-in-the-pants for the business world.
An inside look at the genius of GE
"Jack got quiet for nearly a full minute, as if I were no longer in the room and stared down at the table with the semi-scowl that meant some kind of processing was going on. This phenomenon did not happen that often, but even the senior people in the company would sit quietly until the internally tempestuous little reverie worked itself out.
"Then Jack said, loudly and decisively, 'No, no, no! We're not doing this any more. No more reports. We're sick of reports. The only pitches that are worth anything are when you tell people what they ought to do. Otherwise it's just a waste.' And so it began…"

About the Author
Bill Lane
joined GE as a speechwriter in 1980, after seven years at the Pentagon. From 1982 to 2001, he was Manager, Executive Communications for the Company, and Jack Welch's speechwriter.

Find Items On Similar Subjects

Losing It!
Behaviors and Mindsets that Ruin Careers: Lessons on Protecting Yourself from Avoidable Mistakes

What Made jack welch JACK WELCH
: How Ordinary People Become Extraordinary Leaders