Killing It
: An Entrepreneur's Guide to Keeping Your Head Without Losing Your Heart
Sheryl O'Loughlin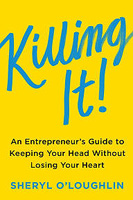 Format:
Hardcover, 304pp.
ISBN:
9780062475343
Publisher:
HarperBusiness
Pub. Date:
December 6, 2016
Average Customer Review:

For Bulk Orders Call: 626-441-2024

Description and Reviews
From
The Publisher:
The former CEO of Clif Bar, Co-founder of Plum, and serial entrepreneur offers insights about launching and growing a business while maintaining a fulfilled life in this practical guide filled with hard-won advice culled from the author's own sometimes dark, raw experiences. With a foreword by Steve Blank.
Aspiring entrepreneurs are told that to launch a business, you must go all in, devoting every resource and moment to making it work. But following this advice comes at an enormous personal cost: divorce, addiction, even suicide. It means sacrificing the intangibles that make life worth living.
Sheryl O'Loughlin knows there is a better way. In Killing It, she shares the wisdom she's gained from her successful experiences launching a company from the ground up (Plum), running two fast-growing companies (Clif Bar and REBBL), and mentoring aspiring entrepreneurs (Stanford University). She tells it like it is: If you don't invest in your wellbeing, your business will not succeed, nor will you.
Sheryl knows firsthand the difficulty of balancing the needs of her growing family with her physical and mental health, while managing other work and life challenges. In this warm, honest, and wise handbook, she gives you the essentials for killing it in business—without killing the rest of your life.
with real-life examples and anecdotes, Killing It addresses common questions including:
• How do you prepare your significant other for your business venture?
• How do you time launching and growing your business with the ebb and flow of family life?
• How do you find joy in the day-to-day?
• How do you maintain meaningful, supportive friendships?
• How do you walk away and start again?
The ultimate life and business course, Killing It gives entrepreneurs the tools they need to start their enterprise and thrive—both in the office and at home.

Reviews
"Sheryl's personal experience as a leader, mentor, and founder gives her the ammunition to deliver more than just platitudes. Killing It is the kind of practical advice entrepreneurs need to thrive in the world of churn."
—Professor Irv Grousbeck, Consulting Professor, Stanford University Graduate School of Business
"Are you ready to be an entrepreneur? Sheryl O'Loughlin's book, Killing It, is the perfect guide to help you answer that question. Jam-packed with real-life stories of what it truly takes to be successful, Killing It also provides a wealth of sage advice and critical questions to ask yourself and your team as you get your company from the idea stage to the exit."
—Denise Brosseau, serial entrepreneur and author of Ready to Be a Thought Leader?
"Killing It! is a relevant and incisive look at what being an entrepreneur is really about. Sheryl's deeply personal account provides authentic insight into not only the much-lauded upsides of entrepreneurship, but also the considerable toll it can take on one's relationships and well-being. This is a must-read for female leaders in particular, who are too often expected to be all things to all people."
—Betsy Holden, Senior Advisor, McKinsey & Co., Former CEO Kraft Foods
"Killing It is like the emotional handbook for entrepreneurs. Without a sustainable work life balance your business will not thrive."
—L. Hunter Lovins, President Natural Capitalism Solutions
"A must-read for anyone looking to become an entrepreneur or stay in the game."
—Brian Krumrei, Partner at TSG Consumer
"Killing It is a testament to the years of experience Sheryl has an entrepreneur. Her advice is savvy and hard-won. If you aspire to start a successful business, and live your life, this is necessary reading."
—Dr. William Silver, Dean , School of Business and Economics, Wine Business Institute, Sonoma State University

About the Author
As a child,
Sheryl O'Loughlin
was best known for rushing everywhere and being too impatient to pour milk into a glass before drinking it. As an adult, Sheryl is no less eager. She served as the CEO of Clif Bar, where she introduced the world to Luna bars; she was the cofounder and CEO of Plum Organics; and she is currently CEO of REBBL super herb beverages. One of her favorite roles was mentoring budding entrepreneurs when she was the executive director at the Center for Entrepreneurial Studies at the Stanford Graduate School of Business. With her book, Sheryl is able to share her advice with a wider group of current and aspiring entrepreneurs all at once, which delights her because, well, it's faster. And that means more time for drinking wine at her Santa Rosa home, and hanging out with her husband and two sons.