Stretch
: Unlock the Power of Less - and Achieve More Than You Ever Imagined
Scott Sonenshein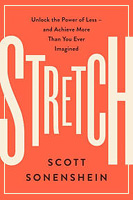 Format:
Hardcover, 304pp.
ISBN:
9780062457226
Publisher:
HarperBusiness
Pub. Date:
February 7, 2017
Average Customer Review:


For Bulk Orders Call: 626-441-2024

Description and Reviews
From
The Publisher:
A groundbreaking approach to succeeding in business and life, using the science of resourcefulness.
We often think the key to success and satisfaction is to get more: more money, time, and possessions; bigger budgets, job titles, and teams; and additional resources for our professional and personal goals. It turns out we're wrong.
Using captivating stories to illustrate research in psychology and management, Rice University professor Scott Sonenshein examines why some people and organizations succeed with so little, while others fail with so much.
People and organizations approach resources in two different ways: "chasing" and "stretching." When chasing, we exhaust ourselves in the pursuit of more. When stretching, we embrace the resources we already have. This frees us to find creative and productive ways to solve problems, innovate, and engage our work and lives more fully.
Stretch
shows why everyone—from executives to entrepreneurs, professionals to parents, athletes to artists—performs better with constraints; why seeking too many resources undermines our work and well-being; and why even those with a lot benefit from making the most out of a little.
Drawing from examples in business, education, sports, medicine, and history, Scott Sonenshein advocates a powerful framework of resourcefulness that allows anybody to work and live better.

Reviews
We rarely have as much of anything as we want, but we can learn to do more with it. Scott Sonenshein is a gifted thinker whose insights have sharpened my work for over a decade, and his fascinating debut book reveals how resourcefulness is a skill that's waiting to be learned. Get ready to unleash your inner MacGyver.
—Adam Grant, bestselling author of Originals and Give and Take
I always appreciate a book that challenges me, forces me to think, and creates constructive discomfort. And I especially value such a book when its key conclusions have a base of research. Dr. Sonenshein has accomplished all this with Stretch, and I am thankful for the chance to grow from reading his work.
—Jim Collins, bestselling author of Good to Great and Great by Choice
It's easy to feel like we never have enough time, resources, or money. Scott Sonenshein's surprising and entertaining book inspires and instructs us to make the most out of what we already have. The result is more-more creativity, more engagement, and more satisfaction.
—Daniel H. Pink, bestselling author of To Sell is Human and Drive
Stretch is a masterpiece. Whether you want to build a better life or a better business, Scott Sonenshein reveals how the power of constraints sets you free and why the lust for more is bad for your mental health and-ironically- your personal success and the success of your business. I love the stories, rigorous research, and especially, how Sonenshein's warmth and wisdom fill every page and make Stretch a joy to read.
—Robert Sutton, Stanford professor and author of the The No Asshole Rule
Well-informed and frequently enlightening…Sonenshein is an amiable guide to attaining the benefits of stretching. A convincing argument within a compelling narrative-recommended for business managers and resourceful individuals alike.
—Kirkus

About the Author
Scott Sonenshein
is the Henry Gardiner Symonds Professor of Management at Rice University. His award winning research, teaching, and consulting has helped Fortune 500 executives, entrepreneurs, and professionals in industries such as technology, healthcare, retail, education, banking, manufacturing, and non-profits. He holds a PhD in management and organizations from the University of Michigan, an MPhil from the University of Cambridge, and a BA from the University of Virginia. He has also worked as a strategy consultant for companies such as AT&T and Microsoft and lived the rise and fall of the dotcom boom while working at a Silicon Valley startup.