Leadership BS
: Fixing Workplaces and Careers One Truth at a Time
Jeffrey Pfeffer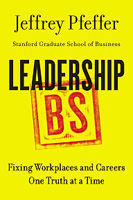 Format:
Hardcover, 272pp.
ISBN:
9780062383167
Publisher:
HarperBusiness
Pub. Date:
September 15, 2015
Average Customer Review:


For Bulk Orders Call: 626-441-2024

Description and Reviews
From
The Publisher:
The author of
Power
, Stanford business school professor, and a leading management thinker offers a hard-hitting dissection of the leadership industry and ways to make workplaces and careers work better.
The leadership enterprise is enormous, with billions of dollars, thousands of books, and hundreds of thousands of blogs and talks focused on improving leaders. But what we see worldwide is employee disengagement, high levels of leader turnover and career derailment, and failed leadership development efforts.
In
Leadership BS
, Jeffrey Pfeffer shines a bright light on the leadership industry, showing why it's failing and how it might be remade. He sets the record straight on the oft-made prescriptions for leaders to be honest, authentic, and modest, tell the truth, build trust, and take care of others. By calling BS on so many of the stories and myths of leadership, he gives people a more scientific look at the evidence and better information to guide their careers.
Rooted in social science, and will practical examples and advice for improving management,
Leadership BS
encourages readers to accept the truth and then use facts to change themselves and the world for the better.

Reviews
"Jeff Pfeffer stands as one of the great management thinkers of our time. Here in this important work, he challenges us to embrace a hippocratic oath of leadership: first do no harm. Diagnostic and prescriptive, passionate and incisive, provocative and inspired-Pfeffer yet again makes a noble contribution."
—Jim Collins, author Good to Great, co-author Built to Last and Great by Choice
"As bracing as a splash of cold water, Leadership BS is at once a scathing indictment of the 'leadership industry' and a roadmap to success. Pfeffer dismantles the jargon-filled aphorisms of conventional leadership, replacing them with fact-based prescriptions for how to succeed."
—Laszlo Bock, SVP of People Operations, Google and author of New York Times bestseller, Work Rules!
"A provocative case that most leadership advice is baloney and the entire industry is broken. Pfeffer convincingly argues that we consistently give the wrong people power-and even when we get it right, authenticity is a recipe for disaster."
—Adam Grant, Wharton professor and New York Times bestselling author of Give and Take
"In this must-read book, Pfeffer exposes the gap between what we're told we should do to be leaders and what successful leaders actually do to climb the career ladder. Pfeffer's take-no-prisoners approach to management research and practice always reveals insightful and shocking results."
—Keith Ferrazzi, author of ,New York Times bestsellers Never Eat Lunch Alone and Who's Got Your Back?
"I wish I had read Leadership BS years go. It's not only honest but helpful, putting words to the disconnect I've seen between what works and what we're all "supposed to be" doing. This inconsistency has so much to say about the current state of professional women's progress."
—Gina Bianchini, CEO, Mighty Bell and co-founder, Lean In
"Leadership BS goes directly to the soul of leadership practices, exposing both the rewards and penalties of contemporary notions. You'll be challenged to look at qualities such as narcissism, vulnerability, immodesty and ego and consider why these too are important traits of effective leaders."
—Curt Coffman, co-author of First, Break all the Rules
"A fascinating inquiry into why the "leadership industry" has failed to develop better leaders. Pfeffer turns conventional wisdom about leadership upside down, and challenges us to rethink why and how leaders behave. It's an indispensable book for every leader, executive coach, and others who seek to help leaders."
—Morten T. Hansen, professor, University of California, Berkeley, co-author, Great by Choice
"Pfeffer offers no nostrums, no feel-good solutions; instead, he offers unvarnished insights and dry-eyed suggestions. Anyone who is seriously interested in leadership should read this book."
—Stephen Kosslyn, founding dean, the Minerva Schools of Arts and Sciences at the Keck Graduate Institute
"Jeff Pfeffer has done it again. He forces us to confront uncomfortable questions about ourselves and our cultures. This book reminds us of the dangers of pursuing comforting messages instead of practical truths."
—Kent Thiry, CEO, Davita Healthcare Partners
"Pfeffer persuasively attacks the simplistic generalities that masquerade as leadership advice. Offering examples of when such advice can hurt leaders. Turning some of our assumptions concerning authenticity, trust, and humility on their head. Essential reading for anyone who would rather rely on scientific evidence than merely on cool stories."
—Sim B Sitkin, Duke University, Faculty Director, Fuqua/Coach K Center on Leadership and Ethics
"Challenges conventional thinking and traditional bromides, underscoring the importance of being evidence-based if you want to make an impact in developing leadership."
—Barry Z. Posner, PhD, Accolti Endowed Professor of Leadership, Santa Clara University, co-author, The Leadership Challenge
"In this wonderful Book, Jeff Pfeffer takes on sacred cows and conventional wisdom, showing us a different path to the leadership excellence we all desire yet find so elusive. It should be required reading in every business school."
—Herminia Ibarra, The Cora Chaired Professor of Leadership and Learning, INSEAD

About the Author
Jeffrey Pfeffer
is the Thomas D. Dee II Professor of Organizational Behavior at the Stanford Graduate School of Business. He has authored or coauthored fourteen books and is a highly sought-after expert on the subject of power and leadership. He is widely considered one of the leading management experts in the world. Pfeffer has been a visiting professor at London Business School, Harvard Business School, Singapore Management University, and IESE. He has served on the boards of several human capital software companies as well as on a variety of public and nonprofit boards. He lives in Hillsborough, California.