The Achievement Habit
: Stop Wishing, Start Doing, and Take Command of Your Life
Bernard Roth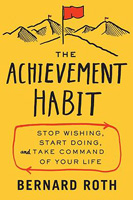 Format:
Hardcover, 288pp.
ISBN:
9780062356109
Publisher:
HarperBusiness
Pub. Date:
July 7, 2015
Average Customer Review:


For Bulk Orders Call: 626-441-2024

Description and Reviews
From
The Publisher:
Cofounder of the Stanford d.school Bernie Roth shows you how the power of design thinking can help you achieve goals you never thought possible.
Did you know that achievement can be learned? As Bernie Roth explains, achievement is a muscle. And once you learn how to flex it, you'll be able to meet life's challenges and reach your goals.
Based on a legendary course Roth has taught at Stanford University for several decades,
The Achievement Habit
employs the remarkable insights that stem from design thinking to help us realize the power we all have within to change our lives for the better. By ridding ourselves of issues that stand in the way of reaching our full potential, we gain the confidence finally to do things we've always wanted to do. Combining design thinking, problem-solving, creativity, communication skills, and life adjustments, readers will learn:
Why trying and doing are two different things
Why using reasons (excuses), even legitimate ones, to explain one's behavior is self-defeating
How to change your self-image into one of a doer and achiever
How subtle language changes can resolve existential dilemmas and barriers to action
How to build resiliency by reinforcing what you do rather than what you accomplish
How to be open to learning from your own experience and from those around you
Our behavior and relationships can be transformed—if we choose to, we can be mindful and control our intentions to create habits that make our lives better. And with this thoughtful book as your guide, you can.

>
Reviews
"Bernie Roth is a master teacher who unlocks his students' minds and hearts allowing them to create the lives they dream to live. Finally, his wisdom is available to the entire world."
—Tina Seelig
"Before unleashing design thinking on others, unleash it on yourself. You, and the world, will be far better for it. The Achievement Habit reveals a host of invaluable approaches to this most personal of design projects."
—Tim Brown
"Bernie Roth is the central pillar and the conscience of the d.school at Stanford and one of its real gems. It's exciting that he now puts his best ideas into this book for many more of us to benefit."
—David M. Kelley
" The Achievement Habit is a masterpiece in describing how to think creatively and fulfill your life's ambitions. Everyone who reads this book will clearly see why Bernie is considered one of the most creative and liberated thinkers today."
—Paul Hait

About the Author
Bernard Roth
is the Rodney H. Adams Professor of Engineering and the academic director of the Hasso Plattner Institute of Design (the d.school) at Stanford University. He is a leading expert in kinematics, the science of motion, and one of the world's pioneers in the area of robotics. In addition, he has created courses that allow students to directly gain understanding and experience about personal issues that matter to them. Bernie is also the primary developer of the concept of the Creativity Workshop. For more than thirty years this workshop has been a vehicle for him to take the experiential teaching he developed at Stanford to students, faculty, and professionals around the world. He is an in-demand speaker at conferences and workshops globally, has served as a director of several corporations, and has been a leader in professional societies.

Find Items On Similar Subjects

Creative Confidence
: Unleashing the Creative Potential Within Us All