Persuadable
: How Great Leaders Change Their Minds to Change the World
Al Pittampalli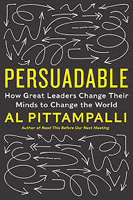 Format:
Hardcover, 256 pp.
ISBN:
9780062333896
Publisher:
HarperBusiness
Publication Date:
January 26, 2016
Average Customer Review:

For Bulk Orders Call: 626-441-2024

Description and Reviews
From
The Publisher:
In an uncertain world, successful leaders are moving toward a more adaptive way of thinking: persuadability.
Persuadability is the genuine willingness and ability to change your mind in the face of new evidence. Being persuadable requires rejecting absolute certainty, treating your beliefs as temporary, and acknowledging the possibility that—no matter how confident you are about any particular option—you could be wrong.
In
Persuadable
, business consultant Al Pittampalli draws on unexpected evidence from social science, history, politics, and other areas to reveal why confidence, consistency, and conviction—usually considered leadership qualities—are increasingly becoming liabilities, while humility, inconsistency, and radical open- mindedness are powerful leadership assets.
Unfortunately, all too often our culture sees the willingness to change one's mind as a weakness.
Persuadable
dispels this myth once and for all by chronicling eminently strong leaders who have changed their minds and, as a result, have achieved exceptional success for themselves, their organizations, or society as a whole. You'll learn how Ray Dalio became one of the most successful hedge fund managers by using the tools of persuadability. How Alan Mullaly saved Ford Motor Company, not by staying the course, but by continually changing course. How one Nobel Prize–winning scientist discovered the cause of ulcers by bravely doubting his own entrenched beliefs. You'll learn how Billy Graham's change of heart helped propel the civil rights movement, and how a young NFL linebacker's radical new position may well alter the world of professional football as we know it.
Distilling cutting-edge research from cognitive and social psychology, Persuadable offers the seven practices of persuadable leaders:
• Consider the Opposite
• Update Your Beliefs Incrementally
• Kill Your Darlings
• Take the Perspectives of Others
• Avoid Being Too Persuadable
• Convert Early
• Take On Your Own Tribe
Full of actionable advice, Persuadable is an invaluable guide for today's data-driven, results-oriented leader.

Reviews
"Al Pittampalli is leading a new generation of big thinkers. He's willing to show us what works, and he does it with flair and generosity. Read this book and share it. Hurry."
—Seth Godin, author of Your Turn
"The benefits of persuadability have long been underappreciated. No more, not after this compelling and well-informed account of when and how to change our minds most productively."
—Robert B. Cialdini, author of Influence
"In a complex decision-making environment, staying the course can often mean marching toward oblivion. That's why Persuadable is so refreshing. This terrific book is full of captivating stories and convincing research about the value of changing your mind—along with practical lessons that can help you quash groupthink, resist confirmation bias, and become a more effective leader."
—Daniel H. Pink, author of To Sell Is Human and Drive
"Persuadable turns the persuasion industry on its head by suggesting that the key to success is not only how well you persuade others but how open you are to persuasion yourself. Pittampalli is so persuasive that by the end of the book, the idea no longer seems counterintuitive."
—Adam Galinsky, professor of business at Columbia Business School and coauthor of Friend and Foe

About the Author
Al Pittampalli
is the author of Read This Before Our Next Meeting, a manifesto for transforming the way organizations hold meetings. As a business consultant, Al has helped organizations like NASA, Boeing, Hertz, and Nokia adapt to a fast-changing world. He is a former IT advisor at Ernst & Young LLP and lives in New York City.