Rookie Smarts
: Why Learning Beats Knowing in the New Game of Work
Liz Wiseman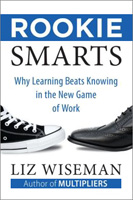 Format:
Hardcover, 304pp.
ISBN:
9780062322630
Publisher:
HarperBusiness
Pub. Date:
October 14, 2014
Average Customer Review:


For Bulk Orders Call: 626-441-2024

Description and Reviews
From
The Publisher:
In a time of constant change, success depends on seeing the world through rookie eyes, and in this essential guide, the bestselling author of Multipliers explains why we are often at our best when we are doing something for the first time—and how to reclaim and cultivate this curious, flexible, youthful mindset called
Rookie Smarts
.
In a rapidly changing world, experience can be a curse. Being new, naďve, and even clueless can be an asset. Rookies are unencumbered, with no baggage to weigh them down, no resources to burden them, and no track record to limit their thinking or aspirations. For today's knowledge workers, constant learning is more valuable than mastery.
Leadership expert Liz Wiseman argues that the most successful rookies are hunter-gatherers—alert and seeking, cautious but quick like firewalkers, and hungry and relentless like frontiersmen. Most importantly, she identifies a breed of leaders she refers to as "perpetual rookies." Despite years of experience, they retain their rookie smarts, thinking and operating with the mindsets and practices of these high-performing rookies.
Rookie Smarts
addresses the questions every experienced professional faces: "Will my knowledge and skills become obsolete and irrelevant? Will a young, inexperienced newcomer upend my company or me? How can I keep up?" The answer is to stay fresh, keep learning, and know when to think like a rookie.
Rookie Smarts
isn't just for professionals seeking personal renewal; it is an indispensible resource for all leaders who must ensure their workforces remains vital and competitive.

About the Author
Liz Wiseman
is the president of The Wiseman Group, a leadership research and development center headquartered in Silicon Valley. She advises senior executives and leads strategy and leadership forums for executive teams worldwide. A former executive at Oracle Corporation, she worked as the vice president of Oracle University and for seventeen years as the global leader for human resource development. She holds a BS in business management and a master's in organizational behavior, each from Brigham Young University.

Find Items On Similar Subjects

Multipliers
: How the Best Leaders Make Everyone Smarter