Smart People Should Build Things
: How to Restore Our Culture of Achievement, Build a Path for Entrepreneurs, and Create New Jobs in America
Andrew Yang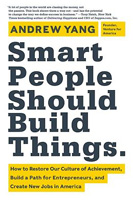 Format:
Hardcover, 272pp.
ISBN:
9780062292049
Publisher:
HarperBusiness
Pub. Date:
February 4, 2014
Average Customer Review:

For Bulk Orders Call: 626-441-2024

Description and Reviews
From
The Publisher:
We've got a problem—our most talented and educated young people aren't building things. They're not starting or joining innovative companies that are addressing crises in education, energy, or transportation. Meanwhile, in recovering cities such as Detroit, New Orleans, and Baltimore, promising startups and growth companies representing the next generation of job creation are desperate to attract the talent they need to expand and thrive.
Imagine if the same people who are currently heading to Wall Street were instead joining startups and early-stage companies throughout the United States. How long would it take before they positively impacted job creation and economic competitiveness?
Knowing firsthand why the current vision of education and career paths isn't functioning properly, Andrew Yang has set out to fix this problem. As the founder and CEO of Venture for America, he places top college graduates in startups for two years in emerging U.S. cities to generate job growth and train a new generation of entrepreneurs. In
Smart People Should Build Things
, this self-described "recovering lawyer" and entrepreneur has woven together a compelling narrative of success stories (including his own), offering observations about the flow of talent in the United States, and explaining why current trends are leading to economic distress and cultural decline. He also presents recommendations for both policy makers and job seekers that will make entrepreneurship more realistic and attainable. The country needs teams of committed builders to create value and restore the culture, and
Smart People Should Build Things
is about how we can get there.

Reviews
"Yang's pitch for entrepreneurship as a viable alternative to more structured careers is enticing."
—Publishers Weekly
"Andrew Yang lays out a solution that is a proven winner for not only the young generation coming of age, but for the nation as a whole."
—Dan Gilbert, chairman and founder of Rock Ventures
"I have great respect for the foresight Andrew brought to his groundbreaking start-up, Venture for America, and Andrew has become living proof that it's possible to create a platform that makes it easier than ever for the country's best and brightest to help others succeed."
—Jeff Weiner, CEO of LinkedIn
"I wish this book and Venture for America had existed when I graduated from college and wanted to make the world a better place but didn't know where to turn. This book details how we can channel our top graduates into impactful entrepreneurial opportunities while addressing our economy's biggest problems."
—Dave Gilboa, co-founder and co-CEO of Warby Parker
"A lot of people in the world are chasing the money, not the passion. Smart People Should Build Things shows them a way out -- and has the potential to change the way we define success in business."
—Tony Hsieh, NY Times bestselling author of "Delivering Happiness" and CEO of Zappos.com, Inc.
"Enlightening and frequently surprising and moves much of the author's pro-entrepreneurship slant from conventional wisdom into fact-based guidance for the "young, hungry talent" he hopes will help rebuild the American economy. A galvanizing amalgam of personal history, acquired business wisdom and mentorship."
—Kirkus Reviews

About the Author
Andrew Yang
is the founder and CEO of Venture for America, a fellowship program that places top college graduates in start-ups for two years in emerging US cities (Detroit, New Orleans, Providence, Cincinnati, Las Vegas, Baltimore, Cleveland, Philadelphia, among others) to generate job growth and train the next generation of entrepreneurs. Venture for America is regarded as one of the leading social innovation initiatives in the country today and has a goal of helping create 100,000 new US jobs by 2025. Andrew has worked in start-ups and early-stage growth companies as a founder or executive for more than twelve years. He was the CEO and president of Manhattan GMAT, a test preparation company that was acquired by the Washington Post Company/Kaplan in 2009. He has also served as the cofounder of an Internet company and an executive at a health care software start-up. He has appeared on many media outlets, including CNBC, Fox News, Time, Techcrunch, the Wall Street Journal, and the New York Times, and was named a Champion of Change by the White House for his work with Venture for America, as well as one of Fast Company's "100 Most Creative People in Business." He is a graduate of Columbia Law School and Brown University and lives in New York City with his wife and son.