Executive Presence
: The Missing Link Between Merit and Success
Sylvia Ann Hewlett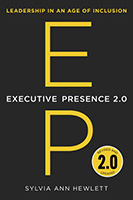 Format:
Hardcover, 240pp.
ISBN:
9780062246899
Publisher:
HarperBusiness
Pub. Date:
June 3, 2014
Average Customer Review:

For Bulk Orders Call: 626-441-2024

Description and Reviews
From
The Publisher:
Do you exude confidence and credibility? Can you command a room? Sylvia Ann Hewlett, one of the world's most influential business thinkers, cracks the code of
Executive Presence
(EP) for men and women intent on winning the next plum assignment and doing something extraordinary with their lives.
You might have the qualifications to be considered for your dream job, but you won't get far unless you can signal that you're "leadership material" and that you "have what it takes." Professionals are judged on presence as well as on performance.
Using a wealth of hard data—including a new nationwide survey and dozens of focus groups—Hewlett reveals EP to be a dynamic mix of three things: how you act (gravitas), how you speak (communication), and how you look (appearance). She also draws on in-depth interviews with a wide selection of admired leaders to reveal how they embody and deploy key elements of EP.
This book is immensely practical. Hewlett teases out tactics that can help you raise your game and close the gap between merit and success. She offers the unvarnished advice you won't get from supportive friends and tackles head-on such touchy subjects as too-tight clothing and too-shrill voices. She shows how the standards for EP vary for men, women, multicultural, and LGBT employees, and she shares how to get meaningful feedback from politically correct bosses intent on avoiding the real issues.
The good news is that EP is eminently teachable. You can learn how to "show teeth" while remaining likable, and you can teach yourself how to dress appropriately while staying true to yourself. You don't have to be born with the voice of James Earl Jones or the looks of Angelina Jolie to hurdle the EP bar. With hard facts and vivid examples, Hewlett shows you how to ace EP and fully realize your unique potential—no matter who you are, no matter where you work.

Reviews
"Sylvia Ann Hewlett's book is essential reading for anyone striving to minimize the gap between how others perceive you and how you want to be seen. Executive Presence will transforms careers and unleash a current of previously untapped potential on the world."
—Joanna Coles
"This is a powerful and urgent book for young professionals climbing the ladder. Credentials alone will not get you the next big opportunity, you also need Executive Presence - the ability to signal confidence and credibility."
—Sallie Krawcheck
"Sylvia Ann Hewlett has taken some of the mystery out of the claim that "you just don't have what it takes" in this groundbreaking book on Executive Presence. This book provides a simple guide that will help you crack the code to career success."
—Katherine W. Phillips
"Sylvia Ann Hewlett has put together the complete play book for high potential employees eager to develop the executive presence skills that will propel them to the top. In this book Hewlett explains what EP is, and how to get it. It's real, pragmatic and brilliant!"
—'Tiger' Tyagarajan
"In this significant book, Sylvia Ann Hewlett challenges the conventional wisdom that executive presence is an innate quality that can barely be defined, much less developed. Anyone seeking to close the gap between their merit and their success could benefit from her practical, engaging, and humane advice."
—Kenji Yoshino
"Sylvia Ann Hewlett is once again leading the way by examining a critical component of business success, Executive Presence. She is a master at making a vague topic clear. She demystifies the meaning of Executive Presence and provides tangible, practical advice that readers can easily use to lift their game."
—Anré Williams

About the Author
Sylvia Ann Hewlett
is the founding president of the Center for Talent Innovation, a Manhattan-based think tank where she chairs a task force of eighty-two multinational companies focused on fully realizing the new streams of labor in the global marketplace. Her book Forget a Mentor: Find a Sponsor was named one of the ten best business books of 2013 and won the Axiom Book Award.

Find Items On Similar Subjects

Executive Presence
: The Art of Commanding Respect Like a CEO