How Will You Measure Your Life?
Clayton M. Christensen with James Allworth and Karen Dillon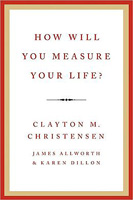 Format:
Hardcover, 240pp.
ISBN:
9780062102416
Publisher:
HarperBusiness
Pub. Date:
May 15, 2012
Average Customer Review:


For Bulk Orders Call: 626-441-2024

Description and Reviews
From
The Publisher:
In 2010 world-renowned innovation expert Clayton M. Christensen gave a powerful speech to the Harvard Business School's graduating class. Drawing upon his business research, he offered a series of guidelines for finding meaning and happiness in life. He used examples from his own experiences to explain how high achievers can all too often fall into traps that lead to unhappiness.
The speech was memorable not only because it was deeply revealing but also because it came at a time of intense personal reflection: Christensen had just overcome the same type of cancer that had taken his father's life. As Christensen struggled with the disease, the question "How do you measure your life?" became more urgent and poignant, and he began to share his insights more widely with family, friends, and students.
In this groundbreaking book, Christensen puts forth a series of questions: How can I be sure that I'll find satisfaction in my career? How can I be sure that my personal relationships become enduring sources of happiness? How can I avoid compromising my integrity—and stay out of jail? Using lessons from some of the world's greatest businesses, he provides incredible insights into these challenging questions.
How Will You Measure Your Life?
is full of inspiration and wisdom, and will help students, midcareer professionals, and parents alike forge their own paths to fulfillment.

Reviews
"[A] highly engaging and intensely revealing work….Spiritual without being preachy, this work is especially relevant for young people embarking on their career, but also useful for anyone who wants to live a more meaningful life in accordance with their values."
—Publishers Weekly
"The book encapsulates Christensen's best advice to keep high achievers from being disrupted in their own lives....[P]rovocative but reassuring: Peter Drucker meets Mitch Albom."
—Bloomberg Businessweek
"[M]ore genuinely a self-help book than the genre it disparages. Instead of force-feeding readers with orders on how to improve, it aims to give them the tools to set their own course"
—Financial Times
"[W]ell researched and thought through material.
—Forbes
"…a gripping personal story with lessons from business mixed in."
—Bloomberg BusinessWeek
"…Clayton Christensen's new book has the business world buzzing."
—Deseret News
"Recommend the book to friends and family who have no connection to the business world. They will thank you for it."
—Harvard Business Review
"[R]evealing and profound."
—Inc. Magazine
"I wish this book was around when I started my carreer. I bought copies for my kids and other young adults I know. $16 is not a lot to spend to get them thinking about their future and how to live responsible, ethical and successful lives."
—Small Business Labs

About the Author
Clayton M. Christensen
is the Kim B. Clark Professor at Harvard Business School, the author of seven books, a five-time recipient of the McKinsey Award for Harvard Business Review's best article, and the cofounder of four companies, including the innovation consulting firm Innosight. In 2011 he was named the world's most influential business thinker in a biennial ranking conducted by Thinkers50.